The chief executive of the state-owned carrier explains how a 'financial bazooka' will help it through the crisis, and how it plans to emerge as a premium airline with a continued focus on Europe-Asia routes
Before the coronavirus crisis, state-owned carriers such as Finnair were sometimes seen as anachronisms in Europe.
Good things happened despite the ownership structure, not because of it.
But as 2020 comes to a close, Finnair no longer looks like an outlier.
"I think that many, many other airlines are, in terms of ownership, moving towards the model where we have been," the carrier's chief executive Topi Manner tells FlightGlobal during an October interview. "To me it's clear that the role of the governments, on a national level, on a regional level in Europe, but also on a global level, will increase in this industry going forward."
Indeed, being government-owned suddenly seems like a strength as airlines burn through cash and covet credibility on the financial markets. At the same time, state-owned airlines are becoming commonplace again in Europe thanks to emergency bailout deals for ailing flag carriers.
This change in industry dynamics was unimaginable when Manner left financial group Nordea to become Finnair chief executive less than two years ago. But it leaves him determined to continue Finnair's positive story under state ownership – a story that gave it strong foundations going into the crisis.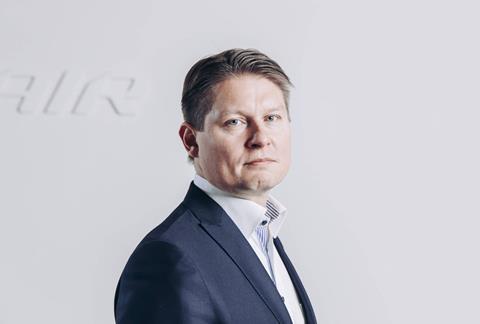 And that is fortunate, because the operating environment could hardly be more challenging.
Finnair expects full-year capacity to be down at least 70% in 2020, Manner states. Passenger traffic reached 15% of 2019 levels in August and was back down to 10% in October.
With airlines facing "a very long and cold winter" as they continue to "accumulate a lot of debt", he explains that Finnair needed to introduce a raft of financial measures to ensure it can make it through the coming months.
"Our financial contingency measures have been quite sizeable and we have been developing a financial bazooka of sorts for ourselves, and that is why our cash position at this present time is still good," Manner says.
"Government ownership has been a strength for us amidst the pandemic, because that has obviously given us quite a bit of creditability, especially on the financial market, together with our healthy financial standing – the healthy balance sheet and the cash reserves."
LESSONS FROM THE FINANCIAL CRASH
Manner should know a thing or two about crisis management, having worked in the banking industry for 20 years, including during the global financial crash.
He notes, however, that while "there have been some learnings that have helped during this crisis", nothing could prepare him for the scale of the current challenges.
"The nature and the severity and the violence of this crisis has been completely different," Manner observes. "Definitely the financial industry background has helped when we have been considering steps to survive the crisis in terms of raising new debt or in terms of raising equity.
"But of course the sheer magnitude of this crisis is basically something that none of us has ever experienced. So of course this has also been very, very new on all possible aspects, and clearly, in the face of this kind of a challenge you need to stay very humble. And by definition you are forced to be humble."
The size of the task ahead is reflected in Finnair's current financial predicament, even though Manner notes that the operator's cash "would be adequate until the latter part of 2021" under most scenarios.
Finnair was operating at a loss of around €2 million ($2.4 million) per day through to October – half of which was depreciation, Manner says. Later in the month it hiked its target for permanent cost savings from 2022, raising it to €140 million from the previous level of €100 million.
The carrier has raised almost €1 billion of new debt since the crisis began – including via a government-guaranteed loan and through the sale-and-leaseback of one of its Airbus A350s – while it also carried out a rights issue that raised €500 million of equity.
At the same time, the Helsinki-based operator has around 80% of its staff furloughed, having confirmed permanent job cuts affecting around 700 of its 6,500-strong workforce.
Those cuts are focused on ground staff and headquarters operations, with Finland's comprehensive furlough scheme meaning air crew can be kept on at little financial burden to the carrier.
That is happening alongside a reorganisation of the business, a redefinition of "cross-functional processes", and better utilisation of automation and digitalisation – all of which are aimed at "improving the productivity of the organisation quite significantly".
"We are resizing – we are resizing our fleet, we are becoming a smaller airline for the years to come," Manner states.
ASIA WILL REMAIN THE KEY FOCUS MARKET
Amid this upheaval, some things are unlikely to change, with the Europe-Asia niche still central to Manner's ambitions for Finnair.
"We are very committed to the strategy of connecting Europe and Asia," Manner states. "We think that we have a sustainable competitive advantage in that short northern route, which is not only the shortest in terms of travel time, but also the most environmentally sound route."
He cites work by airport operator Finavia on improving Finnair's Helsinki hub as an important step towards cementing this advantage.
"It will be a brand new, fantastic airport in two years," Manner says. "The transfer time is also going to be very competitive, 40 minutes or so. For us, because we are predominantly a transfer airline – 60% of our passengers in 2019 were transfer customers – this is going to be important."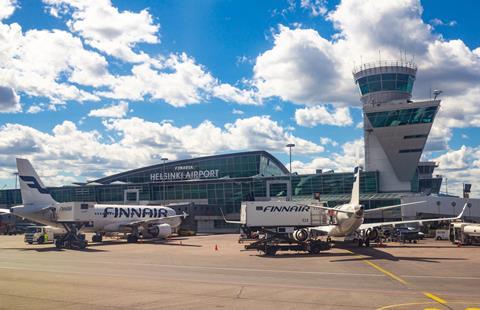 The carrier's commitment to its Asia strategy was demonstrated when, even as the first wave of the pandemic was shuttering global markets in April, it announced the signing of a letter of intent with Chinese carrier Juneyao Air to form a joint venture on the Helsinki-Shanghai route.
"The philosophy behind the JV and that letter of intent that we announced in April is that even during times like this, when we need to play the short game to survive, we still need to keep focusing on the long-term goals as well," Manner says. "And one of our long-term goals is that we really want to improve our presence and foothold in Asian markets, and China definitely goes into that one."
In terms of other important post-pandemic goals, Manner believes that when the crisis abates, Finnair's advantage will come from positioning itself as "a modern, premium airline".
"We believe that post-pandemic, customers will be focusing more on quality and service, with elements like personal space on board, health and safety, cleanliness, but also the human touch and the digital services," he explains. "So we are working towards that kind of a positioning, and I think that we are well on our way, and we are also continuing to invest to get there."
On the latter point, while capital expenditure has been under the microscope during the crisis, "we have selected a handful of critical projects that we think will be making us competitive as a modern premium airline post-pandemic, and we have continued those investments".
Manner admits, however, that it will not be an easy ride to achieve those aims.
Acknowledging that "debt needs to be paid back", meaning "you need a lot of cash flow", he cites a near-term future where pricing pressure exists alongside excess capacity in the market.
But his expectation is that the customers will become "more focused on service quality and being a bit less price-sensitive".
"That's one of the changes that we see in the network airline space – the dynamic would be a little bit different [to that in] the low-cost space," he states.
Asked whether the projected reduction in demand for corporate travel will make Finnair's "premium airline" aims more difficult to achieve, Manner is philosophical.
"The sales people still need to travel," he states. "The project people, the project engineers, the trouble-shooters will need to travel. Companies will need to at times rally the troops and so forth, so all of those things will remain.
"But remote meetings among people who know each other and know the issues… they are the kind of travel that probably will permanently cease to exist."
Finnair therefore expects that "during the next three to four years, 60-70% of the corporate travel will come back".
But Manner is not unduly concerned by this reduced demand.
"We are predominantly a leisure company," he explains. "So 80% of our passengers are leisure and 20% are corporate. We do believe that the leisure traffic will come back, because people want to experience things."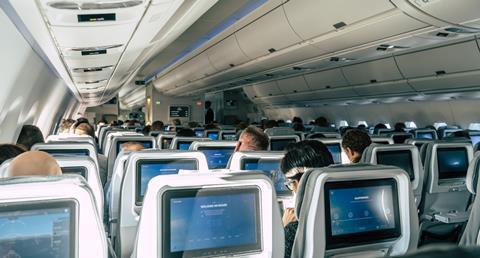 He adds that Finnair's modelling of the sector's recovery ranges from there being "a new 'merry 20s'", through to "more gloomy scenarios".
Manner is more certain, however, about the order in which markets will return.
Domestic traffic has come back first, he says.
"European short-haul is definitely the next one on the line," Manner states, adding: "Long-haul seems to take more to recover."
The latter, however, is being helped by freight demand – despite Finnair only having passenger aircraft in its fleet.
"In the long-haul part of the business we are currently being supported by the cargo business," he states. "We only have belly cargo and the demand for belly cargo, with the constrained capacity that is out there in the skies, is quite good. And also the price of cargo per tonne is still on good levels.
"When we look at our long-haul flights at this present time, the majority of the income or the revenue is actually coming from the cargo side of the business. The load factors in terms of passengers are low."
SUSTAINABILITY WILL STILL BE A BIG ISSUE
Finnair is navigating this hugely challenging near-term picture with one eye on the key issue of sustainability.
An airline's ability to invest in new aircraft and other measures aimed at mitigating the sector's environmental impact will become a "differentiating factor" in the future, Manner believes.
Noting that the issue of sustainability will "come back swinging" in the post-pandemic world, he says that meeting the challenge depends on "balance sheet strength" and "how strong you come out from the crisis".
"The investment capability for new aircraft, synthetic fuels, hydrogen, you name it… will be a differentiating factor."
Pre-pandemic, sustainability became one of the biggest challenges facing the airline industry – particularly in Europe, where some government airline bailouts in recent months have included environmental stipulations.
Finnair's own ambitious targets around sustainability – "we want to go carbon-neutral by 2045 and… by the end of 2025 we want to reduce our carbon footprint by 50%" – mean that the carrier is still eyeing a narrowbody order in the coming years.
"We are sticking to these goals amidst the pandemic… that also means that since new, more fuel-efficient aircraft are probably the biggest lever in our roadmap towards those goals, then we are keeping it on the agenda," Manner states.
In the "short run" an order is "not on the cards", he adds, because the airline currently has too much capacity.
"But then, looking medium term, three to four years, something like that, then the narrowbody order is definitely still on the agenda," Manner explains.
There has been speculation about Finnair placing a narrowbody order for a number of years. As things stand, Finnair's only outstanding commitment is for three Airbus A350s, deliveries of which are now due to begin in late-2022, following a deferral agreement with the airframer.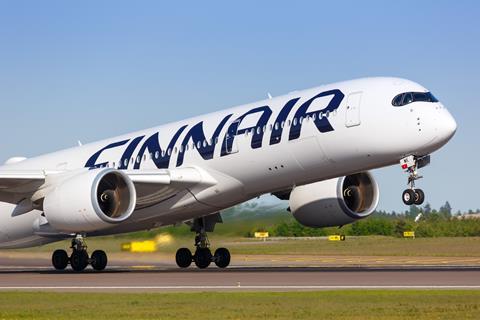 Finnair's mainline operation went into the crisis with 61 jets in service, Cirium data shows, comprising eight A319s, 10 A320s, 19 A321s, eight A330s, and 16 A350s.
In early October, the carrier was using "30-40 of our aircraft on a rotating basis" with the remainder in storage, Manner says.
Some were due to be sent to "long-term storage ahead of winter, to a warmer climate".
Meanwhile, seats have been removed from three of the A330s to enable Finnair to take advantage of the capacity crunch in freight markets.
While Finnair is "pretty happy where we are at this point of time" with its cargo operations – and with no plans to purchase dedicated freighters – "it clearly seems that we will be extending the time for cargo-only operations with these A330s".
But cargo cannot offset all the pain being felt in passenger markets. Manner says action on coronavirus testing regimes is crucial to opening up international connectivity.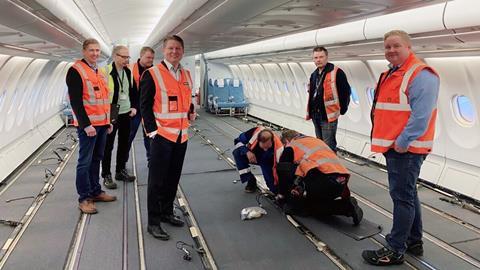 He cites Finnair's improved net promoter score during the crisis as strong evidence that the carrier is doing the right things to reassure its customers on the safety of air travel.
"When we peel the onion behind the figure, then what is clear is that customer confidence in the health and safety measures we have been taking is really coming through as the main explanation for the increase," Manner states.
Rather, in common with many of his European peers, Manner says the inconsistent application of virus-related measures by governments and regulators are the main barrier to people travelling more.
"Fragmented travel restrictions and the quarantines are effectively prohibiting travel across Europe," he concludes. "That simply needs to change. So we need common standards, we need common traffic light categories with similar thresholds, and we need a common testing regime."