Leisure operator TUI wants to capitalise on opportunities following the collapse of rival Thomas Cook – but the outlook is complicated by uncertainties around the Max grounding
For the chief executive of aviation at European leisure group TUI, seeing competitor Thomas Cook exit the market earlier this year was a double-edged sword.
"It's really sad… it's quite an incestuous industry, so you have colleagues that come from Thomas Cook, colleagues that go to Thomas Cook," Kenton Jarvis tells FlightGlobal in Brussels on 10 December, as TUI was unveiled as the latest business to join the Airlines for Europe (A4E) trade association. "I had a number of friends and colleagues who were working at Thomas Cook at the point of the collapse. I think they thought there would be a way through it."
At the same time, "it is an opportunity for us", he states.
Amid Thomas Cook's exit from some markets, however, TUI is facing challenges of its own. Most significantly, it was among the largest operators of the Boeing 737 Max when the global grounding began in March, with 15 of the type in service, according to Cirium fleets data.
As Europe's 2020 summer season approaches, a key question is what the lack of Max jets means for TUI's chances of fully capitalising on Thomas Cook's collapse – and what the latter's exit from the market portends for the sector's health.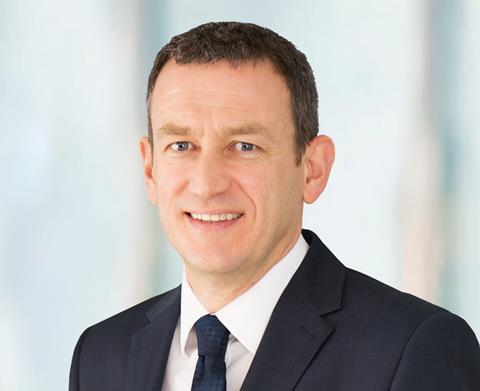 Acknowledging uncertainties regarding the Max's return-to-service date, Jarvis states that TUI is considering a range of outcomes.
"We're preparing for different scenarios and we'll be prepared when the aircraft is ready to come back," he says, without specifying any expectations around the timeline.
The operator "wet-leased a lot during the summer" to compensate for the holes in its fleet created by the Max's absence, he explains, adding that "we haven't had to do that in the winter because we don't need the same lift".
TUI "should have had 23 Max last summer and now that would be ramping up to [as many as] 34 Max", he outlines, noting that owing to the length of the grounding, the operator has recently been able to "bring in dry-leased aircraft because we have more time to prepare".
When the Max returns, "it will be a very safe and well-tested aircraft", Jarvis adds.
UK PROVIDES OPPORTUNITIES AS PARTS OF THOMAS COOK ENDURE
Whatever happens with the Max, TUI's major response to Thomas Cook's collapse in terms of fleet will be seen in the UK market. Elsewhere, the defunct tour operator's absence has not necessarily created such neat gaps in the market – for its airline operations, at least.
"In the UK we're looking to add capacity," Jarvis explains. "So we'll be adding a lot of seats in the UK – 10, 12, 13, 14 aircraft will come in to add that capacity in the UK, because obviously Thomas Cook had 33 aircraft [in the country], so if we take our natural 30-35% market share that gives us a good opportunity to grow there."
He notes that in Belgium and the Netherlands, where Thomas Cook also had a presence, "we're seeing a good increase in demand, although they didn't have airlines, because they ran off the back of Brussels Airlines and Transavia in those two countries – they'd exited their airlines.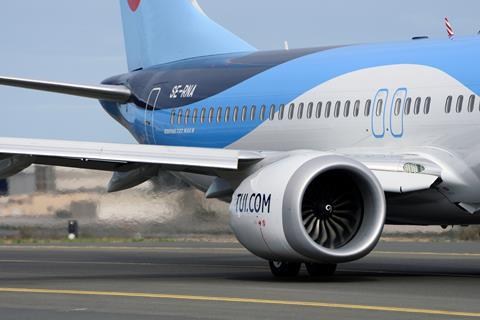 "But still, there's one tour operator less in the market and they had a decent market share."
In the Scandinavian market, "there's no real change" because "Thomas Cook survived… and has been rebranded [as Sunclass Airlines by new owner Ving Group] and they've kept their airline. So they will remain a strong competitor in that market".
The German market is "a funny beast", Jarvis continues. "The tour operator's gone, which is good from our position and means we are seeing an uptick in customers. But then at the same time, the airline Condor keeps running and operating, this time with state aid [and] its pension liabilities forgiven, so that looks like it will remain in the market, but there is a sales process under way."
Therefore, Germany is "not such a huge opportunity" from an airline point of view, but there is "some room to breathe in the tour operator space".
HOW DOES TUI'S BUSINESS MODEL DIFFER FROM THOMAS COOK'S?
Quantifying the size of the opportunity created by Thomas Cook's collapse is also not straightforward because the operator "had a very different business from TUI".
Jarvis highlights that TUI has its "tour-operating [arm], which is our markets and our airlines – that's where our 150 aircraft sit – and then we've got the content business with over 380 hotels, 17 cruise ships, destinations services and an experiences platform that runs across 50 destinations".
As a group, around 70% of TUI's profits come from that content business and 30% from the tour-operating arm, Jarvis states.
Thomas Cook, however, "had only just started embarking on seeing if they could get some hotels and had no cruise ships, and that's been a great market to be in for the last 10 years and still is – you've got demand in excess of supply", Jarvis says.
"So I think they were a little late changing their model, and therefore the combination of a heatwave [in the UK, prompting people to holiday in the country rather than travel abroad] and Brexit uncertainty gave a perfect storm for them", alongside the business's debt burden.
TUI's tour-operating business suffered from some of those short-term factors too, Jarvis says, "but when that's less than a third of your overall profit portfolio it doesn't matter so much".
"What our markets really are is the kind of funnel for our content business," he continues. "And if their margin goes up and down £10 [$13] or £15 it's annoying, but all the customers still come into the same funnel.
"We might have to discount £15 to get them in that funnel, and that's clearly a lot of money if you've got 20 million customers – it racks up to quite a big [total] – but it won't wipe out our profit stream that comes across our business."
TUI OUTLINES FINANCIAL IMPACT OF BOEING 737 MAX GROUNDING
On 11 December, a day after Jarvis was speaking, TUI announced its full-year results and outlook.
For its 2020 fiscal year, beginning 1 October 2019, the operator expects "an underlying EBIT range of between approximately €950 million [$1.05 billion] to €1.05 billion, which includes an approximate €130 million cost impact from the 737 Max grounding, assuming a scenario whereby the Max returns to service by end of April 2020".
Should the Max not return by end-April, however, and TUI "has to plan for a continued grounding for the remainder of FY20", the group assumes "a further cost of between approximately €220 million to €270 million".
Neither scenarios take into account potential compensation from Boeing.
TUI reported a full-year EBIT of €691 million for the 12 months to 30 September 2019, a drop of 28% year-on-year.
Revenue was up 2.5% at €18.9 billion.