Turkish Airlines chairman Ahmet Bolat believes that retaining staff and the carrier's strong financial performance through the pandemic have been key to enabling a return to growth, with the Istanbul-based carrier already surpassing pre-crisis activity levels.
The Star Alliance carrier, aided by a strong performance in air freight and a sharp bounce-back in Turkish tourism, was able to limit losses during the crisis and return to profit last year.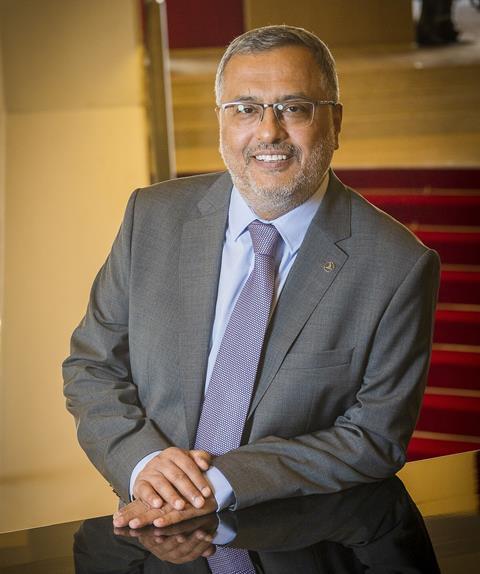 "Right now we are a little above 2019 [capacity] figures. Next year we will continue to grow double-digit," says Bolat during an interview with FlightGlobal at the recent IATA AGM in Doha.
He believes one of the keys to its quick return has been been retaining its staff through the crisis, meaning it has been able to quickly ramp-up operations as restrictions eased and demand returned.
"We told everybody that nobody was laid off, everyone would keep their jobs. Of course we had to share the cost of it and we asked [for] reasonable reduction on the salaries. But we kept saying this is going to pass, it will not affect the airline drastically, and we continue.
"In the first year of the pandemic, 2020, we had a little loss. But the next year we had a remarkable profit [of] $1.4 billion," he says. "What we have done is half of this money went to the salaries and fringe benefits, therefore our people are very much motivated as before and that is important. We don't face similar issues like our competitors are facing in the ground handling and so on. We didn't face these issues.
"We started with 60% [of capacity] initially and then we came to 80%, and now we come to 100%," he says. Turkish Airlines passenger numbers of 6.3 million for May this year were 400,000 above the same month in 2019
Like many other carriers, Turkish Airlines had in the early part of the crisis turned to the booming air freight market to fill the void. The airline deployed around 15 passenger aircraft on cargo missions to supplement is fleet of freighters, helping a doubling in cargo revenues in 2021 compared with pre-crisis levels.
"Last year it [cargo] was more important. Our expectation is it will continue in the coming years," says Bolat. "I think from now… cargo will continue to be an important element for airlines.
"The cargo market is very tight," he adds when asked whether the carrier has enough freighter capacity to meet demand. "But we have a big 777 fleet and A330 fleet and have continued to grow in that." Cirium fleets data shows Turkish has 19 freighters in service.
"Most likely we are going to convert our 777s to freighters. This is the way we are going to continue to grow," he says.
The airline has now switched the aircraft temporarily used on cargo flights back to passenger operations as demand in the latter sector has recovered.
Here the airline has benefited from the size of the Turkish domestic market, as well as its wider tourist appeal – with leisure being the passenger market to recover most quickly from the pandemic.
"Turkey became a good spot in the world to visit," Bolat says. "We are expecting around 50 million tourists coming to Turkey this year. The hotels in Istanbul are almost full [already]."
Indeed, Bolat sees the opportunity to further develop Istanbul as a destination, noting a major promotional push is taking place. The airline has itself launched a stopover product to encourage passengers using Istanbul as a transit stop to stay in the city, offering one night's free accommodation for economy passengers and two for those travelling in business. "This way we believe more and more people will have interest to come to Istanbul," he says.
That supplements the connecting transit business model, through which the airline capitalises on Istanbul's location as a traditional link between east and west. Turkish has been able to develop this business despite competition from the big Gulf carriers, who notably have been among the most active international players during the pandemic.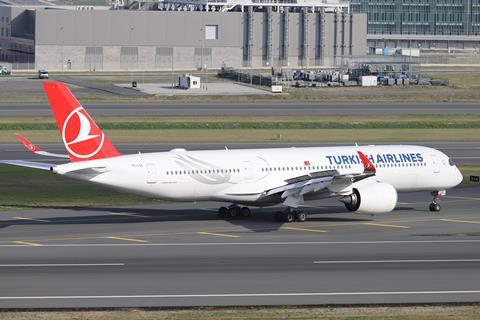 Bolat see its location as a key advantage for the carrier, meaning it can reach points to the east and west using existing aircraft. "That is important. The current efficient 787s, A350s, are really enough for us, all for expansion or replacements. We don't need really the newcomers."
The airline though continues to grow its fleet, most notably recently ordering six more A350s for delivery this and next year.
"If you look at it we have leased 30 more narrowbodies, and we purchased six A350s, so already we have an almost 10% growth in fleet," he says.
Turkish Airlines' fleet now stands at 378 aircraft. That includes the first Boeing 737 Max jets deployed at its growing low-cost unit Anadolu Jet – a type already in service at the mainline operation.
New Istanbul airport boost
A further advantage for the airline has been the relatively recent opening of the new airport at Istanbul. Flights moved over to the new airport from Aaturk airport in April 2019.
"I remember waiting in the old airport 45 minutes to have the next available gate on the taxiway on arrival," Bolat recalls. "You imagine you are coming on a 45 minute to one hour flight, and you have to wait another 45 minutes on the aircraft. We were facing these congestions for the last two or three years [before the new airport opened] as we grew.
"Ataturk airport was good for 200 aircraft. More than that, we started having complexities and complications.
"With the new airport, the main terminal is big – there will be some other terminals as the time passes with other phases – but this terminal is enough for 120-150 million passengers. It used to be 80 [movements] an hour maximum at the old airport, now 120 departures and arrivals per hour with this new airport," Bolat says.
This gives the airline confidence that it can deliver on its growth ambitions, albeit headwinds remain, be it surging oil prices, the continued threat of Covid disruption, and inflation – which reached its highest level in Turkey for more than two decades earlier this year.
Asked about his biggest concern over the rest of the year, Bolat though strikes a positive note. "If something will happen, it will happen if it's your destiny. But we have to be always optimistic, with real plans. That's really important. Our plans are very realistic and solid, based on the financials.
"Therefore, when we look at the end of the year, we are [expecting] a similar performance this year. Of course we wish the oil price was lower. But if all the airlines have the same fuel and are paying the same rates, then we should not be worried about it."