United Airlines views its new order for 100 Boeing 787s as a means to leapfrog US competitors through aggressive international expansion as the industry in the coming decade recovers from the Covid-19 downturn.
The Chicago-based airline's executives also say the deal and a separate new order for 100 737 Max – both disclosed on 13 December – reflect confidence in Boeing, a company working to overcome troubles that have impacted most of its major aircraft programmes.
It also signals United's confidence that demand for international travel will surge in the coming decades, rebounding from pandemic lows.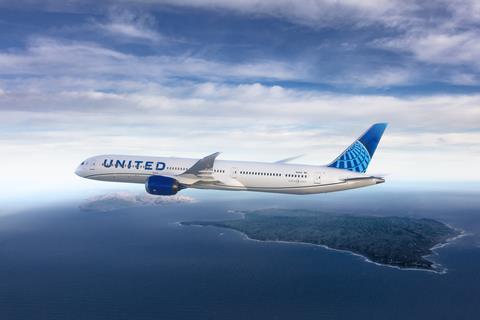 "Boeing is one of the most important companies in our country," United chief executive Scott Kirby said during a 13 December event at Boeing's 787 manufacturing site in North Charleston, South Carolina.
"Trust… that is rare in corporate America these days," Kirby adds. "I have an immense amount of trust in Boeing."
Also speaking during the event, Boeing chief executive David Calhoun calls United's 100-aircraft deal "the largest 787 order in history".
Indeed, it boosts Boeing's 787 backlog by around a quarter from 412 to 512 aircraft.
Hundreds of employees from United and Boeing attended the event, which the companies held to highlight United's 200-strong order for Boeing jets. The Star Alliance carrier also secured options to order a further 100 787s.
United expects to receive the 100 737 Max by 2028, and to receive the 100 787s between 2024 and 2032.
The order throws substantial momentum behind Boeing, which has in recent years been battered by external pressures and internal problems, including the Covid-19 downturn, staff and parts shortages, certification hold ups, the 737 Max grounding and recurring quality troubles.
The quality issues included 787s manufactured with gaps between composite fuselage sections being larger than intended, which prompted Federal Aviation Administration scrutiny and led Boeing to pause 787 deliveries for most of the period between October 2020 and August 2022.
During that period, Boeing slashed 787 production rates and stopped making the widebodies in Everett, Washington, leaving North Charleston as its sole 787 assembly facility.
Kirby declines to disclose details about how much United will pay for its 737 Max or 787s. But, he hints that United landed a favourable deal. "I'm smiling," Kirby says when asked about pricing.
He and other United executives frame the airline's latest aircraft order as reflecting an aggressive and optimistic response to the recent air-travel downturn.
Amid the Covid-19 pandemic, other airlines grounded older jets like 767s and 757s, Kirby says. But United kept those types and began planning for recovery, including by ordering 270 Airbus and Boeing narrowbodies in June 2021, forming a partnership with Emirates Airline earlier this year and, now, ordering 200 more Boeing jets.
"That really sets United up," Kirby says.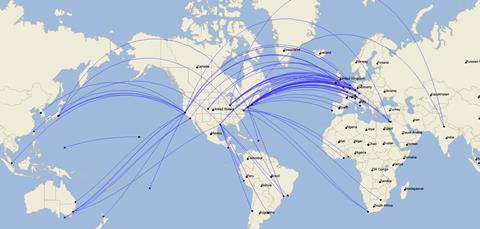 United chief commercial officer Andrew Nocella says the incoming 787s will help United expand an international flight network he describes as already more robust than competitors'.
The airline's in-service widebody fleet now includes 254 aircraft, all made by Boeing, among them 767s, 777s and 787s, according to Cirium fleets data. By comparison, competitor American Airlines has 154 widebodies, while Delta Air Lines has 172.
United plans for its 100 787s to replace its 767s (it has 45, which it expects to retire by 2030) and some of its 777s (it has 95).
The carrier already operates 65 787s, including 11 787-8s, 38 787-9s and 16 787-10s.
United has not specified which variants it intends to acquire as part of the newly ordered 100 787s, but Nocella says each has a place in United's network.
He notes United operates 787-8s on transatlantic flights such as those to Accra, Ghana and Amman, Jordan. It deploys 787-9s on ultra-distance routes such as from San Francisco to Singapore and from Houston to Sydney. "It flies forever", Nocella says of the -9.
But the 787-10 is "the star of the show… Its economics are unbeatable", Nocella says. "I sure hope many of the ones that come down this line in the next decade are in fact the -10."