United Airlines and Emirates Airline have put aside a contentious trade dispute in launching a new partnership they say will dramatically expand their international presence to the detriment of competitors.
The deal brings reconciliation between United and Emirates, which had defended opposing positions during a subsidy-related spat last decade.
"Seven years ago, you'd be throwing tomatoes at me," Emirates president Tim Clark said on 14 September during an event at United's Dulles International airport hub near Washington, DC.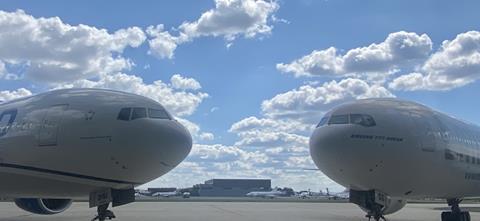 There, Clark and United chief executive Scott Kirby laid out the broad strokes of their new commercial agreement.
"This will defy the laws of physics when it comes to moving people across the planet," Clark says. "It is going to terrify our competitors."
"Putting two great brands together is… what this is all about," United's Kirby adds. "It's going to open up a lot of cities in India and Africa that we just don't have access to today."
The deal encompasses United, Emirates and discounter Flydubai, which has close commercial ties with Emirates. The agreement will involve codesharing, with the airlines selling each others' flight as their own.
It will start in November, when customers travelling on Emirates to Chicago, San Francisco and Houston will be able to transfer to United flights to some 200 US cities, the airlines say.
The partnership will expand in March 2023 with United's planned launch of a flight from Newark to Dubai. There, United's customers will be able to connect to some 100 cities on Emirates and Flydubai.
"United is going to be back flying to… Dubai – and doing so because we are able to partner with Emirates," says Kirby.
The carriers will also offer connections in Boston, Dallas, Los Angeles, Miami, New York-JFK, Orlando, Seattle and Washington-Dulles. They say they will offer reciprocal benefits to members of their frequent flier programmes.
In aligning with United, Emirates has terminated a codeshare deal with JetBlue Airways.
United's chief commercial officer Andrew Nocella says the partnership will bring broad swaths of the world into United's network.
Neither American Airlines nor Delta Air Lines responded to requests for comment.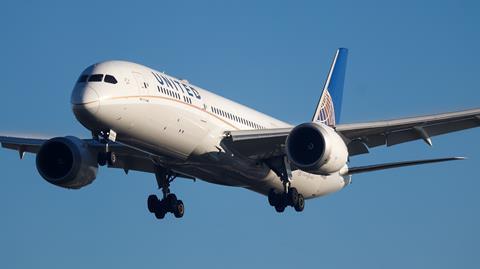 Clark says he would like to expand the relationship with United over time. He envisions it becoming similar to Emirates' agreement with Qantas, under which those airlines coordinate pricing, schedules, sales and marketing. Qantas acts as Emirates "primary seller" in Australia, Clark says.
He does not, however, plan to form a revenue-sharing or equity deal with United. US carriers have such "joint ventures" with European airlines.
Also, Clark has no interest in joining Star Alliance, of which United is a central member.
"We need to grow organically. We need to control our own destiny. We need to control… the operating level of the airline," Clark says. "To have a third party suggesting otherwise is not going to work."
The codeshares still require regulatory approval and the deal has been meet with concern by unions.
On 14 September, five unions representing United employees, including the Air Line Pilots Association and Association of Flight Attendants, urged that the agreement receive "scrutiny".
The unions say Emirates has been sustained by "massive government subsidies. "To protect the jobs of US airline workers, there must be continued financial transparency and improved labour standards that ensure fairness is maintained," the unions say.
ACRIMONIOUS PAST
The Emirates-United tie up marks a significant turn for airlines that last decade were locked in a dispute involving alleged subsidies.
It started in 2015, when CEOs of American, Delta and United complained to senior US officials that three Gulf-region carriers – Emirates, Etihad Airways and Qatar Airways – had received unfair government subsidies to the tune of $50 billion. Etihad is also based in the United Arab Emirates, and Qatar is based in Doha.
The US carriers said the subsidies let those airlines sell tickets at below-cost fares.
They asked the administration of President Barack Obama to prohibit the Gulf airlines from further US expansion, and to rescind their "fifth freedom" rights.
Those rights, detailed in air travel treaties, give airlines authority to carry passengers from the USA to foreign countries, so long as the aircraft continues to the airline's home country. Emirates, for instance, flies from New York to Milan, then onward to Dubai.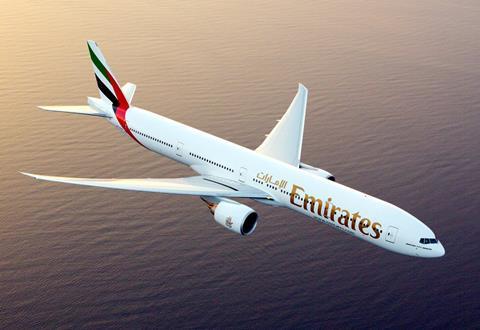 The Gulf carriers denied the subsidy allegations and noted US carriers received hefty aid following the terrorist attacks of 2001. (More recently, US airlines landed $58 billion in pandemic-related government aid.)
In 2016, amid the spat, United and Delta ended flights to Dubai.
The dispute simmered until 2018, when the governments of the USA, Qatar and the United Arab Emirates reached deals. The Gulf airlines agreed to be more financially transparent and made assurances not to add more fifth-freedom flights.
During the event, the executives acknowledged their history of bad blood, with Kirby citing "years – decades – of fraught relations".
"We look forward. We don't look backward," Clark added.