United Airlines expects to exceed its 2019 profit margin by 2023 due to rebounding demand, executives say one day after the airline reported a $7.1 billion full-year loss for coronavirus-plagued 2020.
"The inflection point is the same day you feel like you can go almost anywhere, that you can go to a restaurant anywhere in the country, or a Broadway show, or Disney World," says chief executive Scott Kirby on 21 January. "When it happens, we have lots of data, surveys and evidence that show there is huge pent-up demand."
The Chicago-based carrier now expects its recovery to resemble an "S" curve, with rapid and sustained growth coming only when customers are again comfortable travelling – which may not occur until later this year when many people have had the chance to receive a Covid-19 vaccine.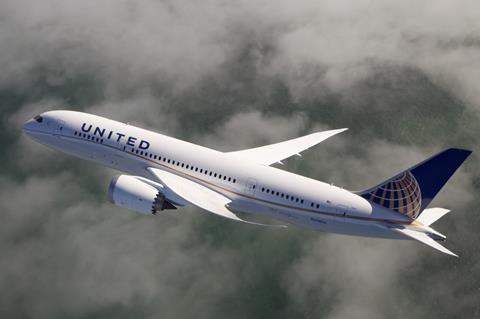 "This is about when demand will recover," says Kirby. "This team has done a remarkable job of quickly getting our costs and cash burn under control from early in the crisis. Now it depends on when we hit the inflection point, and that will happen when a critical mass of the country has been vaccinated."
"When that happens, it will be a very rapid increase in demand," he forecasts, adding that once the airline begins to see 85-90% of demand return, "we will go from cash-negative to quite a bit cash-positive".
Executives said on 20 January that they view 2021 as a "transition" year, going from the most-difficult business environment in the airline's history – United lost $1.9 billion in the last quarter of 2020 – to a return of profitability. The airline expects continued difficulties in the first part of 2021, with revenue hovering around 30-35% of that in the same quarter in 2019, and capacity at just more than half.
"Accelerated distribution of the Covid-19 vaccine may lead to faster improvement, however the company is not including this potential improvement in its first quarter 2021 revenue outlook," the airline said.
With the pandemic raging, United's executives are cautious about pinpointing when exactly they think the demand curve will begin to rise. And when it comes, all airlines will likely experience it together.
INTERNATIONAL PROFITS
Once recovery begins, once travel restrictions ease, United executives believe profit from international travel will spool up faster and with more force than domestic travel because pent-up demand for these flights will outpace supply – an opportunity that will benefit the airline.
"There are fewer widebody aircraft in fleets around the world, and there is at least one big competitor not flying across the Atlantic any more," says chief commercial officer Andrew Nocella. "That gives us a lot of confidence that the world is very different than it had been."
That competitor is cash-strapped Norwegian Air, which earlier this month said it would no longer be offering long-haul service.
Last month, United appealed to advisers of incoming US President Joe Biden to lift the pandemic-prompted travel bans the country has had in place since early 2020.
In a private memo, the airline called on the Biden transition team to bring together experts from government, the travel industry, unions and public health to work on how to safely restore air travel in the wake of the global crisis, and thus kick-start a recovery in the US airline industry as well as the wider economy.
Shortly before this week's transfer of power, the outgoing Trump administration promised to lift rules banning travellers from some countries from entering the USA. But a spokesperson for the new Biden government quickly stepped in, indicating that that will not occur. She added that, in fact, the new team plans to "strengthen public health measures around international travel in order to further mitigate the spread of Covid-19".
It is not yet known what those restrictions will entail.
US ENTRY REQUIREMENTS
United's Nocella says bookings to long-haul destinations in Europe, Latin America and Asia have been minimally impacted by new US government coronavirus testing requirements for passengers arriving from abroad, set to take effect on 26 January. However, cancellation of bookings to closer beach vacation spots like those in Mexico – which has had relatively few restrictions – and the Caribbean have been "noticeable".
Last week, the US government introduced the new rule requiring inbound air travellers to provide a negative coronavirus test result that is less than 72h old before they are permitted to enter the USA. Airlines will be responsible for ensuring passengers have either paper or electronic proof of the negative result prior to boarding.
For months, passenger carriers have called for a federal testing requirement that would better protect crews and other passengers, at least until a vaccine is widely distributed, available and shown to prevent the further spread of the virus.
United's executives alluded to further rules around international travel and movement which it expects the new administration could impose in the coming days.
On 20 January, just hours after the new administration was sworn in, President Biden signed an executive order mandating face coverings be worn on all federal property, with another order to be signed on 21 January that would make it obligatory for interstate public transportation, including on US flights.
Airlines have their own rules about masking, but have been clamouring for a nationwide mandate which adds weight and enforcement to the rules already in place.