United Airlines expects to be "solidly profitable" during the second quarter of the year, even as it posted a loss for the first.
The Chicago-based carrier says on 20 April that its "bullish outlook" is based on rising revenue projections and pent-up customer demand. It's forecasting total revenue per available seat mile at 17% over pre-pandemic levels, the strongest second-quarter revenue guidance in company history.
"The demand environment is the strongest it's been in my 30 years in the industry – and United and its customers will benefit more than any other airline," says chief executive Scott Kirby. "We're now seeing clear evidence that the second quarter will be an historic inflection point for our business. It leaves me more optimistic than ever about United's future."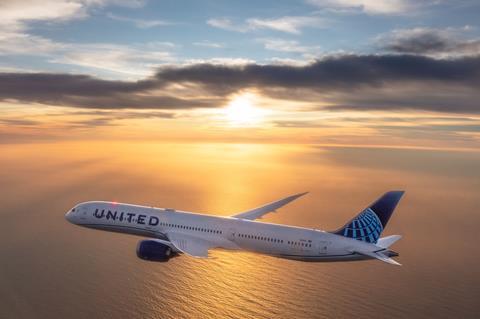 United's first-quarter 2022 loss came in at $1.38 billion, almost unchanged from the same quarter a year ago. In pre-pandemic 2019, the company posted a $495 million profit during the first three months of the year.
Revenue during the three-month period was $7.57 billion, more than double the figure in 2021, but still 21% less than in the first quarter of 2019.
United says its Pratt & Whitney-powered Boeing 777 aircraft, which it grounded last February after one example suffered a blade-out engine failure over Denver, are expected to "gradually return to service". As they do, United says it will continue adding capacity to its system.
That aircraft lost its right PW4000 just minutes after taking off, raining debris across several neighbourhoods. Two fan blades had cracked due to metal fatigue, and the engine's inlet and cowling separated from the powerplant. There were no injuries but it was the third such PW4000 incident in less than three years.
"The company is also seeing indications that business travel is rapidly returning and expects further improvement in international travel, including Asia," United adds.
During the first quarter, United announced plans to offer thrice-weekly non-stop service between New York and Cape Town, South Africa. The carrier also resumed 19 international routes and relaunched service to six cities it had not served since the beginning of the pandemic. These include Berlin, Edinburgh, Grand Cayman, Porto, Singapore, and Shannon, Ireland.
United Airlines will hold an analyst webcast on 21 April to share more details about its first-quarter earnings and outlook.