United Airlines' new fleet plan not only shifts its focus to the premium-travel segment, it cements chief executive Scott Kirby's reputation as a CEO unafraid of taking risks in the face of industry upheaval.
In addition to disclosing an order for 270 more Airbus and Boeing narrowbodies on 29 June, Kirby says United's focus has shifted toward strengthening its presence in large markets – and less on small markets. United has also recently committed to acquiring electric air taxis and supersonic jets, and pledged to invest in sustainable aviation fuels (SAF).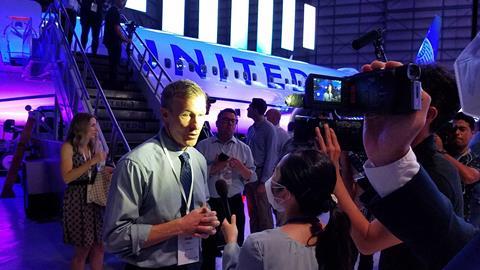 United's latest order – for 200 Boeing 737 Max and 70 Airbus A321neos – is among the largest aircraft orders in history. As the industry digests the massive deal, United signals it is squarely focused on the premium-customer segment and in squeezing efficiencies and profits from its multiple hubs.
The airline thinks a renewed fleet will drive up profitability as the sector recovers from the year-long global health pandemic. It is also adding more lie-flat seats on long-haul flights, significantly upgrading in-flight entertainment and investing in customer service improvements – changes United views as key to success in the post-pandemic era.
"This is much more than just an aircraft purchase," Kirby says."This is about changing the entire customer experience."
"The bet we are making today is that the customers care about the product," he adds. "We had no chance to compete effectively, and this order is about remedying that."
The underlying problem for the carrier to date, executives say, has been the size of its jets – "gauge", in industry-speak.
"This is not about opening new cities and routes," says chief commercial officer Andrew Nocella. "This is about gauge. Gauge, gauge, gauge. This is about getting the right aircraft on the right mission."
The new jets, which will begin arriving in 2022, will significantly increase the size of aircraft in United's fleet, giving the carrier the opportunity to offer some 30% more seats per departure by 2026, and 75% more premium seats per departure, United says.
United estimates the larger jets will cost about six cents per seat, per mile (excluding fuel expenses) to operate, helping United drive down its overall adjusted unit cost 8% by 2026.
"We will essentially have the same cost as the ultra-low-cost carriers," he says.
That will allow United to better compete, via its hubs, with ultra-discounters. Kirby thinks United will have a significant competitive advantage at large airports in major cities, which he views as too costly to be viable in the long term for low-cost competitors.
That is why Dallas-based Southwest Airlines left Newark, Kirby adds, and why Irish discounter Ryanair does not fly to London Heathrow airport.
"A low-cost carrier trying to fly in an expensive airport like Newark – the business model doesn't work," Kirby says. "They don't realise that yet."
FLEET-WIDE CABIN UPGRADES
United held a slick media event in a hot and humid Newark hangar on 29 June to promote its narrowbody order, part of a wider transformation the airline calls "United Next". The event's backdrop: United's first 737 Max 8 (tail number N27251), delivered one day prior. That aircraft is outfitted with seat-back in-flight entertainment (IFE) screens, larger overhead bins and other features United says improve customer comfort.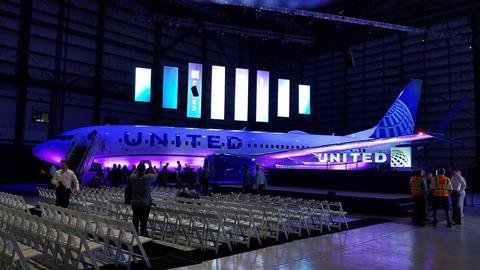 Also on 29 June, United committed to retrofit older jets with the updated cabins and IFE. It promises larger overhead bins will provide enough space for every passenger to stow one carry-on bag.
United's 200 Max orders comprise 150 737 Max 10s – Boeing's largest Max variant – and 50 737 Max 8s, the Chicago-headquartered airline says.
United expects to begin flying Max 10s and A321neos "in early 2023". It already has separate outstanding orders for 180 737 Max and 50 A321neos, according to Boeing. The airline expects to receive 40 new narrowbodies in 2022, 138 in 2023 and the balance in 2024 and beyond.
At the same time, United expects in the coming years to operate only about 100 50-seat regional jets, down from about 300 before the pandemic. The airline will replace those aircraft with larger jets.
TRAILING IN SMALL CITIES
United's fleet plan reflects a decision by the airline to accept its trailing position at many smaller US airports, where the carrier already lags competitors like American Airlines and Delta Air Lines, Kirby tells investors.
Therefore, United will focus on strengthening its position in major markets, where Kirby sees a competitive advantage.
"In smaller communities, we are on the smaller side," Kirby says. "We don't expect we are going to match the schedule depth of our primary competitors in some smaller markets."
"We also know we are not going to bridge that entire gap," he adds. "We cannot be all things to all people."
United and other network carriers added many point-to-point leisure routes to their networks amid the pandemic – an effort to compensate for a total collapse of business travel. That strategy is clearly not United's long-term focus.
The hubs are United's "high ground", Nocella adds. "And we know it."
NEW TECHNOLOGY
United's fleet renewal comes on the heels of other major technology and fleet announcements this year.
In February, United said it intends to buy up to 200 of Archer Aviation's in-development electric vertical take-off and landing (eVTOL) aircraft. The eVTOL market remains untested and Archer's aircraft must first pass certification, but the deal signalled United's optimism about such technology.
In April, United launched its "Eco-Skies Alliance", a programme through which it will allow customers and corporate partners to invest in SAF. The airline hopes this year to purchase of 12.9 million litres (3.4 million USgal) of SAF.
And just weeks ago, United said it committed to buying 15 supersonic "Overture" jets from Boom Supersonic. The aircraft developer aims for Overture to be operating by the end of the decade.
"Whether it's this new aircraft order with the great interior, or supersonic aircraft or electric aircraft, or what we are doing for sustainability, United really is the new leader in global aviation," Kirby says.
With additional reporting by Jon Hemmerdinger. Story corrected on 10 August to note that Ryanair is an Irish carrier.