No matter what kind of positive spin they put on it, US airlines suffered financial carnage in the second quarter as the coronavirus tore through the industry and global economy.
Delta Air Lines, United Airlines, American Airlines, Alaska Airlines, Spirit Airlines and Southwest Airlines – six of the largest US carriers – posted a combined second-quarter loss of almost $10.5 billion. Operating revenues at the airlines declined 80-90% as they grounded large portions of their fleets and shrunk their networks, in an attempt to limit costs as they flew near-empty aircraft.
Load factors barely made it out of the teens, and the six airlines' combined daily cash burn continues to exceed $100 million.
Most carriers leaned on a government crutch called the CARES Act to keep staff paid, but that financial aid is set to run out about 10 weeks, and unions are warning mass layoffs could ensue.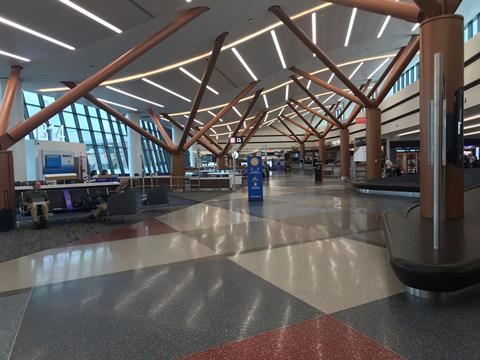 The $2 trillion aid package banned airlines that receive payroll grants from making involuntary furloughs until the beginning of the fourth quarter. It also forces airlines to continue to serve destinations they did in March, even if on reduced frequencies.
And while the last three months were apocalyptic, a resurgence of the coronavirus in numerous southern and western US states bodes poorly for the current quarter, too, as carriers continue struggling to match capacities, fleets and staff with still-lacking passenger demand.
CHOPPY, JAGGED, ROCKY, SAW-TOOTHED SLOG
In the past ten days, airline managers chose different adjectives to describe what is coming.
Delta's chief executive Ed Bastian expects a "choppy" recovery. Scott Kirby at United says it will be "jagged". Executives at ultra-low-cost carrier Spirit say they are in for a "rocky" time. Southwest's chief executive Gary Kelly predicts recovery will be "a long saw-toothed slog".
Or, in medical terms: "We are like a patient in intensive care," Kelly said.
The words may be different but the sentiment is the same. The airline industry will be unrecognisable for a long time.
"We think it will take domestic traffic three to five years to recover to 2019 levels, and international traffic five to seven years to recover," says Helane Becker, senior research analyst who covers aviation for Cowen Securities, "especially if the virus remains uncontained."
Recent spikes in cases, mainly in holiday-popular destinations like Florida and California, have left many potential vacationers frustrated following weeks of shelter-at-home orders. Pent-up demand for travel is high, but fears of catching the virus in transit or at the destination are higher.
New self-isolation requirements don't help the situation.
"The backtracking [in June and July] is disappointing and unfortunate," says Becker. "People want to travel, but quarantine rules are limiting where people can go and the fact that things aren't really open means there isn't a lot to do once you get there."
On 24 July, the Washington, DC area joined New York City and Chicago in mandating a 14-day quarantine period for arriving passengers from a large swath of the country.
But the summer vacation season should not be written off quite yet, says industry analyst Mike Boyd, president of Boyd Group International.
"We are still forecasting a V-shape return in regard to traffic volume… It will depend on economic factors, mainly," he says. "Business travel will be slow to recover, but leisure travel is likely to spike. Unemployment rates notwithstanding, there were millions of leisure trips cancelled in the first half of the year, [and] most of that money is still in the bank."
Ultra-low-cost carriers like Spirit, Allegiant Air, and Frontier Airlines will be prime beneficiaries, he adds.
Citigroup's Stephen Trent, director of research for Americas airlines, agrees. He says low-cost and ultra-low-cost carriers will be most successful as the crisis drags on, not only because they focus on cost-conscious travellers, but also because they have lower costs themselves.
"They only operate one fleet type, they tend not to have widebodies, only narrowbodies – which are easier to mothball and redeploy," he says. Additionally, ULCC "pilot salaries are much lower, they don't have global alliance membership dues and they don't have to maintain fancy airport lounges."
"And there are people out there who see the risks but are desperate to go on vacation anyway," Trent adds.
Mainline carriers like American, Delta and United have other priorities.
"The name of the game for [them] will be culling out their pre-pandemic route systems," Boyd says. "There will be less local competition at many smaller airports."
One lessons from the pandemic is that smaller airfields with just a handful of scheduled commercial flights will be more likely to lose puddle-jumper connections. Passengers are willing to travel further to busier airports with a wider diversity of destinations, he says.
"The obsolete and misguided attempts to keep scheduled service at the local airport at every small community will become even-more nonsensical," Boyd says. "An hour drive to a larger airport with 20-plus flights is far more time-efficient" for passengers.

"The fallout from this pandemic in the airline industry will tend to get the folks in Washington and local politicians to stop wasting time and money attempting to recreate the 1950s," he adds.
CASH IS KING, VACCINE IS GOLD
The only real positive note for the industry after this week of quarterly results, though, says Cowan's Becker, is that airlines have raised enough cash to keep their operations going.
More than $60 billion in private funds have flowed into the companies, plus $25 billion in government grants and the promise of another $25 billion in government loans, she says. "We are hopeful that $110 billion will be enough to get to 2022."
Ultimately, airlines and analysts agree sustainable recovery will require passengers to return – no amount of cost-squeezing and liquidity-injecting will end the crisis. Several carriers made clear this week they do not expect broad recovery until a Covid-19 vaccine becomes widely available.
"Once we have a reliable vaccine, and various government bodies start inoculating large segments of the population, in particular people who want to go on trips again, I think it's game on," says Citigroup's Trent.

Pilar Wolfsteller, Americas Air Transport Editor, is based in Las Vegas and brings a pilot's perspective to her beat. She covers airlines across the hemisphere and her interests also include future-oriented sustainable aviation technology and urban air mobility projects. Pilar began her journalism career at the global news agencies Bloomberg and Reuters, and has reported from more than 50 countries.