US start-up carrier Airbahn plans to launch revenue service in the second quarter as it works through the Federal Aviation Administration's certification process.
It will be the third US domestic carrier to begin operations in just over a year, and the second to base its operations out of a Los Angeles-area suburb.
Scott Hall, the company's chief operations officer, tells FlightGlobal on 7 February that Airbahn's time-line has repeatedly shifted due to the vagaries of the pandemic recovery in the entire commercial aviation industry, which has made planning a lot more difficult.
"We are in phase three [of the FAA's certification process], we hope to be in phase four by probably March, and then hopefully revenue service would be some time before the peak summer travel in July, maybe in the May or June timeframe," Hall says.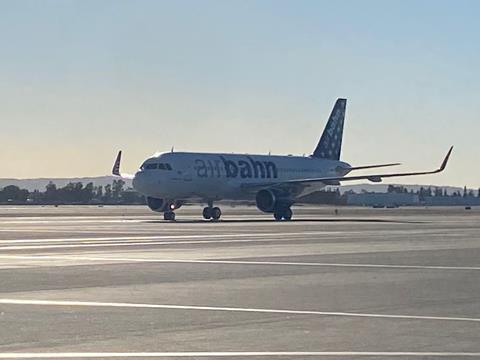 The company, which lists Tariq Chaudhary, chief executive of Pakistani airline Airblue, as its CEO, received US Department of Transportation (DOT) approval for a certificate of Public Convenience and Necessity in 2020, giving Airbahn a green light to carry passengers, mail and cargo. But new airlines require FAA certificates as well, and must pass through a five-phase process to prove compliance.
Phase 3 is what's known as the "design assessment", where the FAA evaluates the company's operating systems to ensure compliance with regulations and safety standards. Following that, the regulator will observe and monitor the airline's activities, including proving runs, to ensure the company is operating to standards, before it will issue an air carrier or operating certificate.
Airbahn's DOT certificate would have expired at the end of January, but last month DOT agreed to extend the certification until the end of April, allowing the carrier more time to complete the FAA process.
FIRST AIRCRAFT
The airline published photos of its first aircraft, acquired from Airblue, on social media last November. According to Cirium fleets data it is a 12-year-old Airbus A320-200 which carries the registration N786PB and has 158 seats in a single class configuration. The new carrier's livery also resembles that of the Islamabad-based airline.
Hall says the airline is in discussions with several lessors for further A320s, but would not say who or how many.
"We are searching for other aircraft and we believe we have to keep growing but we don't know exactly yet what number until we get past the certification phase and we have a better understanding of when we'll start revenue service," he says. "Aircraft availability is good out there."
Airbahn's website remains basic, with a link to a jobs page, listing searches for flight crew and ground operations roles in various cities in California. Only two photos of the aircraft have been published, and for the past several weeks its social media posts say it is "coming soon".
Initially, the carrier is focusing its operations in the western USA, Hall says. On its wish list are several cities on the fringes of the Los Angeles basin, such as Ontario in the east and Long Beach in the south, in addition to its home base of Santa Ana/Irvine, as well as in northern California – San Jose, Oakland and Sacramento - and Calgary, Canada.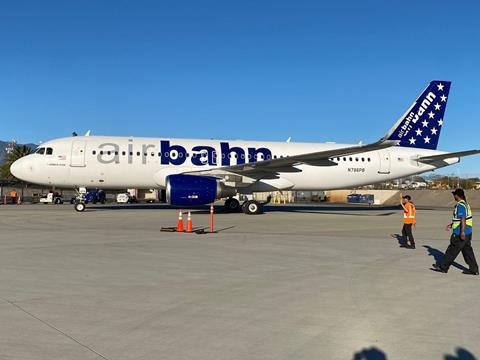 Burbank, north of Los Angeles proper, is the home base of Avelo Airlines, another start-up which began revenue service in April 2021. Its west-coast network covers some of the region that Airbahn also hopes to conquer.
"The LA market is big. We can coexist," Airbahn's Hall says.
As it added aircraft in the past year, Avelo also opened a base on the east coast, and is aiming to make inroads in the region which 2021's other low-cost airline start-up, Breeze Airways, had claimed for itself.
'VALUE CARRIER'
Unlike other low-cost carriers such as Avelo, Breeze, Allegiant Air or Sun Country Airlines, Airbahn's business model will focus on point-to-point routes that connect larger metropolitan areas rather than secondary cities, Hall says.
"We're more big city-to-big city, and not necessarily smaller city-to-bigger city. We are going to serve the heftier trunk routes but we are not feeding a hub system." That will allow the airline to offer flights at times of the day that may be more convenient to travellers who aren't just taking them in order to catch a connection.
"There's a need out there for the product and we see a lot of opportunities in California," he adds.
Those opportunities are primarily in the leisure travel segment, but Airbahn is also hoping to attract university students and executives of small and medium-sized businesses who are looking for quality and comfort, at a reasonable cost.
That said, Airbahn won't participate in the race to rock-bottom prices.
"We consider ourselves a value carrier. We're not going to be ultra-low-cost, and we're not going to be high-end. We're going to have a pricing structure that will be easy for you to figure out exactly what you want, but not everything is a la carte," Hall says.
"I think we'll probably occupy the lane between Spirit and Delta," he adds.