Connect Airlines may not be a household name in North America, but that could change if Australian airline veteran John Thomas has his way.
The carrier, a new entrant in the North American airline market, plans to shake up regional travel in the eastern third of the continent this November by introducing a unique perk to turboprop flying: premium cabins.
Over time, Connect aims to grow through partnerships with major US airlines and, longer term, to operate hydrogen-powered ATRs, becoming what chief executive Thomas calls "the continent's first zero-emission airline".
"We are going to recalibrate US travellers' perception of the turboprop," Thomas told FlightGlobal on 7 September. "It's a hell of a lot nicer travelling on a turboprop than on a regional jet."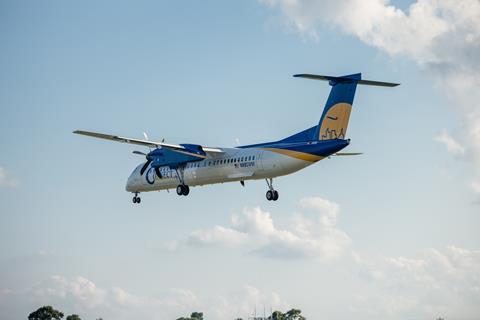 He thinks equipping Dash 8-400s (long known as Q400s) with more-comfortable cabins will entice North Americans to choose the turboprops over older, less-economical types like Bombardier CRJ200s and Embraer ERJ145s.
And, the Bedford, Massachusetts-based start-up will be the first North American carrier to offer Dash 8s with premium cabins, he says. Connect removed a row of seats and increased space in the front six rows, providing more legroom. The aircraft will have 26 seats in the forward cabin, and 48 in regular economy, for a total of 74 seats, rather than its usual 78.
The company intends to sell premium fares that include priority boarding, two checked bags and inflight meals with drinks.
Only a handful of North America airlines – Horizon Air, Porter Airlines, Ravn Alaska Airlines and WestJet Encore – still operate Dash 8s, and all in single-class configurations. Propeller aircraft generally fell from favour in the USA in recent decades because, according to airlines, passengers typically shun the types, viewing them as outdated and noisy. Most US regional airlines now operate regional jets.
The US Department of Transportation (DOT) in July issued Connect Airlines a certificate of convenience and necessity for domestic air transportation, and granted the carrier a certificate for foreign transport on 6 September. Connect still needs Transport Canada's approval to begin trans-border flights. The airline began proving runs in July and is "about half-way through", he says.
NOVEMBER LAUNCH
Connect plans to launch in November with passenger flights between Billy Bishop Toronto City airport and two US destinations: Chicago O'Hare International and Philadelphia International. It expects to start selling tickets two weeks prior.
"We have our internet booking engine, our website, our mobile app – We're all ready to launch," he says.
Connect has two Dash 8s at the ready, and a third scheduled to join the fleet in October. Following that, it expects to take delivery of another Dash 8 monthly through February. The airline's certificate permits it to operate seven aircraft, but Connect aims to expand to "about 100 aircraft in the next few years", Thomas says.
Connect sits under an existing Massachusetts company called Waltzing Matilda Aviation, which specialises in charter air travel and aircraft management. The company operates Cessna Citation Excels, Bombardier Challenger 604s and ERJ-135s.
Thomas, also Waltzing's co-founder, was CEO of Virgin Australia Airlines in 2016 and 2017. He also has experience as an airline consultant in the USA, having worked on projects including the Delta Air Lines-Northwest Airlines merger, Delta's joint business with Virgin Atlantic and Alaska Airlines' purchase of Virgin America.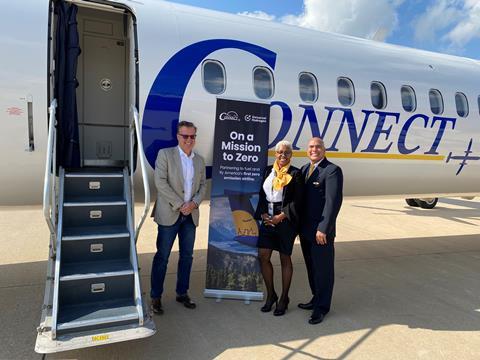 With his new airline, Thomas is clearly targeting business travellers. He hopes flights to Toronto's downtown Billy Bishop airport will be more attractive than those to the much-larger Pearson International airport, located on the northern periphery of the city.
For this purpose, Connect has secured 42 daily slots at Billy Bishop for the northern winter season, which begins on 1 November. That is enough to offer 21 round trips daily.
"Toronto is the fourth largest airline market in North America, and our strategy for at least the first 20-25 aircraft is to build out Toronto," Thomas says.
In time, the airline's network could include destinations like Baltimore, Charlotte and Cincinnati, he adds.
Canadian regional carrier Porter Airlines also flies to the USA from Billy Bishop, but it does not serve the US cities targeted by Connect. And Thomas insists Connect is not trying to imitate Porter.
"This is not about going head-to-head with Porter," he says. "This is all about redirecting traffic [from] Pearson… to Billy Bishop, which is a much more-convenient airport," he says.
DASH 8 LOVE
Connect's plan is to operate routes of less than 400nm (741km) – the Dash 8-400's "sweet spot", Thomas says.
"At 400 nautical miles, the block-time differential between an RJ and a Q400 is de minimis. From a customer-value proposition, they don't lose any utility by flying on a turboprop because it's just one minute slower."
And, with several airlines upgrading their fleets to jets, used Dash 8-400s are cheap and plentiful.
"Because there's so many Q400s in the marketplace at the moment, we're picking them up on lease rates that are basically one-third of what we would have been paying three or four years ago," Thomas says.
The airline has no plan to join network alliances but seeks interline and codeshare deals with major US carriers.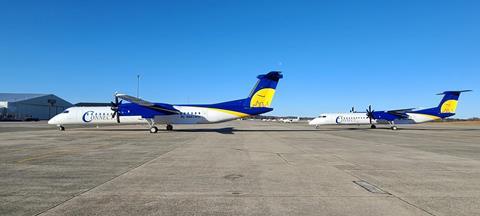 "We are going to all the majors and saying, 'We're here, we're setting up, we believe we have a unique part of the market, which is a turboprop operation, and we'd love to partner,'" he says. "We are more than ready to take the economic risk as long as we have some really big friends."
One major US airline has already taken the bait, though Connect has not publicly said which one. "We will be the first start-up to have an interline agreement with a major carrier," Thomas says.
REGIONAL CARRIER, MAJOR SALARY
Connect recently turned heads with job advertisements offering to pay newly-hired "direct-entry", or experienced captains up to $250,0000 annually – a salary far higher than at other US regional airlines. Thomas says the unusual proposition is aimed at older pilots who, through no fault of their own, are lower on larger airlines' seniority lists, and whose promotion horizon is limited.
"We are targeting 45- to 55-year-old pilots and captains, who essentially deserve to be paid that amount of money because of their experience," he says.
He relates the story of pilot who began his career at a regional carrier. After that airline failed, the pilot took contract work at several major Middle-Eastern airlines before returning to the USA and joining a US major carrier.
"He's flying with this major airline at 55 years old, as a first officer, with the experience of a captain," Thomas says. "He's been told… he probably won't to get to the left-hand seat for eight years because of his place on the seniority list, which means he'll have two years [in] the left seat" before reaching the mandatory retirement age of 65.
"He'll be flying for eight years with captains who are 35 years old," Thomas says.
Also, because charter pilots are not subject to the same mandatory retirement age, Connect's pilots can transition to Waltzing Matilda's charter operation after reaching age 65, he adds.
HYDROGEN-POWERED INNOVATOR
Connect also wants to become known as an innovator.
In June, the company said it signed a firm order with Universal Hydrogen to acquire up to 100 hydrogen-powered ATR 72-600 turboprops, with deliveries scheduled to begin in 2025. Thomas said the carrier wants to be "the world's first true zero-emission airline".
Universal Hydrogen is developing "powertrain conversion kits" intended to allow two types of passenger turboprops – ATRs and Dash 8s – to burn hydrogen, a strategy far simpler than developing a clean-sheet hydrogen-powered airliner, Thomas notes. Universal is using a Dash 8-300 as its initial testbed.
"If we're going to play in the regional space, and if the regional space is the first real market to move to zero emissions, we'd like to be the first," says Thomas. "We see the ATR 72 as being the first one to certification."
"Not only will travellers feel good about flying a green aircraft, they will have a better experience than on those god-awful regional jets," he says.

Pilar Wolfsteller, Americas Air Transport Editor, is based in Las Vegas and brings a pilot's perspective to her beat. She covers airlines across the hemisphere and her interests also include future-oriented sustainable aviation technology and urban air mobility projects. Pilar began her journalism career at the global news agencies Bloomberg and Reuters, and has reported from more than 50 countries.