IATA director general Willie Walsh expects that despite continued Covid headwinds, as well as fresh operational and cost pressures, leaders assemble in Doha for the association's AGM ready to look beyond the pandemic
While it may remain some way short of a return to "business as usual", the industry is coming together at this year's AGM with a greater sense of purprose, in the view IATA chief executive Willie Walsh.
"The mood last year in Boston was really good – somebody described it as a high school reunion – it was just great to meet people again," Walsh told FlightGlobal in a wide-ranging interview in late April.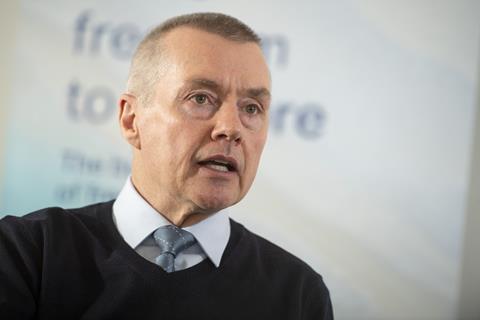 "I think this is an AGM that is focused more on looking forward and looking forward with a greater degree of confidence.
"This time around I think you will see a much greater focus on let's demonstrate we have learnt some lessons, let's continue to focus on the environment, and not just the CO2 aspect. So let's open the debate to other issues again. Let's talk with confidence about where the industry is going, but let's be realistic about what it is we need to do."
That the industry is meeting here in Doha, rather than Shanghai as originally planned, serves as a clear reminder that Covid uncertainty continues – particular for operators in an increasingly isolated Chinese market sticking to a zero-Covid strategy.
Airlines too are dealing with political fallout from Russia's invasion of Ukraine and, in markets where restrictions are eased, heightened operational stress as the air transport eco-system struggles to keep pace with the sharp ramp-up in demand. Yet more than two years since Covid first hit, the overall mood is one of cautious optimism.
"When I look back at it now and see the damage that was done to the industry – and the economic damage done to countries in the name of protecting the health of the countries – it was complete nonsense and we have to make sure it doesn't happen again," says Walsh. "Because there will be another virus, there will be another variant, and I think the critical issues is we have to learn from what we did right and what we did wrong."
He credits governments for the way they stepped in with employee assistance programmes to keep job in place and says financial support was justified given it was government restrictions that prevented airlines from flying. "But I can assure you, every airline CEO I spoke to would have been much happier flying," says Walsh.
It is ironic that unprecedented levels of state support were required after a decade in which the airline industry – led by a group of strong-performing operators – finally began providing returns that the sector has seldom seen before.
"All of the passenger airlines have suffered to some degree of another," he states. "Some have been able to access support from governments [but] a lot of that is in the form of loan and loan guarantees, that has to be repaid. So balance sheets have definitely been stressed. It will take a bit of time to rebuild."
Interestingly there have been relatively few airline failures during the pandemic. "That is probably the thing that has surprised most, that more airlines didn't actually fail," Walsh says. "I think that is because people running those airlines took all of the appropriate measures, did everything possible to keep the airline going."
He sees this as an indication of the "quality of management" coming out of the crisis and how they will approach the post-pandemic market. "I am pretty sure that most of those airlines will focus on their balance sheets and repairing the damage that has been done, and will be more cautious and more disciplined in terms of what it is they do going forward. You have to learn lessons," says Walsh.
"We have gone through crises before, nothing on this scale, but a lot of the learnings of the crises we have been through were applied to this one, and as a result the industry is stil alive today, having gone through the deepest and most prolonged crisis we have ever faced.
"That to me is a positive that reinforces in my mind that the industry can recover its financial strength, but it will certainly take time."
Editor's note: Read our full interview with Willie Walsh for more on how the industry has dealt with the pandemic and is dealing with the 'existential' environmental challenge