Reports that Wizz Air was the failed bidder for European low-cost rival EasyJet are perhaps no big surprise, given the compatibility of the two operators and the upheaval created by Covid-19, but the failure of the move leaves the latter carrier facing questions about its next steps.
In some ways, the equation for a merger was simple: Wizz stated in the early days of the crisis that "this is our time" as it embarked on an aggressive network expansion plan. A relatively cheap – by pre-pandemic standards – EasyJet would be a massive land grab in western Europe to complement Wizz's strong central and eastern Europe presence. A long list of slots at major hubs in Amsterdam, Berlin, London and Paris would be particularly attractive.
In other ways, EasyJet is not an easy fit for Wizz's cost base – but that could also be part of its attraction. The UK carrier has not chased the ultra-low-cost business model that underpins Wizz's strategy, courting business travellers, for example, and serving those larger hub airports where charges are likely to be higher. It could be the case, however, that Wizz's plan for EasyJet involved making a virtue of that business-model difference – perhaps chasing different passenger types with two distinct brands.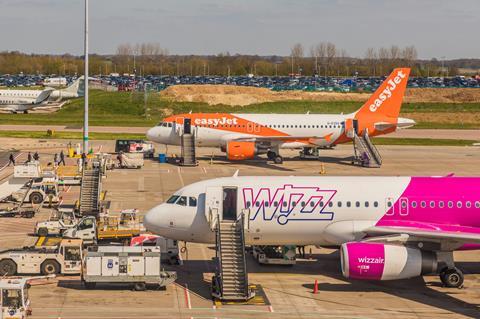 Whatever Wizz's plan for EasyJet, the consolidation would have meant Ryanair suddenly having a rival of equal size in terms of fleet, pitting the Irish carrier's Boeing aircraft against Wizz's massively increased roster of Airbus jets.
Of all the likely mergers in the European airline industry, Wizz-EasyJet therefore certainly had a lot going for it. Indeed, some analysts suggest that while Wizz has been receiving a lot of attention for its strength during the pandemic, EasyJet has been undervalued by the market.
"Overall news surrounding EasyJet's rejected takeover bid highlighted how industry insiders have put a higher value on the business than the market has attributed to the company of late," says Mark Simpson, airline analyst at Goodbody.
Still, the failure of the takeover move perhaps shines a more intense spotlight on EasyJet's future than its suitor's, with the latter already steaming past 2019 levels of capacity.
Some analysts seem unsure why EasyJet has chosen now to raise £1.2 billion ($1.7 billion) through a new rights issue – which was announced at the same time as the failed bid for the business – saying the carrier was in a relatively comfortable position already.
"EasyJet ended June with £2.9 billion in liquidity: we thought then, and still do, that this should be ample for the recovery," say analysts at Bernstein.
Could it be about to embark on its own expansion effort through the purchase of new aircraft? Might it see more bumps in the recovery road than most other industry observers? Might it just be acting out of an abundance of caution?
Whatever the answer, Europe's low-cost carriers are currently home to the strongest recovery stories at this stage of the pandemic – and now the most intriguing.