Carriers including Air Canada, Delta Air Lines and Swiss have made announcements on employee Covid-19 vaccination policies this week, further expanding the list of reasons being given for introducing vaccine mandates or strong incentives to be inoculated.
Swiss's justification highlights something fundamental to its business: the long-term operational impact of having a mixture of vaccinated and unvaccinated crew members. The carrier's concern is that crew rostering will become too difficult if it continues to allow unvaccinated crew to fly, with more countries likely to follow Hong Kong's lead in saying that incoming pilots and cabin attendants must be vaccinated.
Within the same group, reports this week suggest Lufthansa mainline is seeking union approval for mandatory air crew vaccinations, citing the same reasons as Swiss.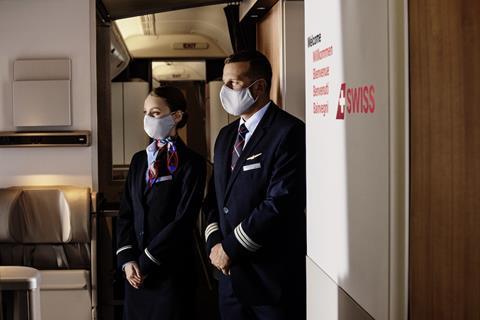 In the USA, Delta Air Lines' announcement on unvaccinated employees having to pay higher healthcare charges was all about simple economics: a surcharge is necessary to address the financial risk of staff being hospitalised.
And in Canada, the federal government has said all airline crews and passengers must be vaccinated by the end of October, making Air Canada's announcement this week inevitable.
Previous announcements on employee vaccination – notably from carriers such as Frontier Airlines and United Airlines – have focused on the 'duty of care to staff' angle, alongside the need to reassure customers that they are doing everything they can to ensure their safety.
Etihad Airways also cited that reasoning when, earlier this year, it claimed to be the first airline in the world to have 100% of its crew vaccinated. It did not make vaccination mandatory but said unvaccinated crew would not be entitled to paid sick leave if they fell ill with Covid-19.
In Asia, many network carriers have introduced vaccine mandates for staff ahead of international travel being opened up, knowing that proof of inoculation is likely to become the main currency for cross-border travel in a region where governments have done more than most to contain the spread of Covid-19.
In other cases, airline vaccine mandates are also about consistency of messaging. At Qantas, for instance, it would have made little sense for the airline to advocate for vaccinations being a passenger requirement, only to waive that policy for its crew.
All this is not to say that every carrier around the world will eventually introduce a vaccine mandate – or would be able to. But as recent developments show, in some markets there is a convincing momentum in favour of having them.
Subscribers to the Airline Business newsletter receive the Weekly Briefing first every week. For more information, click here.