The spread of the Omicron variant of Covid-19 meant that European airlines began 2022 with a familiar feeling of uncertainty regarding prospects for the coming months.
There are reasons for some optimism, however, that once the wave of Omicron cases has passed, recovery momentum will quickly return.
In the short term, the impacts of Omicorn and the consequent travel restrictions introduced by governments have already been tangible in financial and operational data, even before Europe's airlines outline their experiences more fully in the forthcoming results season.
In an indication of the financial impact, Irish low-cost carrier Ryanair – which has led the region's recovery, operating many hundreds more weekly flights than its peers – deepened its full-year net loss expectations to between €250 million ($282 million) and €450 million in mid-December, citing the Omicron variant.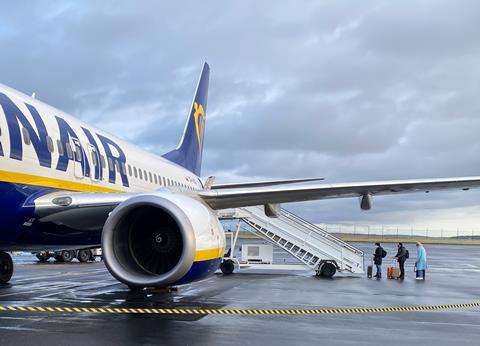 Ryanair had previously been guiding for a net loss of €100-€200 million for the year ending March 2022 having seen a pick-up in activity since border restrictions began easing in June.
Weakening demand also prompted the carrier to cut its planned capacity for January by a third.
Illustrating that falling demand, in early January Ryanair said that it carried 9.5 million passengers in December – less than the 10-11 million previously forecast.
Wizz Air meanwhile said its load factor of 75.4% for December was four points down on October levels, illustrating the tougher demand climate.
The Omicron variant has also created operational challenges.
Finnair said in mid-January that it would cut its February 2022 flying programme in response to increased sick leave among its employees and those of its partners, with the launch of services to Dallas and the return of Nagoya flights both pushed back as a result.
The Oneworld carrier has trimmed its programme by 20% for the month, enabling it to operate "a more flexible schedule" in light of the challenges created by the spread of Omicron.
And with demand for air travel suddenly lower than expectations for the winter season, some carriers are lamenting the need to operate so-called 'ghost flights' to hold on to their airport slots.
Indeed, European Commission assurances on 13 January that existing slot regulations make 'ghost flights' unnecessary failed to placate two of the region's largest airline groups, with Air France-KLM joining Lufthansa Group in asking for rules to be relaxed during the current northern hemisphere winter season.
"The current slot regulation for the winter schedule 2021/22 in the EU was decided before the occurrence of the Omicron variant and it fits no longer the current pandemic situation," Lufthansa says. "Therefore, there should be short-term exemption rules for the use of take-off and landing rights that are flexible, practicable and applied consistently throughout Europe."
Air France-KLM added its voice to the debate on 14 January, saying that the rapid spread of the Omicron variant of Covid-19 is acting to "jeopardise the trajectory" of airline capacity increases in Europe.
Amid reports that Omicron is proving to be a less-severe version of Covid-19, however, combined with indications that its rapid spread might mean cases fall away relatively quickly, there were positive noises regarding prospects as spring arrives in the region.
Writing in The Times newspaper on 4 January, EasyJet chief executive Johan Lundgren acknowledged there will be "bumps along the road to recovery" but said the airline industry is "poised for a bounceback" in 2022.
"We are excited about our plans for next summer, which should see us return to 2019 levels of capacity and beyond," he states.
While "all eyes are on the impact of Omicron on the industry", Lundgren says he still sees "lots of reasons for optimism", underpinned by high vaccination rates, Covid-19 protection measures and flexible booking policies.
Meanwhile, the UK government's decision to scale back travel restrictions in early January while the Omicron variant of Covid-19 was spreading rapidly in the country hints at, perhaps, a softening in government approach to the pandemic.
The encouraging point for airlines is that testing and quarantine requirements were dropped amid high case rates – as opposed to the situation in previous waves of the disease, where falling cases have often been a prerequisite for restrictions to be reconsidered.
As one of the first countries to be hit hard by the variant – in terms of case numbers – the UK's decision was taken as a positive indication by industry association IATA, which reserved some rare praise for the country's government.
Implicit in the move was a recognition that once the variant had entered the country, there was little to gain from continuing to restrict travel.
"This could point to a growing appreciation among governments of the limited impact of travel rules on Covid spread," IATA says.
Eyes will be on the UK as it prepares to review its remaining travel restrictions at the end of January, with some commentators suggesting it might fall into line with the baseline European Union approach of allowing fully vaccinated arrivals without day-two Covid-19 testing.
That could not come soon enough for the country's air transport businesses.
London Heathrow Airport, for example, said in early January that it handled 19.4 million passengers in 2021, marking a fall even on pandemic-hit 2020, as travel restrictions continued to hit the UK airport.
By contrast, rival European hub airport Amsterdam Schiphol was able to boost passenger numbers last year by a fifth to 25.5 million.
Beyond adjustments to travel restrictions, the UK is also among the first countries to be openly discussing steps towards treating Covid-19 as an endemic disease – another potentially encouraging development for the region's airline industry, as it reels from nearly two years of planning uncertainty.