While the majority of global airline groups tracked by FlightGlobal are yet to see their share prices return to anything like pre-Covid levels, Turkish Airlines is a different story.
Aside from a blip at the end of 2021, the Star Alliance carrier's stock has largely been on a sharp upward trend since September.
Indeed, having spent much of last year around the TL10-15 mark, by 8 February 2022 it had reached TL28.5 – a high in 12 years of data. Before the recent increases, it had topped out at just below TL20 in April 2018.
But why has the carrier's share price risen so quickly and impressively?
According to analysts, the reasons are not entirely related to the airline's performance, although that is a factor. A key driver has been the economic situation in Turkey, which recently left the stock market as the only viable outlet for local investors.
The backdrop to that development has been the Turkish government's policy of announcing interest rate cuts despite high inflation, which prompted the value of the lira to plunge towards the end of 2021, having been on a steady declining trend for years.
At the start of 2021, one US dollar was equivalent to around TRL7.5, but it reached a low of TL16.42 on 17 December, before the government took steps to stem the decline as the year came to an end. Despite that intervention, however, the lira had only recovered to TL13.4 on 8 February.
"The fast and large depreciation in the currency due to the rate cuts by the Central Bank meant that there was no alternative investments for local investors," Burak Isyar, head of research at ICBC Yatirim, tells FlightGlobal. "Deposit rates were already low – [meaning they] would not cover inflation – currency was already up by a lot, [making it] too late to buy US dollars, hence the only investment opportunity remained the stock market."
As a result, Turkish Airlines was not the only local business to enjoy strong interest in its stock.
"2021 was a successful year for capital markets as they reached all-time highs in the number of IPOs, the number of investors, index values and trading volumes," said Borsa Istanbul (BIST) chief executive Korkmaz Ergun in a recent assessment of the exchange's 12-month performance.
In Turkish Airlines's case, the business had also been "a long-term underperformer against the BIST 100 index, since late 2018", says Isyar.
And crucially, given Turkey's currency woes, the airline generates the majority of its revenues in US dollars and euros, whereas its stock is in lira.
"Before the pandemic, Turkish Airlines generated 59.2% of revenue in US dollars and euros with an additional 27.3% in currencies correlated with these major currencies," wrote Fitch Ratings in a 2021 report.
As Isyar points out, "weak currency implies higher [Turkish lira] pricing for the stock – it's like a currency hedge for local investors".
"But possibly not for any foreign investors," he adds.
Questions remain around the sustainability of the equities boom in Turkey, however, if the government continues to resist calls to raise interest rates to stabilise inflation. Eventually, even local investors might seek to move their capital outside the country.
For now, though, Turkish Airlines' rising share price can also be seen as a reflection of the airline itself performing well against peers during Covid-19, while retaining long-discussed potential to challenge to the big Gulf carriers.
In November 2021, Turkish Airlines said its third-quarter profits had outstripped pre-crisis levels, driven by a strong cargo performance. That followed a rare – in wider industry terms – operating profit in the second quarter.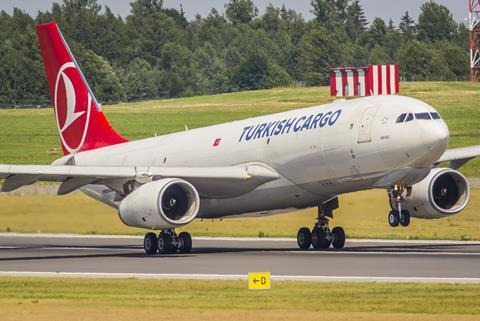 Then, as 2022 began, investors were given renewed confidence in the sector's recovery momentum, following encouraging news about health outcomes from the Omicron variant of Covid-19.
Furthermore, Turkish Airlines' fundamental strengths had endured as the industry was devastated by the pandemic.
"[Turkish Airlines'] highly competitive cost position, favourable hub location, diversified route structure and Turkey's position as a tourist destination support the company's resilience to economic, political and other external shocks," Fitch Ratings said last year.
At the same time, its relatively new Istanbul hub "provides [Turkish Airlines] with a strong base", Fitch suggests, adding: "Its location allows higher usage of lower-unit-cost narrowbody aircraft and serves as a solid transit hub connecting Europe, Africa, South Asia and the Far East."
Therefore, while local developments outside its control are undoubtedly key factors in Turkish Airlines' stock market surge in recent months, they have been underpinned by an encouraging outlook for the business as it emerges from the pandemic.
FlightGlobal publishes a monthly Airline Busines Covid-19 recovery tracker, which tracks key airline data including share prices, capacity, traffic, in-service fleet and jet fuel prices.