While Icelandair chief executive Bogi Nils Bogason is realistic about the economic uncertainty that clouds the horizon for airlines, he believes the flexibility and strength of the carrier's business model will enable it to weather any coming storm.
"We know what is happening in the world. Inflation is everywhere. Cost is going up for everyone. It is creating some uncertainty," he tells FlightGlobal in London in late October. "However, bookings are strong, so there are still no strong signs that demand is slowing down and we are in good a position with our business model and our flexible method."
His belief is bolstered by the strong quarter his airline has just delivered. Icelandair posted record passenger revenues of $408 million – 8% higher than the same quarter in 2019 – and its highest ever load factor of 87.2% in delivering a third quarter operating profit of $92.7 million.
The record passenger revenues were achieved on capacity still only back at 83% of pre-Covid level, showing the extent to which high yields supported the airline's strong performance.
"There are a lot of things that come together there, how we manage the network, revenue management and we have a very strong sales and distribution set-up. We also focus a lot in improving the load factor in our business class, and that helped our yield revenues."
The airline, which added new routes to Nice, Raleigh-Durham and Rome during the summer, will continue to build back capacity over the rest of the year. It will lift fourth-quarter capacity to 98% of pre-pandemic levels and sees a further rise in year-on-year yields, albeit at slightly lower rates than seen in the third quarter.
FLEXIBLE MODEL
Icelandair's model is in part driven by its location, where it can act as a connecting point between the USA and Europe and build passenger levels beyond Iceland's relatively small population. In the third quarter, 43% of passengers were flying via Iceland and 41% were visiting travellers.
"We can shift the focus based on how demand is developing," notes Bogason. At the moment the carrier is tapping in to strong demand from the USA, in part helped by the strong US dollar. Data from the Icelandic Tourist Board shows that US visitors account for more than a quarter of all arrivals at Reykjavik's Keflavik airport so far this year.
"The US has been strong in recent months," Bogason says. "The US dollar stays strong, so the flows have been stronger from North America.
"What we are offering is Iceland, but also great connections to Europe," he says, while also highlighting the popularity of its stopover programme, which aims to further drive tourism to Iceland.
Within this model Bogason sees plenty of potential for growth. "In the past we operated just the one bank out of Iceland. All our aircraft left early morning to Europe, came back early afternoon and on to North America in the afternoon," he explains. "But we have been developing the second bank and a tiny third bank last summer, so we can develop our network by upping frequency and destinations… and that is our plan going forward.
"By developing the second and third bank we are utilising the airport much better. And there are opportunities that come out of the second bank, because some of the flights to Europe in the south are too long to fit into one bank. This summer we started to fly to Rome; it leaves within the first bank to Europe but comes back and connects to the second bank to North America.
"We tried this out this summer and the outcome was very good and there was strong demand from the via market, and this gives us an opportunity to develop our network further into this direction."
Iceland has been a popular destination during the post-pandemic period. ACI Europe data shows Iceland was one of only three countries within the European Economic Area, Switzerland and the UK to top 2019 passenger levels in the third quarter. This has attracted international carriers into Iceland, while a local competitor has resurfaced in the form start-up Play Airlines.
"The competition has always been strong over the last decade," says Bogason. "We have about 25 airlines flying into Iceland, most of the strong airlines from Europe and North America. We know how competitive the transatlantic market is always and we just have to focus on our business model. Competition is always very strong. It was stronger in the last summer but we performed very well, so we believe we will be able to continue to do so."
CHANGING FLEET REQUIREMENT
Another advantage of Icelandair's business model is that it is able to serve both Europe and the USA with narrowbodies. That has seen the carrier further develop its Boeing 737 Max fleet, which will reach 15 by the close of this year and 20 come the end of 2023.
"The Max's flew about 50% of our flights during the third quarter. They performed extremely well and so we will continue to add Max's to the fleet in the near future and keep on phasing out the 757s," says Bogason.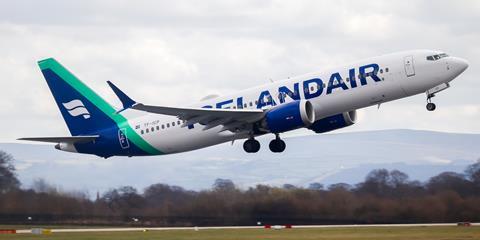 To that end, Icelandair has just issued an RFP for its fleet modernisation beyond 2024. and while the carrier is currently an all-Boeing operator, Bogason stresses it is talking to both manufacturers.
"We are talking to Boeing and Airbus because we have two good options in front of us regarding the long-term fleet. The options are the Max will be the core of our fleet with a few 767s with them, and the 767s might be replaced with 787s in future. That is one option. Another option is to start replacing the 757s with the Airbus A321LR and start the transition to an Airbus fleet – this is what we are looking into now.
"If we would go for the Boeing option… we would need some widebody 767 aircraft with Max's. If we go for the Airbus A321LR and XLR, it is very likely that would be sufficient to be able to operate the whole network with an all-narrowbody fleet."
TIGHTER STRATEGIC FOCUS
The Icelandair which has emerged since the pandemic is also more focused on its core airline operations having divested its hotels and tourism businesses under a strategy pre-dating the Covid crisis
"Now we are just focusing on the airline and aviation operations and I think its been a very positive change," says Bogason. "A narrower focus is very helpful, because we know how this industry is, there is always something coming up that you did not expect. It's completely enough to focus on the airline operation, we have our hands full doing that."
That Icelandair's record load factor is some 20 percentage points higher than the carrier recorded in the first quarter of the year serves as a reminder of both how far the industry had fallen during the pandemic and of how quickly fortunes can change. The strong recovery in the third quarter has been fuelled by almost unprecedented travel demand this summer, and there are plenty of concerns as to how that will stand up to the economic headwinds.
But Bogason is confident: "I think Covid proved people are eager to travel….and it will be like that going forward, so it is definitely sustainable. Inflation is high and so on, but with our stronger profit, our distribution [channels], our flexible network, we believe that our operations are definitely sustainable and we are optimistic of the future."