While the pandemic means Icelandic budget start-up Play has had to bide its time before launching, chief executive Birgir Jonsson says the carrier will remain patient in adding capacity in a bid to resist the pitfalls of over-expansion.
Plans for Play first emerged in November 2019 but were put on ice by the Covid-19 outbreak. But with signs of the borders within Europe opening up for air travel again, and Iceland notably among the UK's green list of countries not requiring travellers to quarantine, Play will launch operations between Reykjavik and London Stansted on 24 June.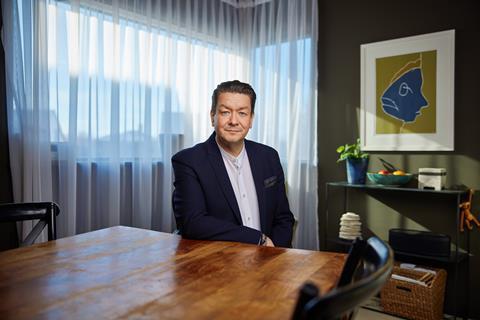 "Everything is going according to plan," Jonsson tells FlightGlobal. "We got the AOC on 15 May, the first aircraft was registered the same day. We will get it to Iceland around 10 June. The second one will come in the first days in July and the third one will come before the end of July. So we will have three Airbus A321neos from August."
He says there has been a "fantastic reaction" since Play began selling tickets a week ago across a route mix which also includes a number of "tried and tested" European destinations. Sun-spots Alicante and Tenerife, alongside Berlin, Barcelona, Copenhagen and Paris Charles de Gaulle, all feature in Play's schedules in July. Further ahead, Play plans to add flights to US and Canadian east coast destinations.
"It's been a long road," Jonsson says, but adds that the timing has ultimately worked in its favour as the pause in international air travel allows a start-up to begin operations with a shorter lead time.
"The company is extremely well-funded, with $50 million in the bank, no debt and no legacy, and post-Covid there is such a variety of good deals that you can make in terms of aircraft, in terms of systems.
"People ask me, 'Are you crazy? Why are you starting an airline?' My answer is that I really don't think you can find a better point of time to do it," he says.
Yet Jonsson is determined the airline will take a measured approached to its growth.
"We will have three aircraft until next spring, when we will go up to six and will launch our US operations then," he explains. "Then from the year 2022, we can take bigger steps. When we have secured our company, secured our base, then it is easier to go up to 10 or 12 aircraft from six, rather than trying to do it all at once.
"We don't want to be the biggest airline in the world," he adds. "We think it's extremely important to keep the flexibility to be small, to be agile, and be fast on our feet, and have the flexibility to scale a bit up in the summer and down in the winter."
While the origins of the airline date back to before the pandemic, Jonsson's involvement has been more recent. He was brought in initially as an advisor when investors began to look more closely at Play.
"A lot of Icelandic investors have been circling around the company. People have learnt something from the Wow [Air] story and seen an opportunity in the market. And at the beginning of this year, when people see we are starting to get to grips with Covid, some large investors started to look into it in a more serious manner," he says.
The similarities with Wow, the Icelandic no-frills operator which operated from 2012 until its collapse in early 2019, are not accidental. The project was initiated by several former Wow employees, including its former chief pilot Arnar Mar Magnusson, who is Play's chief operating officer.
Jonsson is himself a former Wow executive, having served as deputy chief executive for a year in 2014/15. He also led budget operator Iceland Express a decade earlier. But he notes that his profile is largely as a turnaround and restructuring manager, noting his previous work at Wow was restructuring ahead of its North American expansion. Most recently he led the overhaul of the Icelandic postal service.
"I have some aviation background in Iceland, but have been quite critical and realistic about how these companies have been managed," he says. "What I see is these companies lose track or their footing in their growth period. They basically grow too fast. And they are trying to eat the elephant in one bite."
Play will follow much of the Wow point-to-point budget carrier model, right down to the Airbus A320neo fleet the carrier was flying at the time of its collapse.
Jonsson says Wow's challenges came when it deviated from its basic no-frills narrowbody focus by adding long-haul services to Asia and the US west coast.
"When Wow was a relatively small, hub-and-spoke airline, using the A320 family, it made money. So we think the opportunity is still there to have a small and flexible carrier."
He adds: "The thing that most companies do wrong in my view is they are production-led. They can get aircraft at favourable rates, and then they find something for the aircraft to do. Instead of seeing the market opportunity and then trying to source the production equipment.
"I am getting unbelievable offers [at the moment] and it's so tempting to get more aircraft and increase the pace," he says, but adds: "If you move too fast, you lose control of your costs."
Jonsson also notes the strong funding – the carrier also plans an IPO next month – means Play can look beyond the fragile near-term environment where services remain at the mercy of Covid travel restrictions.
"Our plan is not dependent or focused on what happens in the next six months. We are not so worried about the restrictions or if there is a vaccination passport, because we just want to scale slowly as the demand for the market comes in. Obviously it helps that you can get power-by-the-hour rates, you can have that flexibility. It's a more relevant question for airlines that are already in operation and need to get passengers quickly.
"It's a difficult industry," he adds. "It's a volume industry and the numbers are so big, and the margins are so small, it's so easy to get pulled into the speed of the industry. But you have to be in the eye of the storm, make really measured decisions, and decide how the ship should turn into the storm."
The airline start-ups trying to confound Covid crisis by launching during pandemic
1

2

3

4

Currently reading

Why Icelandic start-up Play is taking measured approach to growth

5

6

7