While it is hardly unusual to hear airline leaders calling for lower taxes and better infrastructure, the frustrations voiced by Latin American airline leaders comes against a backdrop where region-wide profitability remains elusive despite traffic and revenue highs.
No region has recovered faster from the pandemic than Latin America. Traffic data from the Latin American and Caribbean Airline Association (ALTA) shows passenger volumes of 29.2 million in June – an increase of 1.8% on pre-pandemic levels. That marks a fourth consecutive month of passenger numbers topping 2019 levels.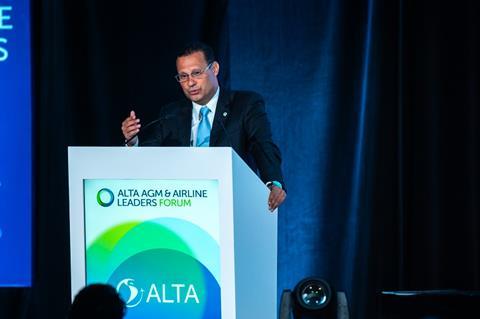 Revenues too have come bouncing back. Last year turnover at five of the region's nine biggest carriers – Aeromexico, Copa, Volaris, Aerolineas Argentinas and VivaAerobus – exceeded 2019 levels. That has continued into this year with combined revenues for seven leading carriers up 28% in the first half over the same period last year – the comparable period admittedly still impacted by Covid restrictions.
Latin American airline first half results
Airline
Revenue 2023
Revenue 2022
Op result 2023
Op result 2022
Net result 2023
Net result 2022
Source: FlightGlobal; Gol/Azul converted from local currency
LATAM Airlines
$5,481m
$4,185m
$566m
($181m)
$340m
($762m)
Avianca
$2,202m
$1,834m
$231m
($75m)
$4m
($304m)
Gol
$1,760m
$1,255m
$259m
($22m)
$228m
($47m)
Azul
$1,695m
$1,382m
$91m
($3m)
($138m)
$37m
Copa
$1,676m
$1,265m
$388m
$88m
$139m
$144m
Volaris
$1,513m
$1,258m
$20m
($51m)
($65m)
($98m)
VivaAerobus
$803m
$622m
$45m
$6m
($11m)
($28m)
These carriers were notably all profitable at an operating level over the first half – and several in the black for 2022. However, the financial outlook for the region as a whole remains loss-making. While IATA sees the airline industry returning to collective profit this year, Latin America is one of the three regions it sees still in the red.
"For this year, the carriers in the region will lose about $1.4 billion," says IATA director general Willie Walsh. "Some airlines will be profitable. Indeed, you have seen some relatively good results recently. But at an aggregate level we expect airlines in the region to be loss-making in 2023."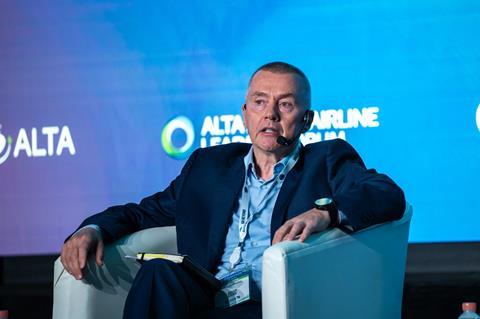 The pandemic cannot be blamed for Latin America's airline sector failing to make money. The region's carriers were, as a collective, loss-making going into the crisis.
"I think the potential for the market is huge. But the cost headwinds that the industry faces here are greater than anywhere else," says Walsh.
He points to higher-than-industry-average fuel costs, because it is imported, and the higher portion that taxes and charges comprise of an airline ticket price in Latin America.
"Fuel prices, taxes, visa charges – just looking at those issues, I think you see the main reason why, at an industry level, the profitability is still lagging behind the rest of the world," says Walsh.
Avianca chief executive and president of ALTA's executive committee Adrian Neuhauser says: "We have a role as an industry to communicate better what we do. It's a long project. We are in a poor region, so $100 for a ticket in Latin America is not the same as $100 for a ticket in the northern hemisphere.
"The procurement capacity of our customers does matter. So we must communicate this clearly and we need public policies to support us," he adds. "Our responsibility is to have a better dialogue [with the authorities], and that we are better understood."
The message airline leaders have been looking to promote to regulators and politicians during the annual ALTA AGM and Airline Leaders Forum in Cancun is one of untapping the potential through more inclusive and longer-term planning.
ALTA executive director Jose Ricardo Botelho says: "The region continues to face serious infrastructure problems, unnecessary and unrelated ticket costs, currency volatility, rising fuel prices and many other challenges. This is why we want to take this moment to ask that we work together."
POLITICAL UNCERTAINTY
Delegates in Cancun did not have to look too far for reminders of policy uncertainty and infrastructure concerns in the region, with a number of developments within Mexico.
Just a few days ahead of the forum Mexico announced it was increasing fees collected from non-government airport operators, leaving uncertainty on how the impacted airport operators may seek to fill the revenue hole.
Similarly, plans for a new state-run carrier operating under a resurrected Mexicana brand – which has an ambition to increase connectivity and reduce ticket prices in the country – have raised concerns of it's potential impact on competition.
Mexico too is in the process of reducing traffic movements at the country's biggest hub, Mexico City's ageing Benito Juarez International airport, in favour of the newer but more distant Felipe Angles International airport.
Earlier plans for a new airport for Mexico City, on which work was already about 30% complete, were abruptly dropped when president Andres Manuel Lopez Obrador took office in 2018 – a reminder of how political change can impact long-term aviation planning.
That is particularly resonant given the national elections taking place in Argentina, the first round of which was held on the eve of the forum. Those elections have now to gone to a run-off between the country's economic minister Sergio Massa, from the incumbent centre-left government, and right-wing populist candidate Javier Milei.
In a country that has historically swung from opening up its aviation market to protectionist policies over the years, the result seems likely to have a profound impact on airlines operating in and to Argentina – not least flag carrier Aerolineas Argentinas, which Milei has pledged to privatise.
It leaves airline leaders in the region seeking and campaigning for long-term planning in aviation policy, but preparing to deal with continued uncertainty.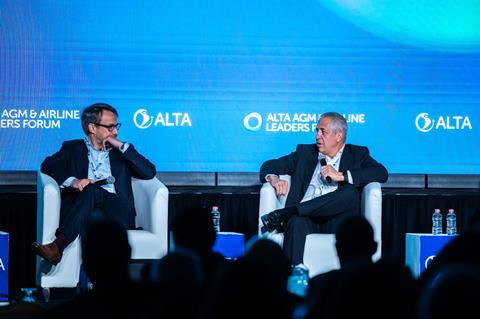 "We are not going to change volatility," says LATAM Airlines Group chief executive Roberto Alvo. "[So] we need to be able to adapt."
Avianca's Neuhauser says: "The industry is subject to volatility and that happens. We have economic and political volatility that leads to uncertainty."
But he adds: "We should have a level playing field to continue growing, rather than talking about politics."