Given Alitalia's track record of losses and the failure of various airline investors to alter that trend, the industry could be forgiven for wondering whether Lufthansa is moving to buy a stake in Italy's national carrier simply because its turn has come.
After all, if Air France-KLM could not make it work with a clean-sheet, debt-free Alitalia in 2009, nor the deep pockets of Abu Dhabi-based Etihad Airways five years later, could it be there is no path to a sustainably profitable Italian national carrier in the country's fragmented airline market?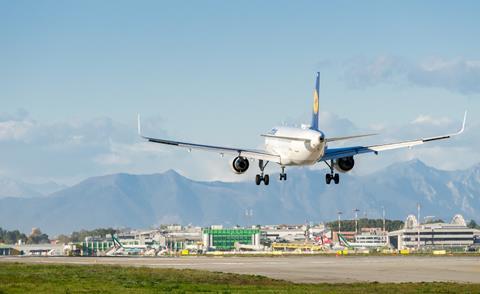 Still, there has always seemed an inevitability that Lufthansa might one day try its hand at the seemingly impossible dream.
The German carrier was in the frame back in 2008 when Air France-KLM ultimately took a 20% stake in Alitalia after it was revamped as a private company and merged with Air One. It was again interested as Italy more recently sought investors for Alitalia, prior to the pandemic ending any hope of finding a suitor for the carrier.
Lufthansa has long held a presence in the north of the country with Italian regional subsidiary Air Dolomiti feeding its Frankfurt and Munich hubs. It even tried its own operation, with its short-lived Milan Malpensa-based Lufthansa Italia unit.
With all that history, the news – confirmed late on 24 January by ITA – of fresh interest from Lufthansa is perhaps unsurprising. ITA says it has received an expression of interest from Lufthansa together with Swiss shipping firm MSC Group for a majority stake in the airline and the partners are seeking 90 days of exclusivity to firm their interest.
Lufthansa says: "We confirm that we are in talks with the MSC Group. We also confirm that Lufthansa is the potential partner in the possible acquisition of a majority stake by MSC in ITA. We will use the next 90 days to explore all possible options for a cooperation, including a possible equity investment."
No details of the potential stake Lufthansa will hold have been disclosed – though earlier reports said the carrier was in talks for up to 40%.
Lufthansa's line while Italy courted it as a potential investor in recent years was that it was only interested in a "restructured" Alitalia. That restructuring has occurred through the creation of ITA Airways.
The new ITA has acquired many of the assets of Alitalia, including the brand – which recent comments from lTA executives suggest could yet be revived. It has set out a roadmap to reach profitability by 2025 and is revamping its fleet around Airbus jets, which includes a December order for 28 aircraft from the European manufacturer and the lease of 31 examples from Air Lease.
Crucially, European regulators have ruled that Italy has demonstrated "a clear break" between Alitalia and ITA, and was also acting as a private investor in providing €1.35 billion ($1.53 billion) in capital injections over the next three years.
Why Italy is key market for Lufthansa
The appeal of the Italian market, with its strong mix of business and leisure-driven destinations, is clear.
For Lufthansa it has always been a key market. Speaking back in 2018, Lufthansa group chief executive Carsten Spohr set out why interest in Alitalia – and now its successor carrier ITA – continues despite the challenges: "Alitalia is operating in our second-most important market. So Italy remains very interesting to us," he said.
Cirium schedules data for January shows Lufthansa airlines, including Air Dolomiti and low-cost unit Eurowings, account for 57% of the ASK capacity on Germany-Italy routes. It likewise had a 50% share for the same month prior to the pandemic. That covers airports across Italy, but notably in the north of the country and at Milan in particular.
Airline
Share Jan 2022
Airline
Share Jan 2019
Source: Cirium schedules, five biggest operators only
Ryanair
32.6%
Lufthansa
30.5%
Lufthansa
32.5%
Ryanair
27.7%
Eurowings
12.4%
Eurowings
16.1%
Air Dolomiti
11.5%
EasyJet
10.2%
EasyJet
5.2%
Alitalia
6.6%
ITA Airways
5.0%
Air Dolomiti
5.7%
Capitalising on the market opportunity in Milan – something Alitalia always struggled to do while balancing its dual hub operations between Milan and Rome – was the reason the German airline chose Malpensa as the base for its Lufthansa Italia operation in 2009.
Tackling that weakness was also one of the ambitions of Etihad when it invested in Alitalia, which it aimed to do by deepening co-operation with its German investment, Air Berlin. The Gulf carrier's then boss James Hogan termed the Milan-German market as "probably the most valuable corridor in Europe".
ITA – as Alitalia before it – is itself a relatively small player in that market, holding a single-digit share of Germany-Italy capacity. Instead it is Ryanair, which has a third of the market share, that is the second biggest player behind Lufthansa today.
A deal for ITA would mark a fresh consolidation move from Lufthansa, which has done little to expand the group since taking stakes in Austrian, Brussels Airlines and Swiss more than a decade ago. Notably those moves have involved Lufthansa, ultimately, taking majority control of those carriers.
Lufthansa's precise stake under the potential acquistion remains unclear. It has previously pointed to the importance of holding a majority stake in its investments. The proposal though would see the carrier together with MSC hold a majority, significant in a country where the national carrier has often been a political football.
A Lufthansa investment would also seem to signal ITA's recent gaining of membership in SkyTeam, the alliance Alitalia was a part of for almost two decades, may prove short-lived. Lufthansa is a founding member of the Star Alliance, while Austrian, Brussels Airlines and Swiss are also part of the grouping.
However, while the formation of ITA and the reset caused by the pandemic may provide the fresh start that means Lufthansa may finally take its chance at an Italian national carrier, it is already clear that some challenges in the market have not changed.
Notably the weakness of its home airlines means Italy remains an attractive market for Europe's big low-cost carriers. Budget operators have long exploited that situation – and thus perpetuated the pressure on local carriers – both in short-haul international and even domestic markets. Moves from the likes of Ryanair and Wizz Air in Italy since borders reopened show that is one dynamic of the Italian market that is likely to stay constant