IAG has reportedly agreed fresh terms to acquire Spanish carrier Air Europa, but the expected wider consolidation in the industry may be delayed by the crisis.
The Iberia and Vueling parent in November 2019 struck a deal to acquire Air Europa for €1 billion ($1.1 billion), which was originally expected to close in the first half of this year.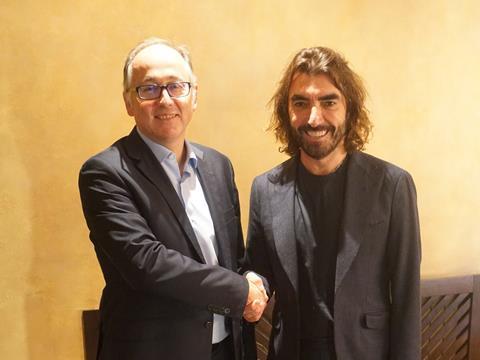 But completion of that deal stalled amid the complications of the global pandemic. IAG has maintained that the strategic reasons for acquiring Air Europa remain, but that it was reviewing the structure of the deal as a result of the crisis.
Spanish news site El Confidencial reports agreement was reached on 17 December on renewed terms under which IAG will pay €500 million for Air Europa in 2026. The date aligns with when Air Europa must repay €475 million ($552 million) in financial aid from Madrid, which was granted to the carrier in November as part of wider coronavirus crisis support measures.
Neither IAG or Air Europa has confirmed that fresh terms have been agreed.
IAG has previously said it is confident it can secure clearance for the deal if its completed this year. "We consider that we can have [regulatory] approval if we close the deal before the end of the year," said IAG's now chief executive Luis Gallego in August.
RATIONALE REMAINS
IAG's move was driven by a desire to strengthen Iberia's presence at Madrid Barajas, while also helping to offset the loss of long-term partner LATAM Airlines in the Europe-Latin America market.
"We can think in the medium term and the future and we consider that this [arrangement] is the future of group, the future of Iberia, the future of the Madrid hub," Gallego said in August.
The ability to look long term, however, has become increasingly challenging for airlines because of the pressing short-term challenges of the pandemic.
The crisis, paradoxically, acts as both a catalyst and a hurdle for consolidation.
On the one hand it makes the necessity and benefits of consolidation more pressing, while the perilous position of the sector through the crisis arguably smooths the regulatory clearance given that the alternative may be airline failures and related job losses.
That is evident by Korean Air's move for Asiana in November. Korean struck the deal to acquire its rival after multiple failed attempts by Asiana parent Kumho Industrial to sell its controlling stake in the carrier. In announcing the deal, Korean Air said the move was aimed at helping to "stabilise" the nation's aviation industry.
"Considering that Korean Air's financial status could also be endangered if the Covid-19 situation is prolonged, it is inevitable to restructure the domestic aviation market to enhance its competitiveness and minimise the injection of public funds," the airline said.
DOMESTIC PRIORITY
Notably the merger moves in South Korea and Spain are more examples of consolidation among domestic players. While IAG is a pan-European airline group, much of its consolidation activity – BMI, Vueling and Air Europa – has been based on national lines.
Indeed, the majority of airline consolidation has taken place between national operators – either through direct acquisition or the cherry picking of assets from collapsed carriers.
One of the other major airline deals in play through the crisis has been the Canadian tie-up between Air Canada and Air Transat. That deal was again struck before the pandemic and has since been subject of renegotiation.
Shareholders of Transat AT, the parent of leisure carrier Air Transat, on 15 December approved a plan under which Transat will be sold to Air Canada at a significant discount.
The new agreement, which the Montreal-based companies reached in August, calls for Air Canada to acquire competing Transat for C$5 ($3.93) per share, or about C$190 million.Previously, Air Canada had planned to acquire Transat for C$720 million. The deal now hinges on regulatory approval
Transat chief executive Jean-Marc Eustache says: "We are more convinced than ever that it is in the best interests of all our stakeholders to join forces with Air Canada."
The challenging conditions could hasten other domestic consolidation moves over the coming months.
By contrast, a planned move by LOT Polish Airlines for German leisure carrier Condor was almost immediately dropped when the pandemic hit.
Cross-border consolidation was already challenging – particularly in regions without open skies agreements – as more complicated ownership structures are required to retain international traffic rights. That is further complicated by the crisis.
Potential airline aquisitors, focusing on stablising their own businesses, are in little position to embark on spending sprees. And any such ambitions are also made more complex by the presence of governments in airline affairs as a result of the string of bail-outs that has kept carriers afloat during the crisis. States – themselves stretched by the pandemic – have acted to support national carriers, not to fund overseas investments.
"You could have some consolidation," IATA's outgoing director general Alexandre de Juniac told FlightGlobal last month. "But it will not be easy because you don't have so many companies that have the financial means to buy their neighbour or competitor, and secondly, if the state [has a] shareholding, it will not be very flexible. So consolidation could happen, but not very fast .
"In the long run you will see an expansion of the remaining actors, you will see newcomers because it is sector where you have a lot of movement. Then consolidation could happen, when the numbers and financial [performance] have come back to something more normal," he adds.
This article was amended on 21 December to correct original proposed acquisition price of Transat