The second quarter of 2021 failed to deliver the strong recovery momentum that European airlines had hoped for. But as that period draws to a close, there are signs the second half of the year holds more promise for intra-European travel – and possibly markets beyond.
Towards the end of June, Eurocontrol recorded more than 20,000 flights in European airspace on a single day for the first time since the pandemic began to ground fleets in March 2020, with overall traffic for the week ending 27 June at 53% of 2019 levels.
"We may well see another step up as we enter July," said Eurocontrol director general Eamonn Brennan.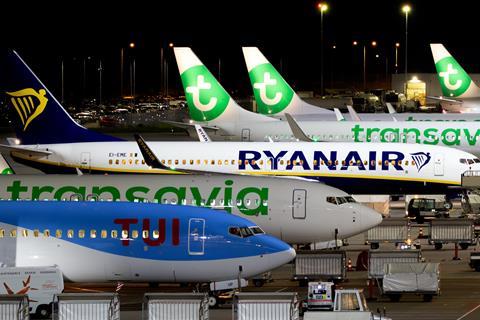 Behind this increased flying are government decisions to relax travel restrictions, often in line with guidance that was adopted by the European Council in mid-June. An emerging theme is that many countries will accept non-essential, fully vaccinated travellers from places where the virus threat is low, with no requirement to quarantine on arrival.
Big markets such as France, Germany and Spain have made moves to relax restrictions along those lines in recent weeks, but airline chiefs think they should go further.
"The science is clear that unrestricted, safe travel is possible for many intra-European flights already – and this will only increase as the vaccine rolls out," said EasyJet chief executive Johan Lundgren during the Airlines for Europe (A4E) annual Aviation Summit on 10 June. "We believe now is the time for Europe to safely start to fully reopen."
The spread of the Delta variant of Covid-19 remains a cause for concern for many governments in the region, however, and a thorn in the side of airline recovery momentum.
Some governments are keen to delay importation of Delta cases until vaccination programmes are more advanced, even though the variant is already present across the region.
Germany, for example, put a block on most arrivals from Russia and Portugal in late June, citing high levels of the variant in those countries.
And German chancellor Angela Merkel was joined by French president Emmanuel Macron in urging other European Union countries to restrict travel from the UK, where cases of the Delta variant have been surging.
In the UK itself, the government added a few more destinations to its 'green list' in late June, while also signalling its intention to adopt a policy similar to the EU's by August, when it says fully vaccinated travellers from 'amber list' countries might not be asked to quarantine.
But while the Delta variant remains an unwelcome complication, airline chiefs have not let it dampen their spirits regarding a short-haul comeback.
HEALTHY DEMAND
Speaking during a Paris Air Forum event in mid-June, Air France-KLM chief executive Ben Smith said that the group expects to have "healthy levels of capacity this summer in Europe, as well as domestic France", which should see it achieve 60-65% of 2019 levels overall in the third quarter.
He also notes that the group's low-cost unit Transavia is planning to operate capacity "in excess of what we operated in 2019".
Smith says he is "pleasantly surprised how quickly leisure demand and visiting friends and family demand have come back".
Speaking at the same event, Wizz Air chief executive Jozsef Varadi said the budget carrier was operating at around 85% of 2019 levels in June, adding: "We are going to be exceeding 100% going into peak summer – the end of July, August period."
And while Varadi does not think this is "yet the end" of the industry's troubles, "I hope in the next six to 12 months we are going to see a clear path out of this crisis", he says.
Indeed, while short-haul leisure and VFR markets are showing some positive signs, long-haul passenger operations remain stymied.
"What's difficult for us is Asia, where the markets are closed, South America [where] markets are closed, African markets are quite restrictive, the United States [is currently restrictive], Canada is still quite restrictive," says Smith.
The Air France-KLM chief is not alone in lamenting that state of affairs.
While IAG chief executive Luis Gallego said in late May that "it looks like the end of this nightmare is going to be soon", the resumption of lucrative transatlantic flights in particular cannot come quickly enough for network airlines facing unrelenting cash burn.
"We don't see a reason why the US-UK corridor cannot be open, when you see the successful roll-out of vaccines in the two countries," Gallego said during the A4E summit. "The problem is the UK is reaching a critical point, and we need the safe restart of travel, we need to reboot the UK economy, we need to protect jobs."
In some European markets, moves to relax restrictions on US travel have not yet been reciprocated by the latter's government. In other cases – such as the UK – restrictions and blocks on non-essential travel still exist on both sides.
"The government's own evidence shows that the US is low risk and should be added to the green list now," said Virgin Atlantic chief executive Shai Weiss in late June. "We urge the UK government to move the US to the UK's green list and for the Biden administration to repeal the 212F proclamation for UK travellers."
For the time being, airlines face a scheduling challenge as they try to second-guess the next steps by governments.
Lufthansa, for example, tentatively aims to reinstate its full US network from the second half of July.
"Is that right or is it wrong?" Lufthansa Group chief executive Carsten Spohr asked during the Paris Air Forum. "We'll see. If it turns out we were wrong, we'll take the aircraft out before they operate again."