Willie Walsh has never been one to shirk a challenge.
In a career at the helms of Aer Lingus, British Airways and, what was ultimately to become the parent of both carriers, IAG, Walsh developed a reputation as a leader unafraid of taking on difficult decisions.
It perhaps should have come as little surprise then that having retired from IAG, he should six months later take up the role of leading airline body IATA through the deepest and most sustained crisis the industry has ever endured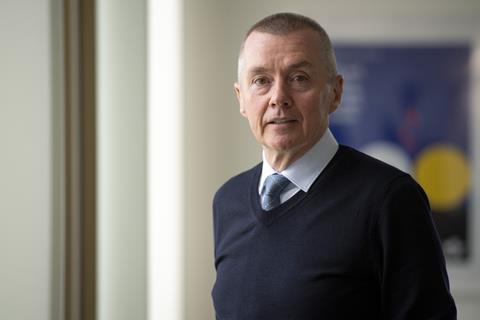 "I was happy to leave the industry when I announced my retirement [in January 2020]. But when I saw what happened through the crisis I was sad that I was leaving. I felt like I was walking away from my colleagues at a time when they were in really difficult times," Walsh tells FlightGlobal during a late-April interview.
Walsh had already pushed back his retirement from IAG to help the airline group navigate the worst of the first wave of the pandemic. By the time he returned to the industry to become only the eighth director general of IATA in April last year, airlines were back on their knees after the Delta variant had ripped around the world while the global vaccine roll-out remained in its infancy.
If he needed any reminder of the impact of the crisis, Walsh only needed to look out of the window of his office in Geneva – which in normal times would overlook the airport's busy runway, but where a scarcity of flight activity told its own story.
"We all had global pandemic on the risk register – I know we did at IAG," he recalls. "The principal sort of impact that we had considered at that time was that you wouldn't be able to operate all of your flying because you would have people who couldn't come to work, as staff would be ill or looking after people who were ill. We never really anticipated that governments would shut their borders in the way they did."
Those decisions resulted in a 95% reduction in global RPKs in April 2020 versus the same month a year before, he recalls. By comparison, traffic was down less than a fifth in October 2001 at the peak of the aftermath of the 9/11 terror attacks.
"When you were doing various 'what's the worst that could happen' scenarios, I don't believe anybody would come up with a 95% reduction."
RESTORATION ROLE
Walsh says that when he joined IATA, restructuring of the association had taken place, meaning the business part of the body had been stabilised. That left the main focus on representing the industry and its key priority: the reopening of borders.
"The only way the industry could start recovering was to be able to fly internationally. Our attention turned to initially trying to persuade governments to open their borders. Then I think it was more to embarrass governments to opening their borders by challenging the actions they had taken, demanding they justify it on health grounds, because it's clear the closures did absolutely nothing to improve the health situation.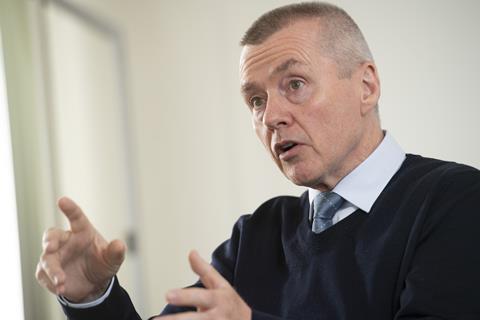 "When I look back at it now and see the damage that was done to the industry – and the economic damage done to countries in the name of protecting the health of the countries – it was complete nonsense and we have to make sure it doesn't happen again. Because there will be another virus, there will be another variant, and I think the critical issue is we have to learn from what we did right and what we did wrong."
Borders are reopening and travel restrictions easing, bringing with it the return of capacity and passengers. "It didn't stop people wanting to fly, and we had lots of evidence of that whenever restrictions were relaxed, an immediate response. A government announcement – the taps were opened.
"I think there is good confidence around the continuing recovery and that should see it performing well into winter. Capacity within Europe is back at about 85%, the network is still building up, so I think it should be good certainly for European airlines through the summer and into winter and into 2023. Certainly if I was running an airline in Europe, I would be quietly confident things are going in the right direction and will continue to go in the right direction."
However, it remains a work in progress. "Two years on we are still really only now getting out of it to a level where you could say the industry is recovering, and that is not the situation everywhere around the world, with China principally being closed in effect at the moment," Walsh notes.
The continued pursuit of a zero-Covid strategy has seen lockdowns return to key cities in the country, notably Shanghai – which was to host IATA's next AGM in June but the event has now been moved to Doha.
While China has a large domestic market to fall back on, even recovery there remains disrupted. As for a return of international markets to China, Wash expects airlines to take a more cautious approach. "Strategically every airline looked at China as an important market. I think there will be much greater caution now, because people have seen what has happened there and how the government responds, and how the government appears determined to pursue this strategy, and will be concerned they will try and build up a network again only to have it shut down at short notice."
The demand recovery outlook is further complicated by Russia's invasion of Ukraine. From an airline industry perspective the impact is relatively small given the limited flying on Asia-Europe routes – most carriers being impacted by route detours resulting from the ban of overflying Russian airspace. The bigger impact is around higher fuel costs.
"Most hedging levels are pretty low, and that points to prices rising as ultimately the oil price will have to pass through to consumers," says Walsh. "The question then is will that have an impact on the pace of recovery. We are not seeing that to date, which is good. We have seen $150 oil before, so personally I wouldn't be overly concerned about that."
IATA will provide a fresh industry outlook at its AGM in June. Its initial forecast for 2022, made last October, was for the industry to contain losses at $11.6 billion and for North American carriers to return to the black.
Relative to the eye-watering industry losses of the past two years, this would be progress. But it is some way off the industry's pre-crisis performance, in which airlines recorded an unprecedented decade of profits – albeit driven by a relatively small number of leading airline groups.
Walsh though believes the industry can ultimately return to solid profitability. "We have gone through crises before, nothing on this scale. But a lot of the learnings of the crises we have been through were applied to this one, and as a result the industry is still alive today, having gone through the deepest and most prolonged crisis we have ever faced. That to me is a positive that reinforces in my mind that the industry can recover its financial strength, but it will certainly take time."
AIRLINES' EXISTENTIAL CHALLENGE
If the day-to-day focus for airlines has been on navigating the crisis, the industry has at the same time had to address another more fundamental issue to its existence: how to tackle its environmental impact at a time when the issue is becoming ever more important to regulators and consumers alike.
"It is existential. There's no doubt about that," says Walsh. "All you have to do is look around at the number of airlines that are talking about it, the number of airline CEOs that will talk about it in every presentation they give, even those who could have been identified as climate sceptics.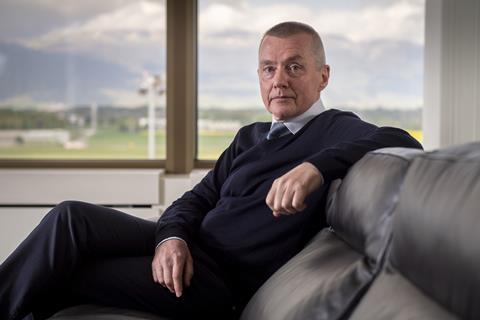 "We are in the spotlight and we have to demonstrate, not just through words but through actions, that we are capable of achieving net zero in 2050."
The industry took a significant step at last year's IATA AGM in Boston, by adopting a resolution that committed it to reaching net-zero CO2 emissions by 2050.
"That was evidence of the industry getting ahead of the game," says Walsh. "I think it was a significant achievement, and also what's significant was – though it wasn't part of our motion – there was recognition in the debate that we may need to change again. We can't just say we have done our bit."
While Walsh is encouraged at recent developments around the role technology could play in helping to cut emissions, IATA's roadmap to net-zero by 2050 has been centred heavily around sustainable aviation fuel – which it sees accounting for 65% of total fuel requirement.
"I think in fact on the technology side, we are being overly cautious. But I think it's right, because trying to convince people there is going to be magic solution, I think its not fair because people will want to see tangible evidence of what it is you are doing, and we can justifiably argue with anybody that sustainable aviation fuels are a credible way of us achieving our net-zero target," Walsh explains.
"We used as an industry every single drop of sustainable aviation fuel. So this idea that the industry needs to be somehow forced to use it is nonsense," he adds. "Airlines are committing to it, they are putting their money where their mouth is, and that is maybe something we haven't been able to point at in the past."
The pandemic also threw up a further examples of the narrative battle airlines face, when so-called 'ghost flights' were called out.
"I am surprised at the immaturity of the debate because a lot of those flights were actually being flown to operate cargo and that was being completely glossed over," says Walsh, highlighting the key role airlines played in keeping supply chains open during the pandemic. "The slot regime was suspended, so nobody was flying to protect slots because they didn't need to, and I can tell you without hesitation there isn't a single airline CEO I know who would operate a flight during this period unless they had to. Because every airline was looking at the cash cost of operating a flight, and only operating the flight if it was covering their cash costs."
That illustrates the perception challenge the airline industry faces in terms of the environmental debate.
"Personally I think the mistake we made was a lot of people in the industry felt that at 'only 2%' [of global CO2 emissions] we didn't need to worry. I have argued for years, we need not look at what it is we are doing today, but we've got to recognise that other industries will decarbonise quicker than us and then that 2% is going to start increasing and significantly increasingly unless we are doing something about it – and that's the bit we have got to get ahead of.
"We are still 2-2.5% and we have been at that level for 10-15 years. But we can see going forward that now there is a shift with other industries being able to decarbonise at much lower cost than the airline industry."
Achieving net-zero, though, will not be without cost. "We have to be conscious of the environmental cost and that will cause ticket prices to increase. There is no way of avoiding that. Airlines are having to pay for carbon – increasingly the amount of carbon we are having to pay for is becoming more and more significant.
"The benefit of more efficient aircraft has led to lower costs, and those lower costs have led to lower fares," Walsh notes. "But it is not sustainable going forward, principally because I think everybody acknowledges the industry is determined to achieve net zero in 2050 and that's going to cost money, whichever way you look at it – either in the form of new aircraft, sustainable aviation fuels or carbon offsetting."
REPRESENTING PRIORITIES
While the pandemic and environment dominate the near- and long-term horizons, IATA notably continues to press the case across other issues. That includes promoting gender diversity within the industry – progress on which, framed by IATA's 25by2025 initiative, is underscored by series of recent female chief executive appointments – or in calling out high profile supplier charging levels.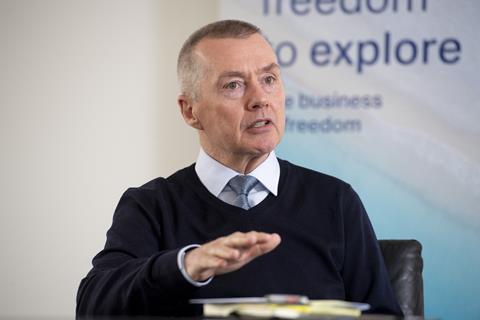 "The focus on serving and representing is very important, that is why we exist," says Walsh of IATA's role. "They [airlines] can represent themselves very well, but sometimes they need someone from outside to represent them; sometimes they need somebody to say things that they want to say, but can't.
"Representing is a challenge. Speaking on behalf of a global industry, we have to be conscious that there are regional differences. I feel I am in a position to say things that some airline CEOs want to say, but can't," he says, pointing to his experience in the industry. That has included criticism of a number airports aiming to recover pandemic losses through higher charges.
"Yes we will be critical, but we are not here just to bash-up people," he says. "If we are being critical of people, it's because we have very good reason to be critical. And If they get upset about our criticism, then they should look at themselves."