Long-haul, low-cost carrier Zipair Tokyo was born during the worst downturn in aviation history, but a booming cargo market has helped it eke out a small profit.
The Japan Airlines (JAL) unit started cargo operations in June 2020, at the height of the coronavirus pandemic with Japan's borders all but entirely closed. Passenger services followed in October 2020.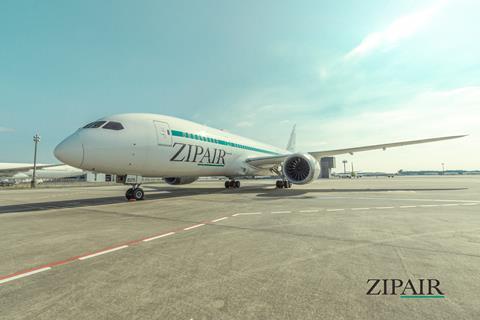 Operating four Boeing 787-8s, over 90% of Zipair's revenue has come from bellyhold cargo, says Yasuhiro Fukada, chief marketing officer of Zipair. He says this helped the new carrier turn a "marginal profit."
Fukada spoke with FlightGlobal at Aviation Festival Asia 2022 in Singapore. The city state is one of Zipair's destinations from its Tokyo Narita base – the others are Bangkok, Seoul Incheon, Honolulu, and Los Angeles. The airline will launch flights to San Jose in December.
"Our first flight from Narita to Seoul Incheon in October 2020 only had two passengers, but the cargo was quite good," says Fukada.
Indeed, the powerful air cargo boom during the coronavirus pandemic was essential to Zipair's survival, with parent JAL selling Zipair bellyhold space on a codeshare basis.
This offset weak load factors for the startup, which Fukada pegs at 25-30%. Japan is still largely shut to leisure travel, although it is taking very tentative steps to start opening. He expects load factors to shoot up once Japan fully reopens.
A long-time veteran of JAL, Fukada stresses that Zipair is aimed at entirely different passenger segment than its parent, which has a distinct premium branding.
Unlike full-service JAL, Zipair sells just seats – everything else is a paid extra. Where JAL's 787-8s have a low-density 200-seat layout, Zipair 787-8s have 290 seats. In the economy cabin, JAL's 787s are eight seats abreast, while Zipair's are nine abreast. JAL's economy class has a 34-inch seat pitch, while Zipair's economy seat pitch is 31 inches. Zipair's jets lack an inflight entertainment system, but it does offer free Wi-Fi.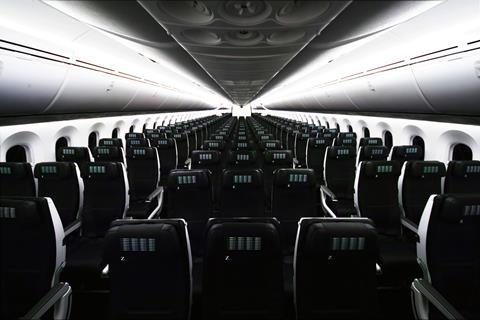 Still, passengers can pay for comfort on Zipair: its 787s have a business class with 18 lie-flat seats.
From a strategic point of view, explains Fukada, Zipair is focused on the leisure and VFR (visiting friends and relatives) market, helping the larger JAL group capture passengers that might otherwise have gone to overseas carriers. Fukada notes that trans-Pacific routes between Japan and Honolulu and the US west coast are "huge markets" that lack an LCC.
"We want to bring this model to the West Coast market, because right now [price sensitive] customers can use the US airlines only. As a group, Japan Airlines needs to offer two options: premium and price sensitive."
Zipair aims to grow its 787-8 fleet to ten aircraft by the end of its 2025 financial year to 31 March 2026. It will add two aircraft each in its 2023, 2024, and 2025 financial years.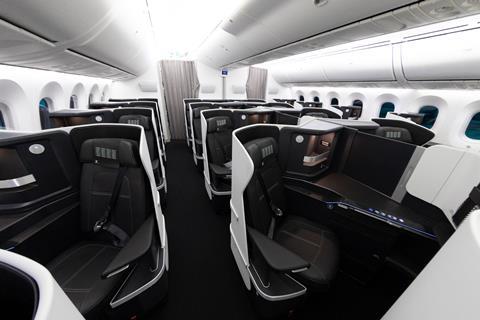 On whether Zipair will consider narrowbodies, Fukada says Zipair's long stage lengths, especially across the Pacific, means it will stick strictly with the 787-8.
Fukada says that Zipair prefers 787s that previously served with JAL, as with its existing in-service 787s. Cirium fleets data indicates that Zipair's 787-8s are powered by GE Aviation GENx engines and have an average age of 10.4 years.
JAL operates 24 787-8s with an average age of 7.1 years. Fukada adds that Zipair is in discussions with JAL about its planned 787-8 fleet growth.
Asked on whether Zipair is considering Europe, Fukada says that the long stage lengths involved are not suitable given the carrier's small fleet of four aircraft. Only after Zipair grows to 10-15 aircraft might it consider routes to Europe or the East Coast of the USA.
For the time being, Fukada is unsure on when Japan's borders will fully reopen, but feels that Zipair is well positioned for the return of the Japanese leisure air travel market.