Just a few years ago, airlines were stumbling through the pandemic, hesitant to make long-term plans amid incredible uncertainty.
But Lufthansa's newly disclosed €2.5 billion ($2.6 billion) long-haul product investment is another signal that airlines are finally looking beyond the crisis.
Alongside the sheer scale of the programme – Lufthansa plans to retrofit existing long-haul aircraft and to receive more than 80 new widebodies with new interiors – the airline's new-product strategy notably banks on the appeal of customisation and choice.
Its new "Allegris" cabin products straddle four classes – from economy to first. But the carrier will also offer various seating options within the same classes, including seven distinct products, for instance, in business class.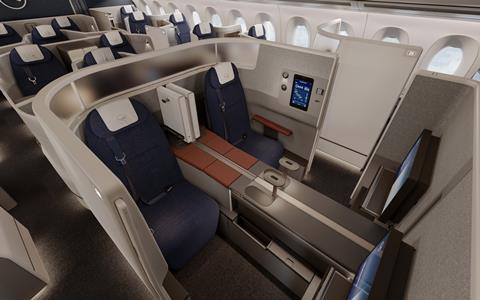 Lufthansa showcased the cabin products during a 28 February event at the imposing Kraftwerk Berlin venue, a former power station that now houses exhibitions.
"We are out of the pandemic," Lufthansa Airlines chief executive Jens Ritter tells FlightGlobal at the event. "We are working on our future, and this is an expression of our understanding of premium. It's a premium product, but it's individual and smart."
The German carrier will debut its new business-, premium-economy- and economy-class offerings on a Boeing 787-9 this year. "We still expect to get this aircraft by September with the new product. Probably, we will fly to the US with this aircraft," Ritter says.
The jet will have 28 business-class seats (including four suites), 28 premium-economy and 231 economy seats – 34 of which will have extra legroom.
The Star Alliance carrier plans to debut its new first-class product on newly delivered Airbus A350-900s next year. Those aircraft will be configured with three first-class suites (seating up to four passengers each), 38 business-class seats (including eight suites), 24 premium-economy seats and 201 economy seats, including 22 with more room to stretch.
"All our new aircraft, like the A350 and the Dreamliner, will get the new product, but we will also retrofit the current fleet," including A330s, A350s and 747-8s, Ritter adds. Lufthansa hopes to complete the retrofit programme by 2025 or 2026, by which time it is scheduled to be taking delivery of new 777-9 widebodies.
In total, the project involves some 27,000 new seats.
Notably, Lufthansa's new business-class offering will include seven seating options, all with direct access to aircraft aisles. Options include single and double suites, two seats that combine into a "double" seat, seats that convert into an "extra-long bed" and seats with extra space.
Another innovation includes the option to heat or cool the seat, a functionality also available in first class. Lufthansa's head of customer experience design Kai Peters says: "That's something you know from your car, but you haven't seen it in an aircraft before. We are the first to introduce it. You also have an extra fan. You can arrange it… how you would like it to feel."
Three manufacturers will provide Lufthansa's new business-class seats: French firm Stelia, Collins in the USA and UK seating firm Thompson. "It is good for us, otherwise you are dependent on a single source," says Ritter. "We are talking more than €2.5 billion for the new product, not just the seats. Therefore, you need to have multiple suppliers to share the risk."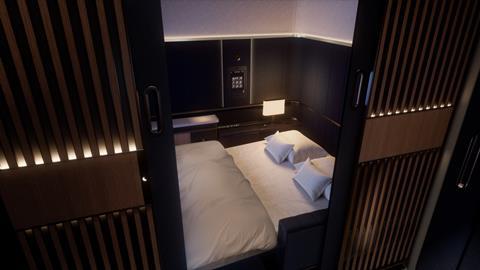 Lufthansa's new first-class cabins will have a "Suite Plus" – double cabins with doors, ceiling-high walls, tables and two seats that combine to a double bed. Ritter says demand for first-class seats remains strong. "We are convinced our passengers will book our new first class, especially when they have the choice between [a] single suite and double suite," he says.
Lufthansa's new premium-economy seats, made by German firm Zim Aircraft Seating, will be enclosed in a fixed shell, meaning trays and screens will not be impacted when passengers recline their seats. Zim also developed the product for Lufthansa sister carrier Swiss International Air Lines' Boeing 777s.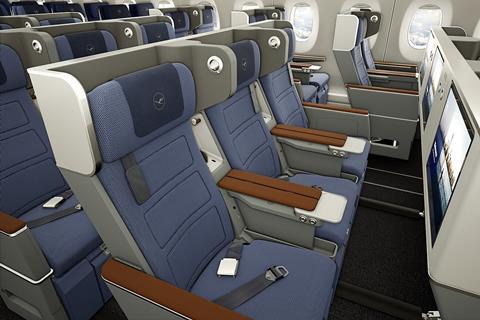 Germany's Recaro is developing Lufthansa's new economy seat, which Lufthansa Group intends to install on aircraft operated by its other subsidiaries. Passengers will be able to pay for economy seats with additional legroom and for adjacent economy seats to remain unoccupied.
"We developed many smart items, like the big 4K screen, Bluetooth connection, wireless charging – there are so many different small items in our product," Ritter says.
He believes Lufthansa's timing is ideal.
"Especially after the crisis, the business passengers are coming back, the corporate travellers are coming back. But also the leisure traffic [is] at a high level. Those families that would like to fly on holidays to the US and leisure destinations, they ask [for] and demand… a premium product," Ritter adds.