Jet Airways has not flown in India's skies for a year, but the epic story of India's worst airline failure continues to resonate.
Before its demise in early 2019 the Jet Airways fleet and route network was something to behold. On 30 October 2018, when the BSE Stock Exchange queried a news report about payment issues with lessors and airports, Jet operated 118 aircraft comprised of 85 737s, of which five were new Max 8s, nine 777-300ERs, four A330-300s, and 16 ATRs.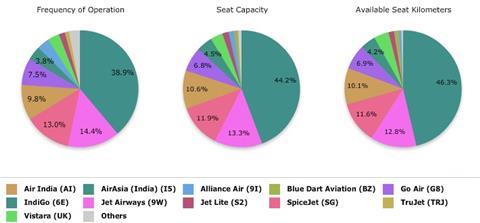 Cirium fleets data shows that the airline was also planning for the 2020s with 147 jets on order, of which 132 were 737 Max aircraft, along with 10 787-9s and five A330-200s.
Jet's routes and slots were the envy of new entrants to India's competitive airline sector. On the key Delhi-Mumbai route, the country's busiest, Cirium schedules data show that Jet commanded 21.4% of capacity – ahead of Air India, Vistara, Go Air, and SpiceJet. Only low-cost upstart IndiGo offered more capacity on the route.
In India's entire domestic market in October 2018, Jet Airways provided 13.3% of all seats, behind IndiGo's share of 44.2%, but ahead of SpiceJet (13%), Air India (9.8%), and Go Air (7.5%). Of course, a major issue with this mix was that Jet's rivals were aggressive low-cost carriers. Its main full service rival Air India acted (and continues to act) as a spoiler in the market, perpetually propped up by New Delhi.
The competitive mix of LCCs and a state-supported full service rival proved fatal to Jet, which found itself applying discounts closer to flight dates to boost loads. Passengers had cottoned on, becoming more price sensitive closer to travel dates. It also meant that some carriers' breakeven load factors were pushed out – possibly beyond 100%.
While dominant LCC IndiGo was relatively well placed to deal with this challenge, there was concern that Jet was relying on cash from sale-and-leaseback payments to keep operations going. After releasing its delayed first quarter results in mid-2018, the carrier admitted that it had taken $300 million in advance payments from lessors in the three months to June 30, based on sale-and-leasebacks for its 737 Max 8s.
On 1 November 2018 the airline confirmed it had received default notices from lessors. Optimistically, it added that lessors were nonetheless supportive of the carrier.
Like a mortally stricken boxer Jet stayed on its feet, staggering under a barrage of bad news. Efforts to raise capital from the Tata Group came to nought, as did a report about a potential merger with Vistara. The airline's long-term chairman, Naresh Goyal, reportedly offered to step down were new capital to be found.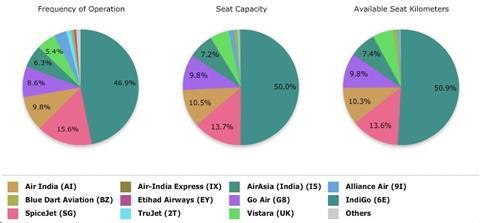 December 2018 saw renewed concerns about the carrier's financial situation. At the beginning of 2019, Airline Business listed Jet chief executive Vinay Dube as having one of the toughest jobs for the year ahead. Indeed, as that issue of the magazine went to press Jet defaulted on payments to a consortium of Indian banks, blaming a "temporary cashflow mismatch."
January produced a steady flow of news about the airlines parlous finances. There were reports, scotched by Jet, that 24% shareholder Etihad (itself facing a range of troubles) would boost its stake to 49%, but this never happened.
Eventually the financial woes caught up with Jet's fleet, with the carrier grounding more and more aircraft as the weeks went on. By this point it was trying to sell aircraft, all while defaulting on loans and lease payments. By April, 80 aircraft were grounded and the carrier suspended international flights temporarily, something that later became permanent. Finally, after a last request for emergency funding fell through, the airline suspended operations.
A comparison of Indian domestic capacity between March 2018, when Jet was still fully operational, albeit struggling, and March 2020 shows some clear winners. In the post Jet era IndiGo's share of overall domestic seats has risen to 50%, compared with 44.2% before Jet's demise. SpiceJet's share has also grown, going from 11.9% to 15.6% today. Air India, the perennial sick man of India's airline scene, was apparently unable to capitalise on Jet's demise. Its share of seat capacity stood at 10.6% in March 2018, which fell to 10.5% in March 2020.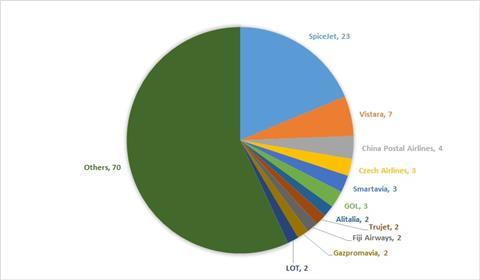 ICICI Securities analyst Ansuman Deb is a close observer of India's airline space. He notes that though carriers in India attempt to differentiate themselves as either full service airlines or LCCs, the country's market is basically homogenous. He reckons that the collapse of Kingfisher Airlines in 2011 helped buy Jet time. He believes that the demise of Jet benefited the entire sector, although the continued existence of a state-sponsored carrier in the form of Air India somewhat moderated this effect.
"In India, it's always the last man standing who saves all the others," he says.
In his view, SpiceJet was one of the bigger winners in the Jet debacle, namely because it is also a Boeing 737 operator. This gave it an edge in acquiring former Jet Airways aircraft. From a slots perspective he notes that Jet's demise was particularly lucrative given the airline's long history in the country, and that the slots were distributed in proportion to market share. He believes, though, that SpiceJet gained the most owing to its adoption of former Jet 737s.
"They took over former Jet aircraft, and they could show the government that they could bring in capacity overnight if sufficient slots were provided," he says. "To prevent disruption the government accommodated this…it was very opportune for SpiceJet because they have a Boeing fleet."
Cirium fleets data lists 123 former Jet Airways aircraft, of which 73 are in service and 50 are in storage. SpiceJet is listed as having 23 former Jet Airways aircraft in its fleet, all 737-800s. Only Vistara, which mainly operates Airbus A320s, comes close with seven former Jet 737-800s. A large proportion of the fleet of Jet's fleet is on the ground, including 17 737s, 10 777-300ERs, nine A330s, and 14 ATRs.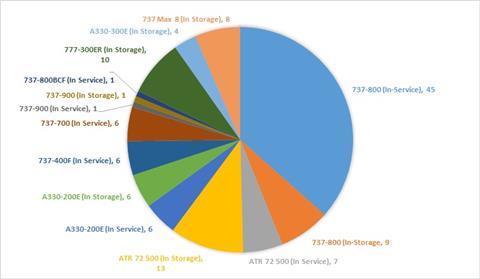 The 777s fared poorly post Jet. Only one of Jet's ten former 777-300ERs is listed with an airline operator, KLM. The A330s have done somewhat better. As of 17 March, six were in service with four airlines, with 10 are in storage.
The major question around the ashes of Jet for the last 12 months is whether it can somehow be revived and make a comeback. Periodically reports surface of various business groups who hope to revive the carrier, but these have come to naught. Bringing the carrier back to life would involve a gargantuan effort to rehire thousands of personnel, reacquire aircraft, and start afresh. While the name Jet could well return to India's skies, it would be more akin to the periodic efforts to revive other famous airline brands of the past, such as Pan Am.
The Indian market post-Jet remains brutally competitive. IndiGo was able to turn in Rs4.96 billion ($69 million) net profit for its third quarter ended 31 December. SpiceJet, which nearly went to the wall in 2014, saw its profit in the same period surge 33% to Rs732 million. SpiceJet Chairman Ajay Singh said things would have been even better if not for the continued pressure of the 737 Max grounding. Air India, meanwhile, continues to rack up losses while New Delhi continues it seemingly futile search to sell it. While still small, Vistara now has a fleet of 40 aircraft, including its first 787-9. Backed by joint venture partners Tata and Singapore Airlines, it looks destined to become the country's strongest full service airline.