The coronavirus is a disaster for all airlines and airframers, but a concentration of orders with troubled Southeast Asian carriers presents a particular challenge for the Airbus A330neo.
The world was very different in July 2014. Brent crude stood at well over $100 a barrel, a price that seemed to represent a firm plateau, having traded there since early 2011.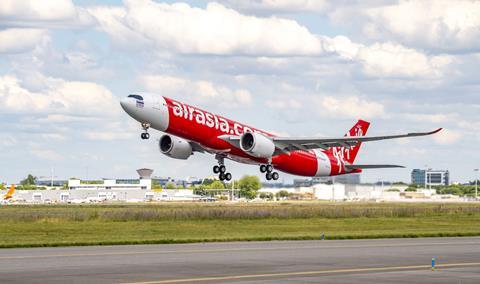 Amid the costly fuel environment, Southeast Asia's dominant low-cost carrier, AirAsia, was bent on aggressively scaling up its long-haul, low-cost AirAsia X unit. Late 2013 saw it order 25 additional A330-300s.
AirAsia X co-founder Tony Fernandes said that the order "stamps our firm intent to dominate the long-haul, low-cost carrier space", adding that the airline planned to become the "undisputed global market leader" in the segment.
Not content with the baseline A330, the carrier pushed Airbus hard for a re-engined Neo variant. Finally, at the Farnborough air show in 2014, Airbus launched the A330neo family. AirAsia X promptly signed a memorandum of understanding for 50 examples.
Fernandes called the A330neo "a killer aircraft." His only complaint? That he was restricted to Rolls-Royce Trent 7000 engines.
"I think [GE Aviation] has missed out big time," he said. "In years to come they will regret not going with this aircraft. I'm sure there are a couple of GE guys who actually wanted to do this aircraft. I think it's a mistake."
Despite profitability challenges in the years since, AirAsia X has remained committed to the A330neo, periodically topping up its orders for the type, which suffered a series of development delays largely related to the Trent powerplant.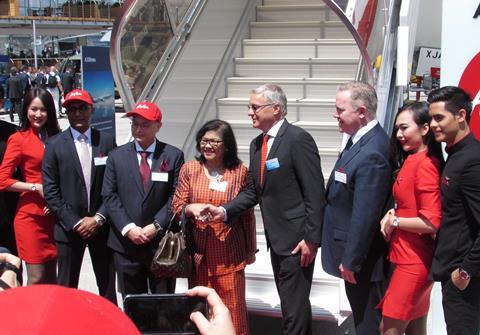 Following a rejig in August 2019, AirAsia X's orderbook for the A330-900 stood at 78 examples, plus 30 A321XLRs. Had the reshuffle not happened, AirAsia X's commitment for the A330neo would have been around 100 units. In addition, the airline has orders for 10 A350-900s, although the status of these aircraft has been uncertain for years.
Over five years after Fernandes's 2014 optimism, two A330-900s were delivered in late 2019, via lessor Avolon, with both examples going to AirAsia X affiliate Thai AirAsia X. Meanwhile, AirAsia X's 78 orders account for 28% of the -900's backlog. But despite the early optimism, it appears likely that these aircraft may never be delivered.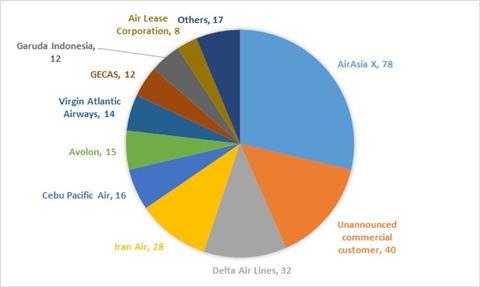 The challenge stems, of course, from the devastating impact of the coronavirus pandemic and the attendant travel restrictions on Asia-Pacific airlines.
AirAsia X carried just 2,300 passengers in the second quarter, down from 1.46 million in the same period to end-June a year earlier. Of its 23 A330-300s, all but three are in storage. It recently reported a first-quarter operating loss, for the three months ended 31 March, which grew five-fold to MYR158 million ($38 million) – and this is before the earnings carnage that is likely in the second quarter.
AirAsia X declined to comment on the status of its outstanding orders. Airbus, which has pared back A330 production to just two per month, says that it does not comment on discussions with customers.
Analysts, however, are uniformly bearish about AirAsia X's prospects, and what this means for the A330neo.
"It is almost certain that AirAsia X will not be in a position to take the A330neo orders, nor its A350 orders, due to financial stress, and neither will AirAsia want them as it doesn't operate twin-aisle [aircraft] and demand for large aircraft will be low for the next half-decade," says one Malaysian analyst.
Shukor Yusof, founder of Endau Analytics, says: "The long-haul, low-cost business model is flawed. While AirAsia X's owners are loathe to let go of AirAsia X, everyone can see the game's up."
In early August, Malaysian brokerage firm CGS CIMB Securities questioned the very ability of AirAsia X to survive the collapse in international air travel.
In a research note entitled "Low probability of survival," CGS CIMB says the airline's first-quarter results were just the "opening scene for the horror movie of the year."
"[Air Asia X] is currently negotiating with suppliers to reduce aircraft lease rates and to pay on a per-use basis, to early-return leased aircraft that [are] in excess of future requirements, to reduce airport charges, to revisit terms with business partners, and to restructure its fuel hedges with the remaining 30% of counterparties that have yet to agree to defer payments," says CGS CIMB.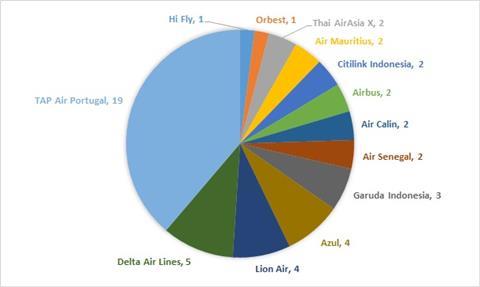 In addition to AirAsia X's big A330neo orders, Cirium fleets data and Airbus statistics indicates that the type is exposed to other challenged carriers. These include Iran Air, with 28 orders, as well as struggling Southeast Asian carriers Cebu Pacific Air (16), and Garuda Indonesia (12). And although Airbus is also developing the smaller A330-800, that has garnered just 14 orders compared with the 318 for the -900 variant.
"I guess the A330neo programme is in a difficult position at present, but frankly that comment could easily be applied to every other twin-aisle aircraft in production at present," says Rob Morris, global head of consultancy, Ascend by Cirium.
"There are a number of weak commitments within the current backlog, but again that comment could apply to any and virtually every airline today. The A330neo already had some of these issues before the pandemic – Iran Air mired in politics, AirAsia X and Garuda have had question marks for a while, lessors including Avolon, Air Lease and GECAS with speculative unplaced orders."
Independent analyst Brendan Sobie, however, paints a somewhat starker picture. "AirAsia X is obviously the main concern and the fact it will likely not take any [A330neos] poses a major threat to the overall programme," he says.
"The Cebu Pacific and Garuda/Citilink commitments, some with lessors, are much smaller and vulnerable to significant deferrals and possible cancellation entirely, particularly for Garuda. Airbus will need to find other customers in other geographies and segments in an extremely challenging environment."
Sobie acknowledges that the long-term A330 replacement market is good, but that decisions could be postponed for years, with some airlines reducing their widebody fleets and only replacing jets when their finances improve.
Airbus, for its part, stresses that its production rate of two A330neos per month fits the new environment, and that it is capable of adjusting rates depending on market demand. It also notes that there nearly 600 A330s are operating in the Asia-Pacific, the biggest fleet of the type globally, and the A330neo is ideally positioned to replace these jets.
"Coming out of the crisis both passenger demand and yields are likely to remain depressed and airlines will seek to control their financial exposure," says Airbus.
"The A330neo supports airlines with a winning combination of new generation economics, commonality, flexibility, industry leading reliability and lower fixed capital costs than competition aircraft. With these powerful levers, the A330neo is the right aircraft for Asia-Pacific airlines looking for financial stability during these uncertain times."
As for AirAsia X, the carrier is likely to find it highly challenging obtaining a bailout or new liquidity, especially given that its more prominent parent, AirAsia, is also facing severe challenges. FlightGlobal understands that Airbus has quietly shopped around jets destined for AirAsia X to other carriers, although finding any taker in the current environment would appear extremely difficult.
At some point, perhaps in 2021, a vaccine could start moving the world beyond the coronavirus pandemic, but this could be too late for AirAsia X. As for the A330neo, the type's good economics should ensure its future – though perhaps not one as sunny as envisaged in July 2014.

Greg Waldron is the Asia Managing Editor of FlightGlobal, responsible for the team's airline, aerospace, and defence coverage across the region. He has worked at the company since 2009. In the airline space, Waldron has conducted dozens of interviews with airline leaders in the Asia-Pacific. He also covers areas such as MRO and safety. On the defence beat, Waldron has written extensively about the rise of Chinese airpower, as well as broader airpower developments around the region, such as indigenous fighter programmes, and regional acquisitions of foreign equipment. In addition, Waldron writes about commercial helicopters in the region and business aviation. Waldron worked has a freelance journalist with his work appearing in several business publications.