Russian authorities have proposed to the Eurasian Economic Union a reduction in import tariffs for aircraft engines, intended to assist development of the Irkut MC-21.
The MC-21 will be available with either Pratt & Whitney PW1400G powerplants or the Russian-build Aviadvigatel PD-14.
Russia is one of five members of the Eurasian trading bloc, which also includes Armenia, Belarus, Kazakhstan and Kyrgyzstan.
The Eurasian Economic Commission states that it has received a draft proposal from Russia to set a zero-rate import customs duty for engines in the 110-145kN (24,700-32,600lb) thrust range.
Under the initiative the rate would stay in place until 31 December 2023.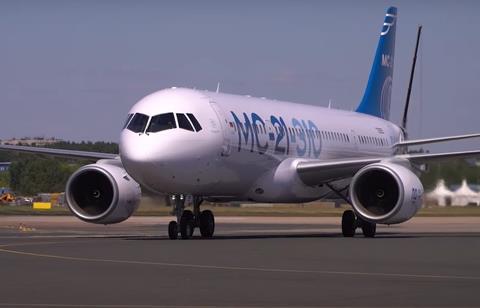 "These engines are necessary for installation as a main powerplant on Russian medium-haul MC-21 aircraft," the Commission says.
"Introduction of the proposed measure of customs and tariff regulation will increase the economic efficiency of the project to create the family of MC-21 aircraft."
Interested parties are being invited to comment on the proposal to the Commission's department of customs regulation by 5 October.