Asia-Pacific was the first market to be hit by the pandemic and has seen some tentative steps to recovery, but it remains a mixed picture for the region's airlines
Asia-Pacific airlines continue to have a rough ride with coronavirus, but the crisis will place further airspace between stronger and weaker carriers.
As at the start of the year, it appeared to be business as usual for Asia-Pacific airline bosses. On 31 January, the chief executives of Star Alliance partners Singapore Airlines and All Nippon Airways hosted a briefing in Tokyo to announce a joint venture.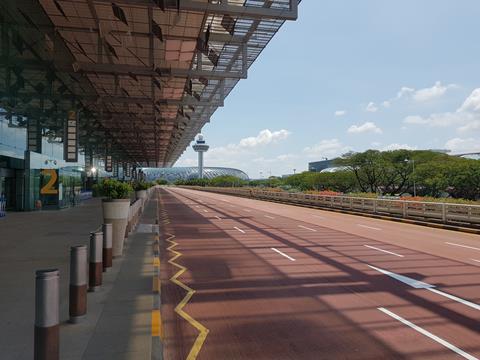 The journalists present, however, asked not about their business plans, but about how the two airlines were helping Japanese and Singaporean citizens evacuate Wuhan, the epicentre of a worrying new virus.
While the SIA-ANA joint venture did garner some headlines, it was soon forgotten in a flood of bad news as governments imposed a slew of draconian travel restrictions to prevent the spread of the virus.
These restrictions resulted in big challenges from North Asia to India. Some airlines, namely China's "big three" of Air China, China Eastern, and China Southern, stand to weather the crisis well. Backed by Beijing, their shares dropped less than global peers and now they stand to benefit from China's large reviving domestic market.
Others, such as Virgin Australia and Thai Airways, have run out of time. Virgin Australia entered administration in late April after failing to secure government support. A shortlist of potential buyers has been drawn up by administrator Deloitte.
Thai, on the other hand, demonstrates the usefulness of government backing. Despite suffering years of losses and a lack of strategy, it insists that it is not bankrupt. Instead, a bankruptcy court will allow it to restructure while it continues to operate as functioning airline.
Airlines in India, meanwhile, have struggled under a crippling lockdown. Though some services started up again recently, travel was marred by cancellations and confusion related to details of lockdowns among the nation's fractious states.
As governments in the region eye the gradual opening up of economies in lock down, international air travel could still be some way off. For example, Vietnam has won plaudits for controlling the pandemic and has opened its domestic market with significant restrictions, but visitors to the country must endure two weeks in government quarantine facilities.
Singapore, normally one of the easiest countries in the world to visit, only allows citizens and permanent residents to fly home, although from June it will all for limited, tightly-controlled transfer traffic at Changi Airport. The myriad of restrictions in other countries, and the consequent dearth of flights, will keep travellers at home for some time.
"When we talk about cross-border traffic and what we are faced with today, almost every country has imposed travel restrictions and travel bans, creating a labyrinth of travel restrictions and travel bans that we are working against," said Association of Asia Pacific Airlines Subhas Menon in a recent interview with FlightGlobal.
"In order for the international traffic to pick up with a restart, we need to have a multilateral, harmonised, consistent, and coherent framework."
The region's governments, many of which rely on lively tourist and business travel, face a tough dilemma about when to open and whom, exactly, to open up to. It does not help that Asia-Pacific governments have taken a raft of different measures to deal with the crisis, with widely differing results. Governments could also be suspicious of neighbours' coronavirus statistics.
Sooner or later Asia-Pacific travel is bound to creep back, but it will years before the heady days of 2019 are seen again.
Asia-Pacific carrier pre-crisis fleet and backlog from May
Fleet on 31 Jan 2020
May 2020
May 2020-Dec 2021
Operator
In-service
Stored
TOTAL
Backlog
Planned deliveries
1
China Southern Airlines
576
39
615
103
58
2
Air China
388
43
431
83
33
3
China Eastern Airlines
374
1
375
69
36
4
IndiGo
253
2
255
638
51
5
All Nippon Airways
228
1
229
87
22
6
Shenzhen Airlines
182
5
187
11
11
7
Hainan Airlines
174
60
234
30
5
8
Japan Airlines
167
7
174
25
10
9
Xiamen Airlines
158
14
172
14
14
10
Sichuan Airlines
154
4
158
47
13
11
Korean Air
143
2
145
90
26
12
Garuda Indonesia
134
10
144
65
12
13
Qantas
132
132
3
13
14
Cathay Pacific
130
3
133
33
14
15
Singapore Airlines
126
8
134
68
46
16
Air India
117
10
127
0
0
17
Shandong Airlines
117
7
124
19
15
18
Lion Air
105
12
117
427
26
19
Vietnam Airlines
100
6
106
324
8
20
SpiceJet
99
15
114
155
39
Source: Cirium fleets data
Singapore Airlines Group
Amid a torrent of bad news, the Singapore Airlines (SIA) Group has taken aggressive steps to ensure that it survives the coronavirus crisis.
Highlighting the challenge presented by coronavirus, for the first time in its history SIA generated a net loss for the financial year ended 31 March. While most of the year saw smooth sailing, governments' reaction to the coronavirus outbreak resulted in a collapse in demand, pushing it to a net loss of S$212 million ($149 million), with revenues falling 22%.
Adding further pain were losses generated by the collapse of fuel, which punished the group's hedges.
SIA sounded a warning about the loss a week before its results release, telling investors about a "material" fourth quarter loss and that it would renegotiate deliveries. It added that SIA and Silkair were cutting capacity by 96% until the end of June, and Scoot by 98%.
This has resulted in dozens of SIA Group aircraft being placed in storage. Five Airbus A380s and a number of other aircraft are in long-term storage in Alice Springs, Australia. These include SIA's last trio of 777-200ERs, which the airline has confirmed will not return to the fleet.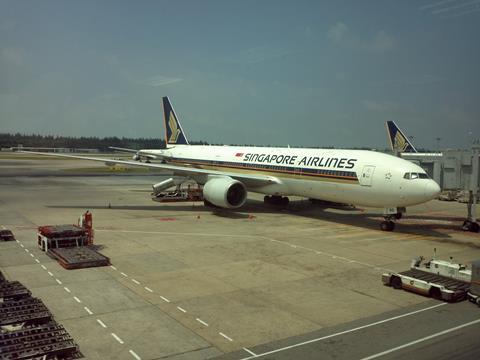 Large numbers of SIA pilots and cabin attendants are on unpaid leave. Some have taken part time jobs with the government, helping to enforce social distancing in public spaces such as train stations and shopping malls.
A further challenge for the SIA Group is its lack of a domestic market. This precludes it from the first stages of air traffic resumption, which is set to take place in the region's domestic markets.
On a more positive note, SIA has deep backing in the form of Singapore sovereign wealth fund Temasek, which holds 56% of the group.
In late March, SIA announced a Temasek-supported plan to issue S$5.3 billion ($3.75 billion) in equity and S$3.5 billion in 10-year mandatory convertible bonds. It later disclosed that it has set aside S$3.3 billion for aircraft purchases and aircraft related payments.
While these are painful times for SIA, this massive liquidity injection all but guarantees its future.
Thai Airways International
Thai Airways, which has suffered losses for years, will continue to function despite the collapse of air travel to Thailand amid coronavirus. The airline's biggest shareholder, the Thai government, has given its approval for Thai to reorganise under the supervision of a local Thai bankruptcy court.
The arrangement allows it to keep operating while this process is underway.
"The business reorganisation chapter will enable Thai to reach its reform plan's objectives even more effectively step-by-step as required by the law which provides equitable protection to all relevant stakeholders while Thai will be able to conduct its normal business operations including passenger and cargo transportation," it says.
The move came two weeks after the country's prime minister, Prayuth Cha-o-cha, said that Bangkok was running out of patience with the carrier, and that it would have to restructure.
Even before coronavirus grounded its fleet, Thai experienced yet another bad year in 2019 as operating losses widened to Bt12.4 billion ($388 million). In addition, early 2020 saw yet another management reshuffle in a long history of executive changes.
The Thai government recently reduced its stake in the carrier to 47.9% from 51%. While technically this means that the airline is no longer a state entity, the government is still its biggest shareholder and, for better or worse, will have the final say in the airline's future.
Cathay Pacific
Cathay Pacific exited 2019 badly bruised: anti-government protests which first erupted in June hit fever pitch in September, crushing travel demand in and out of the territory.
The carrier, in its traffic results for December, said it had been "a challenging year", both for itself and the territory. December, a traditionally busy month for the carrier, saw in- and outbound traffic slump, particularly on flights to Mainland China and North-east Asia.
As a result, Cathay had to "reluctantly" reduce capacity for 2020 by 1.4% year on year, instead of an intended 3.1% capacity growth. Its full-year earnings for 2019 also shrank, driving by the impact of the protests in the second half of the year.
Still, it remained cautiously optimistic: even as it admitted that 2020 will continue to present challenges, it noted that demand around the Chinese New Year holidays in late January "appear promising".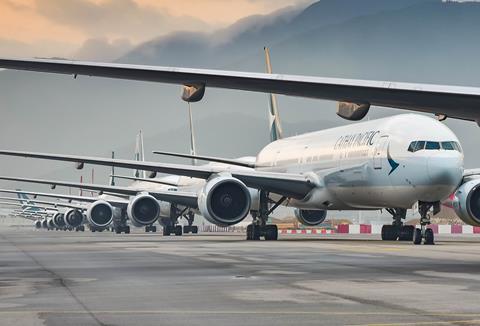 Then came a second whammy that completely took the wind from beneath its wings.
The coronavirus outbreak, which originated in China in late December 2019, spread quickly as the new year rang in.
Cathay, already weakened by a collapse in demand from the 2019 protests, saw its woes prolong for longer. The uptick in Chinese New year bookings proved to be a shortlived boost, when the carrier began slashing capacity across its network – first to Mainland China in late January, then to the rest of its network from February.
In March, with global travel restrictions in full force, the Oneworld carrier said it was flying a "bare skeleton" of just 15 points in its network, operating at 3% of usual capacity. A month later, the carrier reported flying an average of just 500 passengers daily, a far cry from the 100,000 passengers it used to carry.
Financially, the carrier bled heavily: it disclosed in mid-May that it made a HK$4.5 billion ($580 million) unaudited loss for the first four months of the year.
To underscore the severity of the unprecedented situation, the airline added that the financial outlook in the next few months "continues to be very bleak", and that it did not "anticipate… a meaningful recovery for an extended period".
Already battered by the challenges of the second half of 2019, Cathay will hardly emerge unscathed by 2020's more severe problems.
Chinese carriers
China's three largest carriers – Air China, China Southern Airlines and China Eastern Airlines – have had a good past few years: travel demand both internationally and domestically was robust, and their networks were growing rapidly.
That momentum grounded to a halt due to the coronavirus outbreak. Wuhan, where the outbreak is believed to have originated from, went into lockdown in late January, as did Hubei province later, when the outbreak grew in magnitude. The carriers cut capacity into Wuhan and other cities in the province in response to lockdown measures.
As countries around the world began imposing travel restrictions on travellers to and from China, the three airlines were forced to make capacity cuts to their global network.
The ensuing impact was evident: traffic figures for the months from January to March collapsed, both domestically and internationally. February brought about the worst impact for the trio, when overall ASKs and RPKs fell between 70 and 80%.
Financially, the "Big Three" suffered significant operating losses for the quarter ended 31 March, each posting losses of more than CNY5 billion ($697 million) for the period. This is a far cry from the handsome profits each carrier turned a year ago.
Each of them also warned of "adverse" and "severe" impact on their first-half financial results, pointing towards "uncertainty" in the development of the pandemic.
However, a sliver of hope emerged in March, as domestic travel began to pick up. Domestic capacity, measured by ASKs, rose slightly month on month, as the carriers flew more passengers for the period. April told a similar story, with all but Air China carrying more domestic passengers month on month.
Still, the three carriers still suffered steep declines in international passenger traffic, largely due to travel restrictions remaining in place.
As China gradually emerges from the shadow of the outbreak, the world will be looking at the three carriers' recovery trajectory for indications of how quickly travel demand will develop in the coming months.
Virgin Australia
After bleeding for the past seven financial years, beleaguered Virgin Australia entered voluntary administration in April, in a bid to recapitalise its business.
The carrier, part of Sir Richard Branson's Virgin Group, is arguably the first major casualty in the region from the coronavirus outbreak.
When the outbreak hit, Virgin Australia was already undertaking efforts to reduce its cost base, including simplifying the fleet and axing unprofitable routes. It had also sought a A$1.4 billion ($927 million) bailout from the Australian government.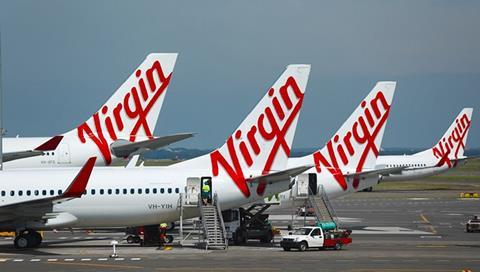 However, it was clear the pandemic dealt a final blow.
The carrier's appointed administrator Deloitte disclosed that it owed just over A$6.8 billion to more than 12,000 creditors: lenders are owed A$2.3 billion, unsecured bondholders A$2 billion, aircraft lessors A$1.9 billion, trade creditors A$167 million, landlords A$71 million. Employees, who account for some 9,020 of the total number of creditors, are owed $451 million.
Since then, Deloitte has said that the carrier is targeting an end-June sale, with about 20 parties interested in recapitalising Virgin Australia. On 2 June administrators disclosed Bain Capital and Cyrus Capital Partners are on the final shortlist of potential buyers for the airline.
It remains to be seen what fate belies Virgin Australia, and if it will be able to emerge from administration smoothly.
Snapshot of other Asia-Pacific carrier developments
Air New Zealand has grounded its 777s, deferred on-order A321neos, and reduced its executive team.
Jeju Air plans to raise $138 million via a secondary share offering.
Garuda is seeking to extend loan maturities. It will also receive a $570 million bridging loan from government, and $383 million in credit lines.
South Korea's Jin Air posted losses for four consecutive quarters.
Asiana moved up planned maintenance amid crisis.
Korean Air reported $46 million first-quarter loss; raises $1.8 billion from new shares, and is set to recieve government aid.
Qantas postponed new Airbus/Boeing deliveries and pressed pause on long-haul Project Sunrise plan.
JAL/ANA took a full-year profit hit in the fiscal year to 31 March, blaming coronavirus for the poor performance.
Jet Airways, which ceased operations in April 2019, will get more time to complete its corporate insolvency resolution process.
How the airline industry has been hit by the crisis
1

2

3

Currently reading

Asia-Pacific coronavirus crisis has clear winners and losers

4

5

6

7