It was 23 January 2020, and in Taipei there was excitement in the air as Starlux Airlines – the island's newest carrier – prepared to launch operations to a trio of cities in the region.
Several hundred miles away in Mainland China, however, the mood was far bleaker: a fast-spreading novel coronavirus had sent the city of Wuhan into a strict lockdown, marking the start of a global pandemic that would eventually turn the aviation sector on its head.
It is not the best omen for a start-up carrier, but even then the airline – led by chief executive Glenn Chai – held out hope, and was optimistic that, "based on our fundamental knowledge" from previous crises, it would only last half a year.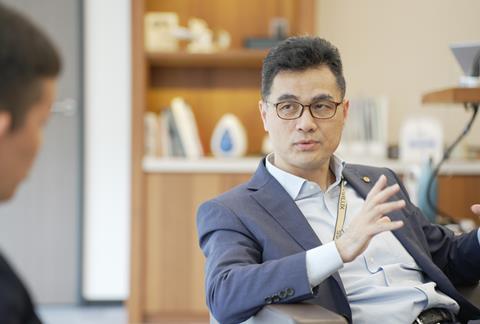 "We were thinking, by the summer [of 2020] everything (in terms of travel demand) would come back," Chai, who was speaking to FlightGlobal in Taipei in May, says, laughing in hindsight.
Indeed, few airlines share their launch anniversaries with a momentous, if grim, global event.
Yet for Starlux, its launch amid the pandemic has taught it several lessons.
The carrier has been in operation for more than three years, of which more than two were in a largely dormant state as Taiwan's strict border controls restricted travel movement.
Despite being mostly inactive for over two years, Starlux pressed on with its investments, even if revenue was at its lowest. The airline constructed its own hangar at its hub in Taipei's Taoyuan International airport, and continued to take delivery of new aircraft.
Its fleet is all-Airbus, comprising A321neos, A330neos and A350-900s. The airline still holds orders for Airbus widebodies, including options to swap its A350-900s to the larger -1000s.
Chai discloses that by around the third quarter of 2022 the airline was maintaining a network of 10 routes: "[We] know we are not…like [our larger competitors] – we don't have historical slots, we don't have [a lot of] assets, we have to [work] to maintain our minimum crew size… and we continued to introduce new aircraft."
In September 2022, the Taiwanese government announced it would begin easing border controls, leading to a surge in travel demand to and from the island.
Starlux, thanks to its efforts during its "down time", was able to quickly tap into it. "If we sit down and did nothing… we would be able to preserve cash, but now that demand is back [so strongly] I think we would not be able to cater to demand now," Chai says.
The substantial investments amid the pandemic meant the airline was loss-making in the interim, a point Chai acknowledges. Still, and thanks to a strong return in travel demand, the airline is expected to break even this year.
TRANS-PACIFIC 'ALWAYS OUR GOAL SINCE LAUNCH'
It also found that its newly launched trans-Pacific flights were "exceeding our expectations". The airline in May launched – to much fanfare – its inaugural flight to Los Angeles, marking its entry into the hotly contested trans-Pacific market.
The flights are operated using its flagship A350-900s, the first example of which it took delivery of in October 2022.
For its launch, the carrier pulled out all the stops, even signing a marketing collaboration deal with baseball team Los Angeles Dodgers and basketball team Los Angeles Lakers, as well as tapping on codeshare opportunities with North American operator Alaska Airlines.
Starlux has also said it will be launching its second US West Coast destination this year, alongside ramping up Los Angeles frequencies. In the longer term, Starlux is aiming to operate to New York and other East Coast cities, possibly with a fleet of longer-range A350-1000s, which the airline holds options for, but has not exercised.
As Chai will have you know, the carrier's "single goal since our launch" has been to enter the trans-Pacific market. The pandemic put a pause to these plans, but also allowed it to pace its network rollout.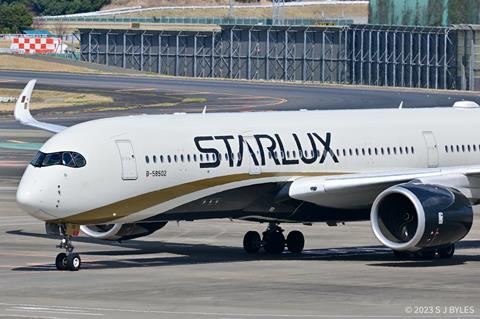 For one, Chai believes the trans-Pacific sector is big enough space for an start-up like Starlux to carve its niche, even though it had a late start.
Chai notes that the pandemic was a blessing in disguise in its trans-Pacific plans, especially when it came to securing slots.
It also gave the airline time to build up its regional network, effectively allowing it to grow the feeder network in preparation for the eventual entry into trans-Pacific operations. Had markets reopened faster than initially planned – as the airline first thought in 2020 – Chai concedes it might not have been able to effectively cope with the ramp-up.
The airline's business model, he says, is focused on the transit market. About 60% of the airline's current passenger traffic is made up of transit passengers, he adds.
While the airline has "already accomplished" building up its regional network, its fledgling trans-Pacific network means "our business model has not been fully realised".
"We have [a large network] on flights to Southeast Asia, but you can see our trans-Pacific network is still very low [in capacity]. You can see the capacity is imbalanced…[and] we will have to sacrifice [some of this] cost," says Chai.
He adds: "Once we have reached the scale, you will see that we will achieve good profitability."
The airline is seeing "positive" forward-booking data, with Chai stating that load factors are expected to hold at "around 80%" in the near-term.
In its earnings data for the first half of 2023, Starlux posted a net profit of NT$331 million ($10.3 million), as passenger revenues continued to increase.
In July, Starlux's passenger revenues stood at around NT$2 billion, up 8% compared with June's figures. It adds: "The airline continued its stellar performance on Japanese and American routes, consistently maintaining passenger load factors above the 80%."
The latest results come even as Starlux is in "the construction stage of the transit network in North America", the carrier adds.
COMPETITION ALL AROUND
Chai is unfazed by the stiff competition in trans-Pacific operations, even as its two Taiwanese compatriots mount many more flights to a long list of North American points. He is also undeterred by other carriers in the region – in Hong Kong, Japan, South Korea and even Southeast Asia – all jostling for a share of the lucrative market.
He says: "I think it is pointless to just look at Taiwan as a single market. If we just look at Taiwan – with around 23 million people – then it is pointless to establish Starlux. Our market is outside of Taiwan – it is the Asia-North America market, with more than a billion people."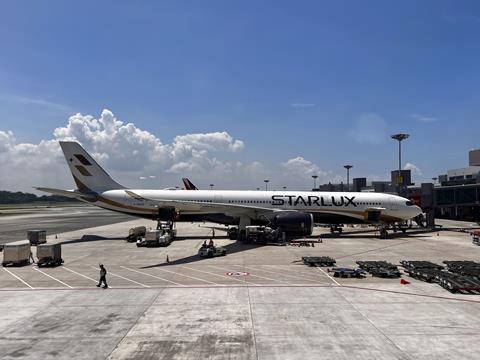 Chai also rules out joining an airline alliance in the near-term – rival Tawianese carriers China Airlines and Eva Air are members of SkyTeam and Star Alliance respectively. But he says Starlux is "willing to work with" other carriers in the region as long as they "can help enhance our network and market presence".
It already has Oneworld member Alaska Airlines as a codeshare partner in North America and Chai says Starlux is still in discussion with other unspecified carriers on similar partnerships.
Chai also believes that while Starlux is smaller than its regional competitors, it will be able to capture market demand, noting that it comes down to one key differentiator: product.
Starlux has tirelessly invested in its cabin products, pitching itself as an upmarket, boutique carrier. Indeed, it is the only Taiwanese airline to offer a first-class product, and has also earned plaudits for its business- and economy-class products, including for its meal and beverage offerings.
Chai points out that the airline was the first Taiwanese operator to have bluetooth connectivity for personal headsets on its widebody aircraft.
The upscale products come at a cost, says Chai. "Our [fares] are probably a bit higher than our peer carriers, but [we have noticed that] passengers are willing to pay a bit more, to enjoy these amenities."
As he puts it: "As long as your product is good enough, the customer will naturally choose your service."
Indeed, Chai takes pains to emphasise that the airline's operating circumstances are "very different" from other carriers'.
"We are very different from our peer carriers…[and] from the carriers in the USA and Europe. In Taiwan our location is very excellent, [and] this advantage does not exist in other areas. As long as you can take advantage of this… then the aviation sector – and Starlux – will be booming."