When it comes to examples of airlines exiting the Covid-19 crisis as bigger, more confident operations, Air Serbia is a compelling case, even as it grapples with the capacity constraints that are being felt across the industry.
The carrier has been profitably powering out of the Covid-19 crisis and reaching "critical mass" in terms of its size, its chief executive Jiri Marek tells FlightGlobal during a June interview, underpinned by strong travel demand, a refreshed fleet and strengthening partnerships with bigger players.
"We are profitable so far this year and in every single month since June last year we have broken our passenger-number records," Marek states. Moreover, a profitable 2022 encouraged the Belgrade-based airline "to start a big expansion for this year", with capacity up by more than 40% versus 2019.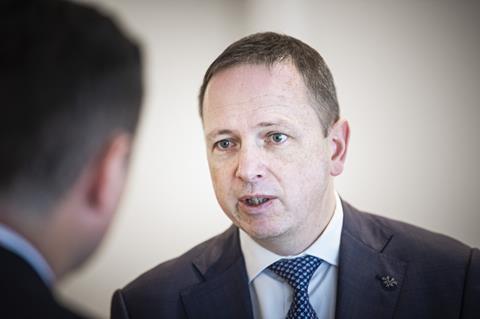 These are no small achievements for a majority-state-owned carrier in a Balkan region that has seen several airline failures in recent years, particularly amid formidable competition from the pan-European low-cost carriers.
At the same time, however, in common with many airlines, Air Serbia's ambitions are being challenged by factors that are familiar to the wider industry and often out of its control, such as difficulties securing new capacity, maintenance delays with existing fleets, and operational challenges stemming from airport and ATC issues.
"This year you have ATC issues, you have strikes, you have spare part limitations… of course we will do everything to minimise the impact to our customers," Marek states.
"In every single month since June last year we have broken our passenger-number records"
Indeed, he insists that Air Serbia's hard work to transform the business is so far offsetting the headwinds it faces, ultimately demonstrating that smaller regional carriers can find a measure of success in Europe. And despite being relatively new to the role, Marek can take some credit for putting the business on to the stronger foundations that have made that possible.
He took the reins at Air Serbia as Duncan Naysmith's replacement at the beginning of 2022, having previously spearheaded the airline's network expansion and commercial evolution, which began after the ex-Jat Airways completed a six-year transformation programme in 2018.
Central to its plan is building Belgrade Nikola Tesla airport as an Air Serbia hub, from which it connects the Balkan region with the rest of Europe and beyond.
PRE-PANDEMIC SUCCESS
That evolution was bearing fruit before it was interrupted by the Covid-19 pandemic; a "record-breaking" 2019 had been followed by double-digit traffic growth in the January and February of 2020.
But despite the setback caused by the pandemic, Air Serbia made sure to embrace opportunities for further development of the business.
"We set the basics before Covid and then during Covid we still focused on optimising our costs," Marek explains. "We worked hard to be reactive and agile to any market opportunities."
That meant the carrier was already growing beyond its 2019 size in 2021, as it moved quickly to adjust its network to changing travel restrictions and demand patterns.
"Everything you should have being doing before Covid – increase the revenue and reduce the costs – that is always the basic consideration in aviation," Marek says. "But I think the most important thing during Covid was we really learned about being quick in terms of reaction to the market, and it's working for us.
"That really made a difference because the booking windows got so short that a fast reaction was very important."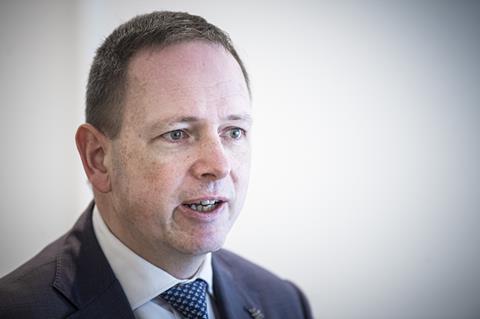 Even today, Air Serbia continues to review its network on an "almost daily" basis, Marek says.
That has helped to put the carrier in a position where "we are the leading regional airline in south-eastern Europe", he insists.
Driving its growth is leisure and VFR traffic, the latter coming from the large diaspora from the local region, which is spread across Europe and North America.
With a regional network that now covers 16 airports in the former Yugoslavia, "we use that as a base for connectivity into our European network and our long-haul network", Marek explains.
"On top of that we are improving our connectivity by adding more frequencies, more destinations, so overall this critical mass is already working," he says.
PARTNERSHIP STRATEGY
Its network growth is being helped by key partnerships with "feeding partners" such as Air France, Qatar Airways and Turkish Airlines, with Marek noting that those carriers cover the three main alliances.
"So we have Air France on one side, Turkish Airlines and Qatar Airways… we will be growing those partnerships further," he says.
Moreover, with partnerships in place, "we don't have any appetite in the near future to enter an alliance", Marek says. "I have personal experience with all three of them and we are leveraging at the moment being able to offer good access to the wider Balkan region."
The carrier continues to operate flights to and from Russia but Marek notes that these are small proportion of its total programme. Cirium schedules data reflects this, showing its services to Russia accounting for around 4% of its flights in July 2023 – a proportion roughly flat with that seen in 2019.
Air Serbia is also expanding its small long-haul operation, with the focus – once the airline has secured a third Airbus A330 – on China, after it launched flights to Tianjin last year.
"We have secured the traffic rights for Shanghai and Guangzhou ," he says. "It's now a matter of when we can get in the third widebody."
Its choice between the two Chinese cities will then depend on where it can secure slots, Marek says.
"We worked hard to be reactive and agile to any market opportunities"
The airline is also offering daily flights to New York for the first time this summer, while it opened Chicago services after a "31-year break" earlier this year.
Destinations such as Toronto, Miami, Tokyo, Seoul and Delhi are potential longer-term ambitions.
A recently signed codeshare agreement with JetBlue Airways is highlighted by Marek as another important step, with its new US partner placing its code on flights between New York and Boston and Belgrade, and Air Serbia having its code on flights to 26 JetBlue destinations in the USA.
Notably, however, Etihad Airways – whose minority stake in Air Serbia is a relic from the Middle Eastern carrier's abandoned equity-alliance strategy – is no longer a codeshare partner.
Etihad reduced its stake in Air Serbia to around 16% after the Serbian government increased its holding as part of recapitalisations carried out during the pandemic.
"[Etihad] are minority shareholders," Marek says. "It's not strategically driven, as it was previously.
"We don't have any strong business relations anymore, even a codeshare. We are a member of the frequent-flyer programme but we are looking at options to create something on our own."
Of Air Serbia's future ownership structure, Marek says: "It's up to the shareholder to decide what they would like, whether it is a strategic partner or something else."
DEMAND PATTERNS
For now, alongside its strengthening partnerships and expanding network, Air Serbia is also adjusting to new demand patterns among customers.
"One of the most significant changes we have seen is the typically strong days such as Monday, Friday and Sunday, it doesn't work that way anymore," Marek says.
"Now, for example, our strongest day is Thursday. A lot of people work from home more, so it doesn't really matter where your home is, so we see a flattening of the deviation during the week days.
"We also see that the seasonality is getting much more extended," he continues. "We had a very successful and profitable winter, which was never happening before."
Marek sees those changes enduring for some time, but hopes that trends towards last-minute bookings continue to reverse.
"The changes that will hopefully not stay are these last-minute booking windows," he says. "It's destination by destination, but still the majority of bookings are happening at the last minute."
There have also been shifts in the types of passenger travelling, notably towards the premium leisure segment.
"I would call it 'high-end leisure' – it's travelling more than before," he says.
But while demand for flights continues to be strong, he cautions that "it's also artificially driven because there is a limited supply in terms of capacity".
That limited supply is a global issue for airlines, and like many of its peers, Air Serbia is seeing challenges with securing leased aircraft and spare parts for its existing fleet.
Still, its continued expansion is being helped by a "massive fleet restructuring", which the carrier undertook last year.
"We completely grounded our old ATR 72-200s and the 72-500s," Marek explains, with second-hand 72-600s intended to become the bedrock of the airline's regional fleet. It expects to have 10 of those by the middle of 2024.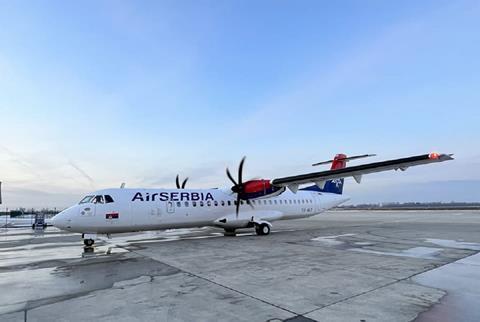 Today, alongside six ATR 72-600s, Air Serbia's own fleet is dominated by 10 Airbus A319s, three A320s and two A330-200s for its long-haul network.
When it comes to bringing in aircraft in a tight market, the carrier has seen lessors pull out of deals in the final stages of negotiations – including one for the extra A330 it wants to expand its long-haul offerings – "because the existing customer has either extended the deal or overpaid".
And on spare parts, where you "normally wait weeks, you are now waiting months", leaving some aircraft on the ground for extended periods.
These capacity constraints are not a huge issue for the airline, Marek says, but are nevertheless a frustrating one. And he does not see them abating soon.
"I think it will get worse, because now you are starting to see the secondary affect… everybody is buying up spare parts, so you are creating even bigger demand than is actually required.
"And the OEMs cannot cope with that and they should not, because if they get ready now for this peak in demand for spare parts, then they will have a problem later on with scaling down.
"So I think it will last three to four years."
WET-LEASE ADVANTAGES
Of the 30 or so aircraft that are operating Air Serbia flights this summer, some 21 are assigned to its own AOC, with the remainder on wet lease.
Wet-leasing aircraft has "two purposes" at Air Serbia, Marek explains.
"One is we are covering charter demand over summer, which is a sizeable business and one we have spent the past couple of years doing as a wet-lease operation," he says.
"On the other hand, since we are growing significantly, wet lease is a low-risk strategy, because if it is working, we can easily transfer, for example, 50% of the wet lease into a dry lease and continue next year with expansion.
"Plus it is helping us to overcome supply-chain issues and issues with aircraft availability," he says.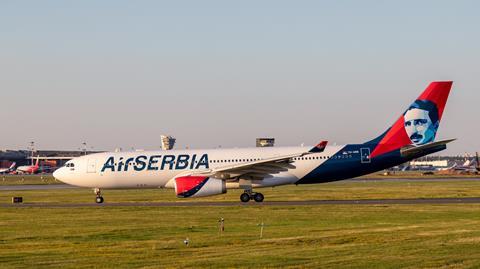 But Marek still expresses frustration that the industry as a whole did not do more to address such issues during the Covid-19 downturn.
"It would be much better if we as an industry worked together on solutions rather than passing the problems between us," he says.
"Specifically, airports raising the fees, strike issues being passed on to the airlines to deal with, OEMs not producing enough spare parts… it's kind of finger-pointing, but in the end we are all responsible for the customer, but airlines are at the end of the value chain facing the customer."
Since Marek spoke to FlightGlobal, staff shortages at Belgrade Nikola Tesla airport have been making the news, causing some disruption in an echo of last summer's operational woes in Europe. Air Serbia said in early August that the situation was improving, after it hired 100 baggage handlers.
And Marek insists Air Serbia is on the front foot, having proved its agility over the past few years.
"Some of the things that people didn't think possible before [Covid-19] – the smart airlines used it during the downturn," he says.
"We are seeing positive results of those actions today."