JetBlue Airways has entered into a codeshare agreement with with Air Serbia, building on an interline agreement the two carriers have had since 2016.
The New York-based carrier said on 3 August that the two airlines began putting each other's codes on flights late last month.
"We continuously look to expand our partnerships to offer more options to our customers," says JetBlue chief executive Robin Hayes. "Air Serbia has been a successful interline partner since 2016 and we see great potential with this new codeshare."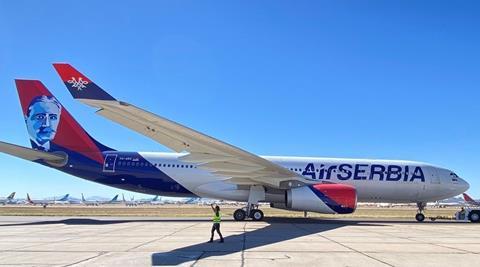 JetBlue has placed its code on Air Serbia-operated flights from New York and Chicago to Belgrade's Nikola Tesla airport. It will put its code on more flights from Belgrade to other points in Europe "in the near future".
Air Serbia re-launched its Chicago flight in May after a more-than-30-year pause.
Air Serbia, in turn, will add its code to 25 destinations "throughout the JetBlue network".
"We are very pleased with the future collaboration with JetBlue and believe that this significantly enhances the travel possibilities between the United States and destinations within the Air Serbia network, especially those in the broader Balkan region," says Air Serbia's chief executive Jiri Marek.
Earlier this year, Air Serbia began codesharing with Gulf carrier Qatar Airways, also building on an existing interline agreement.