The sun has set on the jumbo-jet era.
Boeing has delivered its final 747, closing a chapter on an aircraft that revolutionised travel, linked distant cities, made the world seem smaller and became a symbol of American industrial might and of last century's jet-set culture.
US air freight company Atlas Air Worldwide Holdings received the 1,574th and last 747 – a 747-8 Freighter (registration N863GT) powered by four GE Aerospace GEnx turbofans.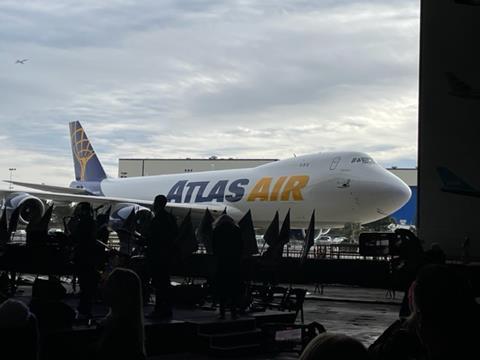 The delivery, several days ago, came more than 54 years after the US company rolled the first 747-100 off its Everett production line.
Boeing marked the milestone with an event on 31 January at its Everett site, which it built specifically to accommodate 747 production and opened in May 1967.
"We all share a deep admiration for… the awe-inspiring Queen of the Skies," Atlas Air chief executive John Dietrich says during the event. "To see our aircraft on this big stage is a very proud moment."
"She is the biggest, baddest commercial airplane out there," he adds.
Thousands of people attended what amounted to a farewell reception. They included employees, representatives from customers and suppliers, former Boeing chief executive Phil Condit, relatives of the 747's initial lead engineer Joe Sutter, and Charles Trippe, grandson of Juan Trippe, founder of early 747 operator Pan American World Airways.
Boeing CEO David Calhoun describes the 747 as a proud programme that, during recent difficult years for the company, served as a reminder of what Boeing can accomplish.
"If a company ever needed to stand tall on a legacy, it was Boeing," Calhoun tells attendees.
The company has for several years prepared for this moment. It slowed 747 output after disclosing in July 2020 plans to cease the jumbo jet's production. Boeing rolled the last 747 off the Everett line in December.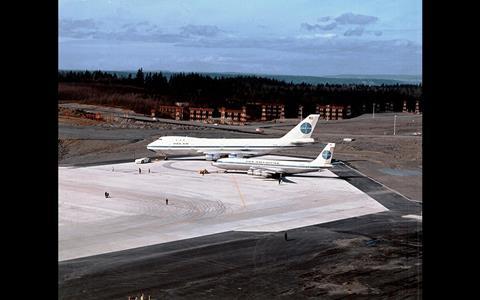 The 747's demise came amid increased demand for more-efficient twin-jets like 777s and Airbus A350s – a trend that forced Airbus to cease A380 production in 2021.
The trend also left Boeing with relatively few sales of passenger-configured 747-8s. Just 29 of those remain in service with carriers including Air China, Korean Air and Lufthansa, Cirium data shows. But demand for 747-8Fs has remained comparatively robust thanks to the type's unique cargo-hauling capabilities, with 4,325nm (8,010km) of range and a 133t of payload cap, according to Boeing.
"Some may say there is no greater freighter than the 747, and I agree," says Atlas' Dietrich.
The global fleet of in-service 747-8Fs stands at 93, including those operated by Atlas, Cargolux, Cathay Pacific and Nippon Cargo Airlines Airways, Cirium data shows.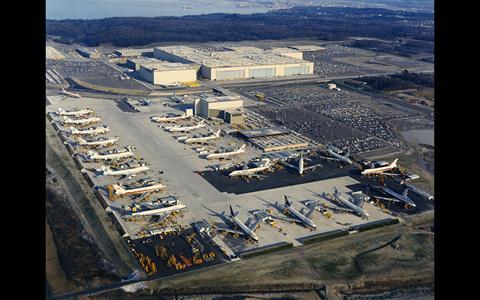 Though production has ended, 747s retain a special place among aviation fans.
"Our customers love the airplane. Our crews love the airplane," says Lufthansa chief executive Carsten Spohr, who also spoke. "Even I love it personally."
Spohr says Lufthansa intends to keep operating 747s into next decade.
Boeing kicked off the 747 programme in April 1966 when it announced plans to develop an aircraft capable of carrying up to 490 passengers.
The 747-100's first flight came on 9 February 1969, and the type entered service on 21 January 1970 when Pan American Clipper Young America took off from New York, bound for London.
Story updated on 31 January to note that the company delivered the last 747 several days ago.