Download your copy of The Pilot Survey 2022 now.
More than a third of commercial pilots are not flying for a living – and one in five remains unemployed – as the pandemic continues to take its toll on the profession.
That is according to the latest Pilot Survey, carried out by FlightGlobal and specialist aviation recruitment agency Goose. It questioned 1,743 professional pilots about their work status and attitudes to their career, almost two years into the deepest crisis in the industry's history.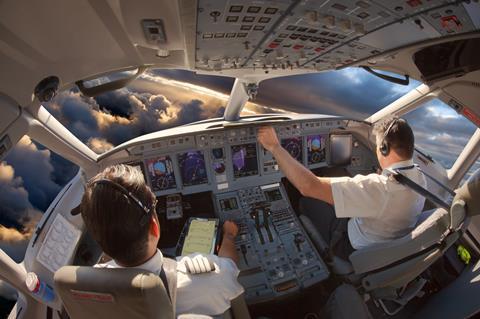 The results show that, although, in general, job prospects and optimism are much higher than at the height of the crisis in 2020, for many the situation remains bleak.
The situation is a slight improvement on the previous year's survey, carried out around six months into the crisis, which found that well over half of all flight crew were out of work or furloughed, or had taken jobs in another industry.
The poll, which took place in the final quarter of 2021, just before the emergence of the Omicron variant, also paints a picture of a profession in which job insecurity is rife and confidence low, and which most pilots would not recommend to young people.
According to the annual survey, 62% of pilots are "employed and currently flying", up from just 43% a year ago. The proportion of "unemployed" has fallen from 30% to 20%, while 6% are on furlough, compared with 17% in the previous survey.
However, there are large regional differences. The number of pilots who are employed and flying in Europe matches the global figure. However, in Asia-Pacific (excluding China) – where many countries remain effectively shut to foreign travel – it is just 53%.
In North America, meanwhile, a domestic sector that has remained robust throughout the crisis, 81% of pilots are flying. In the USA in particular, the flightcrew shortage which plagued the industry in 2019 has again reared its head, with accelerated retirements of senior captains feeding through to a shortage of new-entrant first officers, especially among regional carriers.
Although 2021 did not see the prolonged lockdowns in much of the world that grounded the industry in mid-2020, ongoing border closures, quarantine rules, and other measures to stop the spread of Covid-19 continued to hinder aviation's recovery.
For some out-of-work pilots, the prospect of going back to the cockpit comes with concerns. Almost a quarter of unemployed pilots – 24% – are "not at all confident" about returning to flying, with this rising to 40% in North America and 28% in Europe.
For those who had been unemployed but were now back flying, 44% had taken more than nine months to find a new job. Among first officers that rises to 55%, with 33% of captains taking this long to secure a new position.
Mandatory vaccinations are a controversial issue. The survey found that 68% think double vaccinations should be compulsory for all pilots, although this figure varies considerably by region. In North America, just 57% believe in it being mandatory, and 20% of pilots there remain not fully vaccinated, despite several airlines making this a condition of employment. For the industry as a whole, 90% of pilots say they have had both jabs.
Despite optimism about industry recovery, 61% of pilots state they are "concerned" about job security. However, this is a vast improvement on last year, when 82% said they were worried. Even two years ago, when demand for flight crew was leading to a skills shortage, 52% of pilots reported that job security was a concern.
More pilots than last year – 56% compared with 54% - are considering changing jobs in the next 12 months, although this could be a sign of an improving jobs market as well as dissatisfaction with current employers.
There is some cynicism and despondency about the profession itself. Thirty-seven percent of pilots say that, given their time again, they would not have become pilots – slightly up on the 36% who gave this answer a year ago.
And a majority – 55% – say they would not recommend their career to young people. This has fallen from just 29% responding this way two years ago, before the pandemic.
However, there is some positivity, with 60% of pilots believing the sector will make a full recovery to pre-pandemic levels within one or two years, and a further 23% saying it will take a further 12 months. In the last survey, the comparative figures were 44% and 28%. In both polls, 6% of respondents gave the answer: "It will never be the same again."
Pilots were also asked their views on the future pilot employment market. A total of 57% believe there will be a shortage of experienced pilots again within five years, up from 43% in 2021. And 28% think there will be a dearth of all pilots within that timescale, compared with 23% last time.
"With 85% of pilots believing the sector will be facing a shortage of pilots in five years, despite the difficult time it has faced through the pandemic, airlines must look to acting now," says Mark Charman, founder and chief executive of Goose. "We must factor in the pilots we have lost to retirement, those who have taken early retirement as well as those who have left the profession for other occupations."
He adds: "Despite the downbeat mood of this latest survey, it is clear that pilots do look forward to aviation returning to the sort of activity we saw in 2019, sooner rather than later. Pilots have remained resilient throughout a crisis that has made them adapt to new economic realities and re-evaluate what is important to them in their careers."
Supporting documents
Click link to download and view these files