Fewer than half of all commercial pilots are still flying for a living, with 30% describing themselves as unemployed and a further 17% furloughed, according to the first worldwide survey of the profession since the Covid-19 crisis.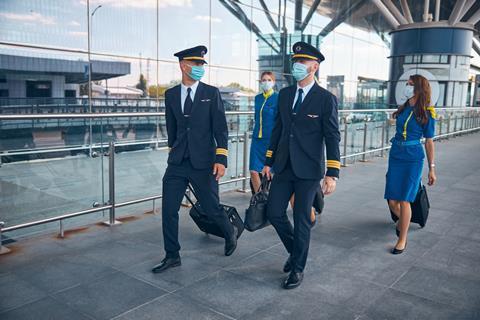 In addition, 6% say they are employed in aviation in a non-flying role. Another 4% are working, but in another industry. It leaves just 43% of pilots doing the job they trained for.
The poll of almost 2,600 flight crew, carried out during October by GOOSE Recruitment in partnership with FlightGlobal, paints a picture of a community devastated economically and psychologically by the pandemic.
Of those who identify as unemployed, two thirds say they are actively looking for a new position as a pilot. In normal times, a high number of job-seekers might indicate a buoyant jobs market. However, the opposite is the case. Only 3% are currently in an interview process, and more than eight in 10 say they would happily take a pay cut for a new cockpit opportunity.
The online survey comes 12 months after a previous survey by the two organisations revealed that pilots – though admitting occasional challenges of stress and achieving a better work-life balance – were enjoying a strong global demand for their services.
At the time, China was one region experiencing an acute skills shortage, with supply of experienced flight crew struggling to keep pace with industry growth. Now it has the highest level of unemployment, with 43% of respondents who last worked there having lost their jobs during the pandemic. South America, at 41%, is close behind. North America – where 20% of pilots regard themselves as unemployed – is the most unscathed, due largely to the fact that its extensive domestic networks have remained intact.
When pilots describe their status as furloughed this may have different meanings, but, in most cases, it refers to a situation where someone is still formally employed by an airline, and is being compensated by either the company or a government, or combination of the two. One in five first officers are on furlough and 17% of captains.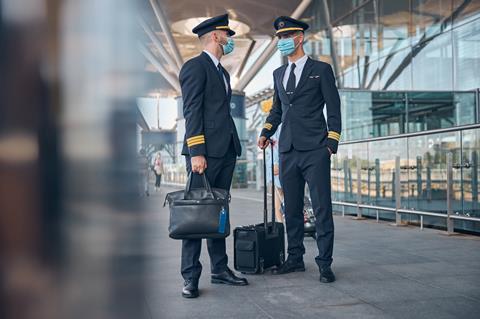 China has the largest group of pilots on furlough, at 24%. Europe at 16% and South America at 14% are the lowest. However, pilots in these two regions have also been affected by unemployment, hinting that carriers there have made tough decisions faster than others.
Pilots taking on jobs outside the industry, such as driving delivery vans for supermarkets or online retailers, may not be as widespread a phenomenon as some media coverage has suggested. Just one in 25 respondents have chosen this option.
When it comes to the pilot recruitment market, of those that are unemployed, captains are more likely than first officers to be in the job-interview process, but the percentage is still low, at 5%. Only 2% of first officers are going through at least one interview.
While 82% of that same group would be prepared to take a pay cut for a new job, those flying in North America are the least likely to make this sacrifice, at 71%, while those employed in the Middle East and Africa are most willing, at 88%. First officers are more likely to take a pay cut than captains, at 84% and 79% respectively.
The swift and deep impact of the Covid-19 crisis after almost two decades where pilots have been in short supply is made evident by the survey. For almost seven in 10 out-of-work pilots – 69% – this is their first time experiencing unemployment. Captains, unsurprisingly given their longer careers, are more likely than first officers to have faced a similar situation previously, at 36% compared with 26%. One respondent notes: "This is the third occasion that an aviation downturn has pushed me into unemployment."
For those pilots still flying or furloughed, insecurity is high. A total of 82% are concerned about job security – a steep uptick from last year's response of 52%. The rate is highest for pilots working in the Middle East and Africa, and South America. And, while furlough schemes are designed to keep employees on the payroll over a difficult period, those who describe themselves as furloughed are most worried about losing their jobs, with 95% concerned about job security.
That same group of pilots were also asked how valued they felt by their employer. Almost half say they are less valued, and only 14% that they are more so.
So would pilots choose a cockpit career again if they had the chance? In last year's survey, 71% said yes to this question. This year, that has fallen to 64%. Those flying in North America (77%), South America (73%) and the Asia-Pacific (66%) are the most likely to repeat their career choice. Those flying in China (58%) and the Middle East and Africa (59%) are the least likely.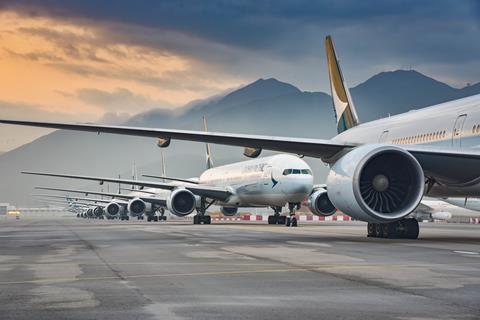 Would they recommend a cockpit career to young people? Only 46% said they would, down from 57% in the 2020 survey. Those flying in Europe would be the least likely to recommend a pilot career, at 34%.
Pilots were also asked to rate their stress level from one (not stressed) to five (very stressed) on a normal day. The average score was three, a half point increase from last year. They were also questioned about how their mental health had been affected by the pandemic, with answers largely reflecting the age of the pilot. A total of 58% of those under 24 say their mental health has been affected. However, this falls for every age category, with only 32% of 55 to 64-year-olds responding in the same way.
Finally, pilots gave their opinion on the speed and shape of the airline recovery. A total of 27% believe Covid-19 will have a long-term negative impact on air travel, while 19% say passengers will return to the skies as soon as it is feasible. The remainder feel that, while the pandemic will change some behaviours, it will not have a lasting effect.
More than seven in 10 pilots – 72% – believe the industry will recover to its 2019 peak in between one and three years. As one commented: "As soon as travel restrictions become a thing of the past, the public will be keener than ever to travel by air. It has been proved in previous crises that the public has a very short memory. What is a viable alternative to flying?"
And as for the return of what seems like a phenomenon from another age – the pilot shortage – 43% of respondents say there will not be enough experienced pilots to meet demand in five years' time, with a further 23% believing that there will be a shortage of all pilots. Just over a third – 34% – are of the opinion that in 2025 there will be too many pilots for the jobs available.