Our annual World Air Forces directory – published in association with Embraer – details the military aircraft fleets of 162 nations, and analyses the main events of the last 12 months. To download the full report, which includes detailed fleet listings, scroll to the bottom of the page.
One story dominated world events in 2022: Russia's ill-judged and militarily flawed invasion of Ukraine. Launched on 24 February, Moscow's attempt to seize control and oust the Western-leaning government of Ukrainian President Volodymyr Zelensky followed its 2014 annexation of the country's Crimea region.
It rapidly became clear that Russian President Vladimir Putin had misjudged the fierce resolve of both the Ukrainian military and the international community, which almost unanimously moved to isolate his regime.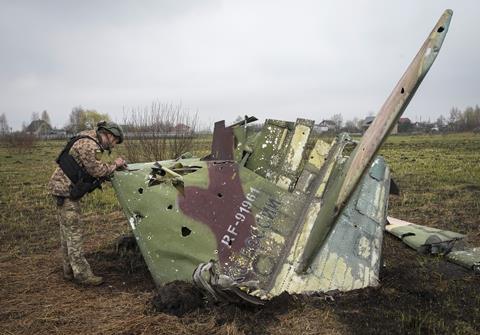 The early stages of the conflict saw a large number of Russian assets shot down by Ukrainian forces, including Sukhoi Su-25 and Su-34 combat aircraft, plus Kamov Ka-52 and Mil Mi-24 combat helicopters. Such acts gave rise to the urban legend "Ghost of Kyiv"; a lone Ukrainian RAC MiG-29 fighter ace responsible for multiple "kills" – later dispelled and attributed to its air force as a whole.
As of 14 November, Kyiv's defence ministry said its forces had destroyed 278 enemy aircraft, plus 261 helicopters and 1,509 unmanned air vehicles, since the start of the war.
The scale of Ukraine's own equipment losses remains unclear, but these have in part been offset by its receipt of replacement assets donated by NATO members and other allied nations.
With the difficulties associated with identifying individual destroyed aircraft to the serial number level solely from images taken in an active warzone, the Cirium fleets data which powers FlightGlobal's 2023 World Air Forces directory shows only minimal adjustments to the combatants' inventories versus last year's report. Russia's total of 4,182 – which ranks it second only to the USA – is in fact an increase of nine, while Ukraine's 312 marks a six-unit reduction.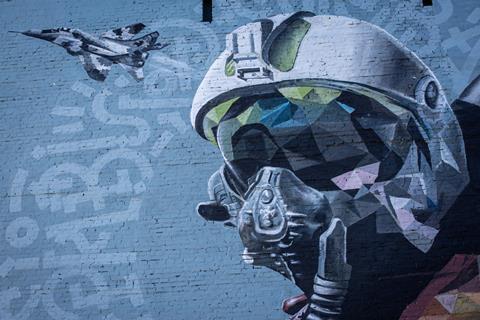 Meanwhile, Moscow's invasion prompted Finland and Sweden both to request – and rapidly receive approval – to join the already 30-nation-strong NATO alliance. Ukraine wants to follow suit.
Away from Europe, years-long tensions between China and Taiwan increased after an early-August visit to Taipei by US Speaker of the House of Representatives Nancy Pelosi. Beijing responded by staging major live-fire exercises and aerial incursions into the island state's air defence identification zone, highlighting the threat of a potential future invasion.
Our new directory details some 53,265 military aircraft in active use with the armed forces of 162 nations around the globe: a net reduction of just six from 12 months earlier.
Two regions experienced percentage-scale fleet size increases during our review period: Africa (up 41, or 1%, to 4,118); and the Middle East (plus 71, or 1%, to 4,485).
Only very minor changes were recorded in the Asia-Pacific, Latin America, North America, and Russia and the Commonwealth of Independent States (CIS) regions. But Europe continued a downward trend, with its combined 8,130 aircraft marking a contraction of 196, or just over 2%.
Changes to the fleet in Africa include the Algerian air force having introduced the first two Lockheed Martin LM-100J transports – the commercial variant of its C-130J – to appear in our directory. Mali boosted its combat aircraft inventory with six Aero Vodochody L-39s, although a newly acquired Su-25 crashed on 4 October, killing both crew members.
AFRICAN ACQUISITIONS
Angola ordered three Airbus Defence & Space C295s: two maritime surveillance-configured examples, and one transport, and Tunisia signed for eight Beechcraft T-6C turboprop trainers.
Retirements meanwhile included Algeria's last 13 MiG-25 interceptors.
In the Middle East, Kuwait took its first six Eurofighter Typhoons from a 28-unit order, and Qatar its first four of 24 examples of the same type. Doha also received its first four NH Industries NH90 helicopters, enabling it to retire its 11 Westland Sea Kings.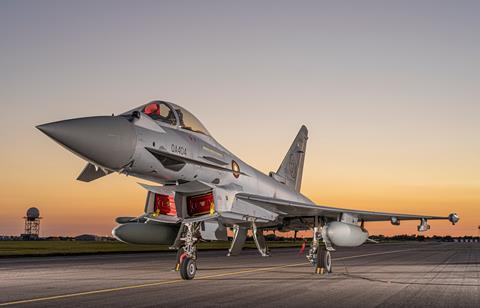 Procurement activity in the region included US Foreign Military Sales deals for Israel to acquire its lead four of a planned eight Boeing KC-46A tankers, plus four Sikorsky CH-53K transport helicopters; part of an 18-unit acquisition.
Jordan announced a planned order for eight Lockheed F-16Vs, and in a surprise step – announced almost immediately after our last directory was published – the United Arab Emirates (UAE) in early December 2021 signed for 80 Dassault Rafales, for delivery from 2027.
The UAE also ordered 12 Airbus Helicopters H225Ms for its Joint Air Command, and plans to buy between 12 and 48 Hongdu L-15 advanced jet trainers from China.
In the Asia-Pacific region, Afghanistan returns to open our full report's 23 pages of fleet listings, but in the most modest form: just one MD Helicopters MD530F is listed as active with the Taliban's newly named Islamic Emirate of Afghanistan Air Force.
Bangladesh added the Grob Aircraft G120TP trainer to its air force's fleet, taking 12 of 24 on-order examples. And the Pakistan air force in mid-March received its first Chengdu J-10Cs. Its acquisition – which totals 25 of the fighters – marks the first international success for the type.
NEW ARRIVALS
Other additions included Papua New Guinea's first of four Pacific Aerospace P-750 STOL transports; currently its lone military aircraft. The Philippines received its first two of six Turkish Aerospace T129 attack helicopters, and ordered another 32 Sikorsky S-70is, to augment 15 in-service examples.
Australia, meanwhile, ordered another 12 Sikorsky MH-60Rs and 29 Boeing AH-64Es, with the latter to replace its army's Airbus Helicopters Tigers. Canberra also intends to remove its 47 MRH90 (NH90) rotorcraft from use, and acquire 40 replacement UH-60Ms.
Indonesia ordered 42 Rafales, and secured US government approval for a potentially $13.9 billion acquisition of 36 Boeing F-15ID fighters. South Korea ordered up to 40 Bell 505 trainers.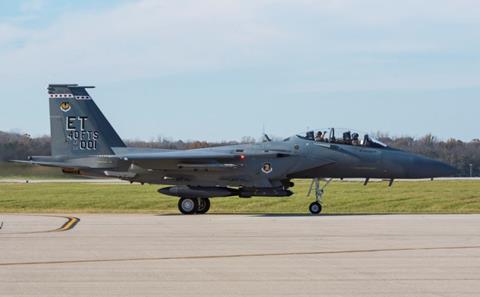 Asia-Pacific retirements since our last report included the November 2021 departure of the Royal Australian Air Force's remaining 64 Boeing F/A-18A/B "Classic" Hornets, plus the Royal Australian Army's 27 S-70s. Brunei's six MBB-built BO105 helicopters also ended their service.
In Latin America, Chile replaced its unique but obsolete Boeing 707-based Condor airborne early warning platform, acquiring an operational pair of ex-UK Royal Air Force (RAF) Boeing E-3Ds.
Brazil's air force purchased two ex-Azul Airbus A330s for conversion into multi-role tanker transports. The first is now in use as a passenger transport, ahead of undergoing modification. The Brazilian air force and navy also will receive 27 H125 trainers. But further cuts were made to the nation's once 28-aircraft acquisition of Embraer KC-390 transport/tankers: first to 22, and then 19 units.
Departures from the region's fleet included Argentina's two Mi-171 transport helicopters and the Brazilian air force's 12 Mi-35s.
North American developments, meanwhile, included the selection of the L3Harris/Air Tractor AT-802U as the winner of the US Special Operations Command's Armed Overwatch programme. A first US Air Force (USAF) contract covers six of the type, with the total requirement being for 75.
The USAF, meanwhile, reduced the size of its McDonnell Douglas KC-10 tanker fleet, from 51 to 40 units. And the Royal Canadian Air Force retired its last four search and rescue-roled De Havilland Canada DHC-5s.
Limited changes in the Russia & CIS region included Belarus retiring its 10 Mi-2 transport helicopters and trainers.
EUROPEAN RETIREMENTS
Europe's fleet size contracted due to multiple type retirements during the review period, including Belgium's five C-130H transports, Finland's 26 L-70 Vinka basic trainers, France's 27 Dassault Mirage 2000C fighters, and the last 21 C160 Transall transport and special mission aircraft flown by France, Germany and Turkey.
The Netherlands phased out its KDC-10 tanker and seven F-16B trainers, while Norway sent its remaining F-16s into retirement after 42 years of service, and moved to sell 32 to Romania. Oslo also withdrew its 13 troubled NH90s from use, and axed its two Dassault Falcon 20 electronic warfare aircraft.
The UK RAF and Royal Navy retired all their BAE Systems Hawk T1 advanced jet trainers, bar those retained for use by the former's Red Arrows aerobatic display team. The RAF also ended operations with a pair of BAe 146-200QC transports.
Lockheed, meanwhile, furthered its European F-35 sales bonanza. Finland in December 2021 selected the type for its 64-aircraft HX requirement, and Switzerland finalised a $6.2 billion contract for 36 A-model examples. Acquisition plans were also announced by the Czech Republic (24) and Germany (35).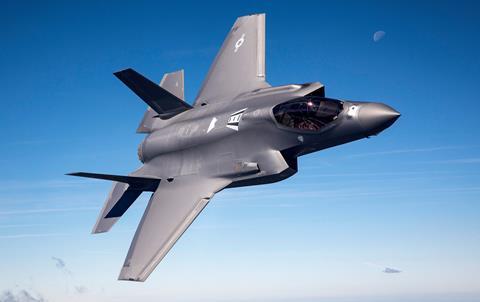 The F-35 continues its ascent of our combat aircraft Top 10 ranking, with the 545 now in use positioning it in sixth place. A further 184 are listed as full-time training assets, boosting the combined total to 729.
Poland ordered 48 Korea Aerospace Industries FA-50PLs, for light-attack and training duties, and also intends to buy 32 Leonardo Helicopters AW149s and 96 AH-64Es.
Other deals included contracts from Austria for 18 AW169Ms; Cyprus (six H145s); Greece (six Rafales); Hungary (12 L-39NGs); the Netherlands (five C-390s); Serbia (two C295s); and Spain (20 Eurofighters, plus 18 H135 trainers). Sweden also signed a deal with Saab for two Bombardier Global 6000-based GlobalEye surveillance aircraft, and Germany selected the Boeing CH-47F Chinook for a 60-aircraft CH-53G replacement need.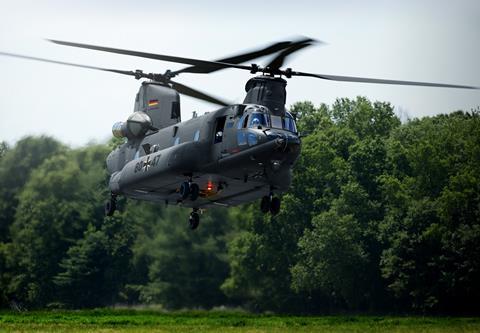 In terms of regional balance, Asia-Pacific operators have the largest combined fleet, at 14,559 aircraft: an in-year increase of 30. That betters North America's 13,676 – of which the USA has a 97% share – by 883 platforms.
While probably every US military speech or report of the last year has highlighted the increased "near-peer" threat posed by China and Russia, Washington DC's air power assets outnumber its potential adversaries in every one of our six equipment listing categories.
NUMERICAL ADVANTAGE
The USA owns 25% of all operational military aircraft, with its numerical advantage ranging from having 19% of all combat aircraft to 28% of combat helicopters and 77% of tankers. Its 13,300 aircraft total more than the combined assets held by second- to sixth-ranked Russia, China, India, South Korea and Japan, Cirium data shows.
Our annual fleet review excludes those aircraft recorded by Cirium as not being in day-to-day use, such as almost 5,100 which are in storage, or involved in or awaiting upgrade. We also do not list the 709 assets permanently assigned to performing VIP, government or private duties, or those flown by the DOSAAF paramilitary/reserve organisations of Russia (118) and Belarus (11).
Other omissions include a combined 378 aircraft that are employed as dedicated experimental or research and development assets, and a further 186 that are assigned to undisclosed military operators or are used for tasks such as calibration, satellite tracking, skydiving, surveying, target towing, and weather reconnaissance.
Our directory – the initial data for which was drawn on 3 October – also includes information about firm orders for some 4,185 aircraft, and letters of intent or options for up to another 7,423 (denoted by an asterisk next to a figure in the Ordered column); including a potential 2,579 F-35s which have yet to come under contract.
Supporting documents
Click link to download and view these files