More signs emerged this week of India's airline market being a hotbed of activity, as a host of executives spoke at an industry event.
They provided yet more evidence that India's airline sector will be anything but boring as carriers seek to take advantage of the country's much-discussed growth potential.
Among the speakers at the CAPA India Aviation Summit 2023 in Delhi were chief executives representing a low-cost start-up with international ambitions, a grounded full-service carrier attempting to reinvent itself, and an established operator that has lost ground and needs fresh equity to regain its footing – all before one even considers the market's two biggest players in the shape of IndiGo and Air India.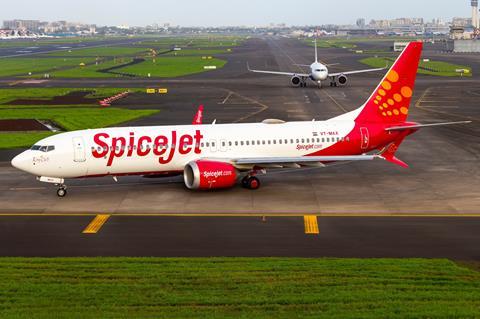 In that order, low-cost carrier Akasa Air said it plans to launch international flights by the end of the year, around 18 months after it started operations in 2022. Furthermore, chief executive Vinay Dube says the airline intends to place a "much larger" aircraft order by year-end.
The relaunch of India's Jet Airways, meanwhile, will see the airline take a "new approach" to its business model once it can overcome legal hurdles that have delayed its return by several months.
Sanjiv Kapoor, the airline's chief executive-designate, says the relaunched business strategy "will not be a copy-paste" from the old airline, which collapsed in 2019.
"There's going to be a new approach to fleet… a new approach to revenue management, a new approach to customers, a new approach to IT and digital and how it benefits the end-users," says Kapoor.
Next, SpiceJet chief executive Ajay Singh said "we just refuse to die" as his carrier works to "significantly" restructure its balance sheet in the coming months, raise fresh equity, and embark on an "aggressive push" to grow its fleet.
SpiceJet has lost ground on rivals during the Covid-19 recovery, with Singh acknowledging it has been "the weaker link" in the Indian airline sector.
But challenges and opportunities in India are not restricted to local operators. Speaking at the same event, Emirates president Tim Clark said his airline had been unable to ramp-up operations to India amid "vexing" seat caps.
He urged Indian authorities to lift a cap on seat numbers for flights to and from Dubai, amid growing travel demand and increasing competition from Indian operators.
The event took place soon after the country's largest operator by fleet size, IndiGo, downplayed a report about possible aircraft orders that would eclipse Air India's recent commitments.