The merger of regional operator Thai Smile into parent Thai Airways International finally closes the chapter on regional airline units in Asia, and Thai must now act quickly to make up for lost ground, especially in the face of low-cost competition.
The announcement on 17 May will see Thai Smile subsumed into mainline operations after more than 10 years of operations, with the former's fleet and workforce to be merged into Thai's.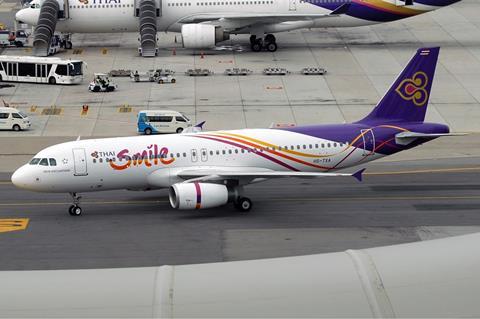 In justifying the integration, Thai says 99.99%-owned Thai Smile operates under its own Air Operator Certificate (AOC), meaning it manages operations independently of Thai, thus reducing efficiency and hurting competitiveness. More crucially, Thai Smile, which operates only Airbus A320ceos, faces stiff competition from low-cost carriers, given its mostly domestic and short-haul network.
Thai was, before the latest announcement, one of the rare Asia-Pacific airlines to retain a regional airline unit. Cathay Pacific and Singapore Airlines shuttered and merged their regional subsidiaries - Cathay Dragon and SilkAir, respectively - into their mainline operations during the coronavirus pandemic.
When Thai Smile launched as a lower-cost unit in the early 2010s, Thai envisaged a "light premium" operating model at the top end of the low-cost segment. Thai Smile's would feed traffic to mainline operations at Bangkok's Suvarnabhumi airport.
Thai would eventually hand its entire domestic network to Thai Smile, along with a large number of regional routes - especially within Indochina. Thai Smile's network had also included a number of flights to secondary cities in China and India.
Thus, the integration will see the Thai code, maybe even cabin products, returning on domestic and Indochina routes. The addition of narrowbodies to its fleet – something SIA and Cathay also dealt with – also gives Thai a chance to right-size operations, not just former Thai Smile routes, but its own as well.
Indeed, the Star Alliance carrier highlights this point: "The company will have more flight routes with the ability to switch and suit flight distance and market demands through efficient aircraft management."
However, given that the Thai Smile route network is complementary to Thai's, with very little overlap, there is a possibility Thai could close down less-profitable routes, especially on domestic routes, and in the face of low-cost competition.
The problem is compounded when one realises that unlike its ex-regional peers SIA and Cathay, Thai does not have a low-cost subsidiary. Thai owns a minority stake in troubled low cost carrier Nok Air, which is undergoing restructuring. Nok is also based at Bangkok's Don Mueang airport, which makes feeder traffic problematic.
Without a low-cost unit, Thai might find itself unable to effectively compete on cost, which could lead the airline to either attempt to match fares, or be out-priced.
Both are unwelcome scenarios for a newly-restructured Thai.
Irrespective, Thai needs to act fast to consolidate operations if it is keen on boosting its competitiveness.
Thai has said it hopes to complete the merger by end-2023. By comparison, SIA's full integration of SilkAir took about four years from when the plan was announced.
Thai will also need to be clear about is short-haul and domestic strategy: one challenge Thai Smile had at the onset was the constant flip-flopping of strategy.
Should Thai depend on Nok for thinner domestic routes? Does it completely forgo these routes, choosing to focus capacity on trunk domestic routes?
Either way, the clock is ticking: it remains to be seen if Thai will still have something to Smile about post-merger.