Thailand's decision to fully open to vaccinated travellers by mid-October represents a sharp break from its Southeast Asian neighbours, whose international air travel markets remain in stasis.
The plan to open up in 120 days was announced by Thai prime minister Prayuth Chan-Ocha on 16 June. Thailand, along with most Southeast Asian countries, has remained tightly closed to international travel since early 2020, when the coronavirus pandemic spread to the region from China.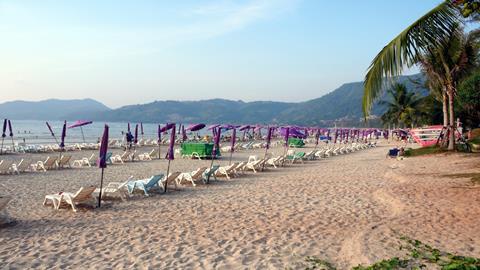 Chan-Ocha's plan, if implemented, will allow vaccinated travellers to visit the country without onerous quarantine restrictions.
"Visitors to Thailand who are fully vaccinated must be able to enter our country without quarantine or other inconvenient restrictions," said Chan-Ocha in a televised address. "And Thais travelling abroad who are fully vaccinated must also be able to return home without confinement in quarantine."
The move is aimed at rebooting the country's tourism-dependent economy. Thailand's airlines, and the airlines serving the country, will certainly welcome the move.
He warned, however, that plans could change "if a truly serious situation develops or seems likely to develop."
A pilot programme is already in place, the so-called 'Phuket Sandbox'. This will allow vaccinated travellers to visit the resort island on the country's Andaman Sea coast from 1 July.
In all likelihood, the opening of Phuket and, later, the country's broader opening will attract vaccinated travellers from Europe, mainly owing to the restrictive travel restrictions imposed by regional markets such as China and other Southeast Asian countries.
By Southeast Asian standards the move is ambitious. Thailand, which enjoyed success managing the virus in 2020, is reporting over 2,000 Covid-19 cases daily. While vaccinations are underway, just 6.8 million doses have been delivered to its population of 69.6 million. Just 83,500 Thais have received their second dose of Covid-19 vaccine.
Chan-Ocha acknowledges that opening up comes with risks, and admits that opening the country will increase infections, "no matter how good our precautions." Still, balanced against the economic needs of the country, he deems the opening a "calculated risk."
From an airline perspective, the potential upside is tremendous. Cirium schedules data shows that in June 2019, 16 airlines operated 1,747 flights on European-Thailand routes, for a total of 579,000 seats. In June 2021, the number of flights was down 83% to 301, and the number of seats fell 82.2% to 103,000.
Services from China, once Thailand's biggest source of tourism arrivals, fell even more, with seats provided declining 99.2% from May 2019 to May 2021. Traffic from Southeast Asia has also collapsed.
Should Thailand's plans come to fruition and a true reopening occur, the question will be whether it inspires other countries in the region to admit that Covid-19 is endemic, that eliminating it is impossible, and that vaccinated travellers should, at least, be allowed to travel freely.
Southeast Asia, once a major growth engine for the air travel market, has proven to be a laggard at moving beyond the crisis. The time is nigh for regional governments to push hard to get their communities vaccinated, recognise vaccines used in other countries, eliminate quarantines, and get the region in sync with the rest of the world.

Greg Waldron is the Asia Managing Editor of FlightGlobal, responsible for the team's airline, aerospace, and defence coverage across the region. He has worked at the company since 2009. In the airline space, Waldron has conducted dozens of interviews with airline leaders in the Asia-Pacific. He also covers areas such as MRO and safety. On the defence beat, Waldron has written extensively about the rise of Chinese airpower, as well as broader airpower developments around the region, such as indigenous fighter programmes, and regional acquisitions of foreign equipment. In addition, Waldron writes about commercial helicopters in the region and business aviation. Waldron worked has a freelance journalist with his work appearing in several business publications.
View full Profile