The USA and China are locked in a war of words — once again — over the 'circuit breaker' measures imposed by the latter on several US carriers.
The measures, which typically involve flight suspensions over a specific period of time, come as many countries battle a sudden rise in coronavirus infections caused by the more contagious Omicron variant.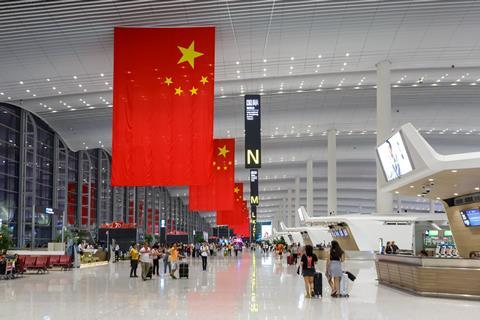 China first announced the 'circuit breaker' measures in the early days of the pandemic, as part of attempts to protect the country from an influx of coronavirus cases.
Last April, it tweaked the scheme: airlines found to carry five or fewer passengers testing positive will now be able to choose between two types of restrictions: frequency-based, or load factor-based.
Then, in August, the CAAC imposed load factor sanctions on United Airlines after five passengers tested positive for the coronavirus. More than a week later, Washington imposed similar capacity limits on Chinese carriers flying into the USA.
Checks on the CAAC's website show that in the first two weeks of January alone, the regulator put out at least six notices on flight suspension measures.
Where previous notices were few and far between, and detailed only suspensions for a small handful of carriers, the 'circuit breaker' notices of late have not just grown in frequency, but also in length. Consquently, the number of international flights in and out of the country — already tightly-constrained — have dwindled even further.
Things came to a head days ago, when the US Department of Transportation threatened retaliatory action against the CAAC, for a series of flight suspensions imposed on carriers including US airlines.
It said the move was "inconsistent with obligations under the US-China Air Transport Agreement".
With Omicron's spread moving fast across the globe, do China's flight suspension rules still work to their original intent?
For now, China has defended — doubled down even — its strict zero-Covid policy, stating via state-run media that countries should prioritise prevention "in the face…of a pandemic".
This despite the Omicron variant threatening to turn China's strict pandemic management regulations on their head.
It must be asked: how sustainable is China's zero-infection stance, especially when countries around it are opening up, and the country enters its third year of borders being shut. Already, the CAAC indicates that international borders will likely reopen only from 2023.
That means nearly four years of almost non-existent international traffic, both for Chinese and international carriers.
For Chinese carriers, who have been consistently loss-making since the start of the pandemic, it could be four years too long.
While domestic traffic can go some way in helping prop up revenue, the past two years show it is not enough.
Furthermore, airlines around the world, which might have been reliant on the Chinese travel market as a key revenue stream, are already beginning to look elsewhere, tapping into markets not served before.
Indeed, as China's doubles down on zero-infection rhetoric, it risks further isolating itself — and its airlines — on the world stage. Perhaps a more poigniant question — and one that airlines may find it difficult to ask — is whether the sacrifice is worth it.