Continued losses at British Airways and Lufthansa's network carrier segment reported in the last 48 hours underline why those airlines are pinning so much hope on the reopening of the USA to international travel from Europe on 8 November.
While the wider airline groups were able to report significant progress in turning round pandemic losses in the third quarter, it was cargo and low-cost operations that largely fared best at at both BA-parent IAG and Lufthansa. Network operations for both remained in the red, albeit at significantly lower levels than previously seen since the pandemic.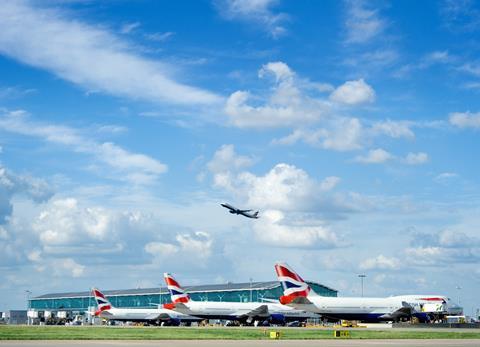 Both both are reporting positive booking signs since the USA outlined plans to lift restrictions on fully-vaccinated travellers from Europe entering the country and plan to rapidly restore capacity on North Atlantic routes.
"Our operating companies are focused on restoring a significant proportion of their pre-pandemic routes by next summer," said IAG chief executive Luis Gallego during a third quarter results briefing on 5 November, noting 30% of the group's capacity was deployed on North Atlantic routes pre-pandemic.
"We are currently planning to restore about 100% of North American capacity by the third quarter [of 2022] compared to around 60% this winter and only 30% in the recent third quarter. The number of routes operated to North America will increase from 23 in the third quarter to 49 this winter and 60 next summer – the same number as in 2019."
Both IAG and Lufthansa point to the positive booking trends seen since the lifting of restrictions was announced, particular for premium travel. Lufthansa chief executive Carsten Spohr said the higher the value booking class, the closer bookings were to pre-pandemic levels – noting First Class bookings were running above 2019.
British Airways chief executive Sean Doyle similarly cites a strong demand in premium segments.
"What we are seeing is premium leisure intakes have been ahead of 2019 over the last three weeks since the North Atlantic opened up. So that's the booking trend, which is very encouraging," he says.
"Looking at both the UK and US end on the North Atlantic, we are seeing the bookings start to increase from the corporate segment. What is interesting about the corporate segment is they are booking more into premium cabin than non-premium."
It is not just European major carriers looking to exploit the transatlantic reopening. Notably United Airlines, is expanding aggressively on European routes, announcing five addition frequencies on London Heathrow for next summer on top the five new transatlantic routes and additional flights it announced earlier in October.
Doyle however believes overall capacity in the London-USA market will remain below pre-crisis levels. "Certainly in Q2 and Q3 I think you will see less premium and non-premium seats …. based on what people have published about the London market."
Neither does he see the arrival of JetBlue, which launched transatlantic services to London this summer, changing the overall supply and demand picture.
"When you look at it in the broader context of the market next year, you still see capacity contraction in and out of London both in terms premium and non-premium seats. So at a macro-level, it's not something we see as being a variable to the revenue development."
Likewise IAG chief financial officer Steve Gunning is also positive on transatlantic supply and demand.
"Given the high levels of booking intakes we are seeing and the fact I think there will be some degree of capacity constraint next summer, I think there will be strong pricing opportunities for next year, and we are seeing that. We do expect there to be a positive development on RASK looking forward," he says.
"One of things we are trying to manage very carefully in terms of our inventory is to not sell all of it too quickly, in terms of seeing how the pricing develops.
"The other thing that is different to IAG to most of the North Atlantic operators, is the amount of premium seats we have on the North Atlantic. I think that's one of the reasons we would expect yields to hold up and recover better, because of our strong premium mix."