Major US passenger carriers are bracing for an influx of travellers ahead of the reopening of the country's borders to fully vaccinated passengers from 33 countries, including most of Europe, scheduled for next week.
The government said last month that air passengers arriving from 27 European nations as well as the UK, India, Iran, Brazil, China and South Africa, will be free to enter the country from 8 November. The reopening will mark an end to unprecedented border closures implemented under previous President Donald Trump in March 2020, to stem the global spread of Covid-19.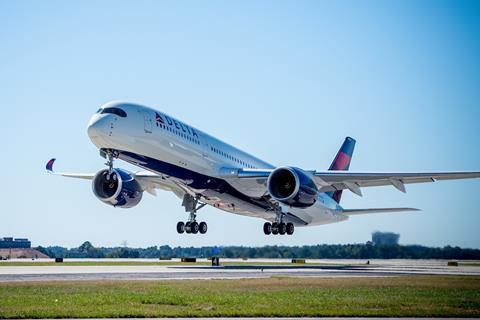 Atlanta-based Delta Air Lines says on 4 November that it saw a 450% increase in international point-of-sale bookings compared to the six weeks prior to the announcement.
"This is the start of a new era for travel and for many people around the world who have not been able to see loved ones for almost two years," Delta chief executive Ed Bastian says. "While we have seen many countries reopen their borders to American visitors over the summer, our international customers have not been able to fly with us or visit the US."
"All of that changes now," he adds.
On Delta will operate 139 flights from 55 international destinations in 38 countries landing in the US on 8 November, the carrier says. That's a capacity of more than 25,000 seats.
Chicago-headquartered peer United Airlines adds that it expects 30,000 international passengers to enter the USA on the first day of the reopening, and, like Delta, says "most flights will be fairly full".
"United has been preparing for the reopening of travel to the US for more than a year," the airline said on 2 November.
"In the days immediately after the US announced it would reopen to international travel, United's transatlantic bookings for November and beyond exceeded 2019 levels for the first time since the start of the pandemic," the carrier added. "Since the announcement, United has also seen a 35-point increase in year-over-two-year system bookings from international point-of-sale agencies for travel in November and December."
President Joe Biden's 25 October executive order that revoked those entry bans added a requirement that inbound travellers to the USA be vaccinated. The order does not apply to children of an age for which vaccination would be "inappropriate". It also does not apply to airline crew members, so long as crew follow "all industry standard protocols for the prevention of Covid-19".
Some other groups of travellers, including those seeking some visas, are also exempt, though exempted travellers generally must agree to become fully vaccinated within 60 days of arrival.
For months, aviation and tourism trade groups have been urging the US government to relax its entry restrictions, especially after fully vaccinated US citizens were permitted to enter numerous other countries without restrictions since prior to the traditionally busy summer holiday travel season.