While travel demand last year returned sufficiently enough for London Heathrow to regain its position as western Europe's busiest hub, there remain major challenges ahead for John Holland-Kaye's successor at the helm of the airport.
In the near term Heathrow must demonstrate that operations are sufficiently robust to avoid any repeat of the disruption which blighted services in the the early part of summer and necessitated a temporary cap on the number of departing passengers to ensure a reliability of service.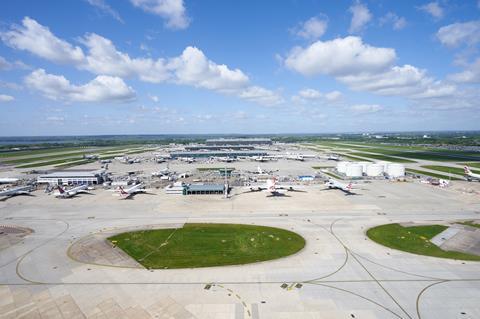 It too must secure funding to invest in infrastructure after racking up heavy pandemic losses, a requirement that has pit it against airlines over the proposed fees it has requested to help pay for it.
Meanwhile, the political football that is a third runway for Heathrow, which the pandemic kicked back it into the long grass, will come back into play this year.
Holland-Kaye, who Heathrow has announced will step down this year, has been at the helm of the airport since the summer of 2014. While airport charges and capacity expansion have seldom been off the radar, few years in his tenure have been as challenging for Heathrow as those in the pandemic.
Passenger levels dropped from a just over 80 million in 2019 to 22 million in 2020, and then to under 20 million the following year as a long-sought reopening of the vital transatlantic market remained largely elusive.
That marked the lowest passenger number at the airport for 50 years and took losses over the first two years of the pandemic alone to £3.8 billion ($4.7 million). It had incurred another pre-tax loss of £442 million after the first nine months of 2022.
It was only in 2022 that demand recovered with any strength, as Heathrow ended the year with 61 million passengers – far above the 45 milllion it had begun the year projecting.
Those projections have come under scrutiny, in part due to a wider row with airlines over future charging levels, and because of the flight disruptions and delays experienced at Heathrow last summer.
CONFIDENT ON SUMMER AHEAD
Speaking ahead of the announcement he would step down, Holland-Kaye said during an interview at the Airport Operators Association's annual conference in London on 31 January that he was confident of service levels this summer -- though the industrial action on the day by UK border staff served as a reminder of further challenges to consider.
"Our big challenge was keeping supply and demand in balance," he said of last summer. "There was a time when we had a cap in place to protect that balance, we had to protect consumers."
Holland-Kaye says that although "it was painful at the time" – the move notably prompted an angry response from Emirates airline president Tim Clark – he says "all the airlines I have spoken to since then say it was absolutely the right thing to do".
Heathrow lifted the cap at the end of October, though warned it may need to implement measures to keep capacity and demand in balance over peak periods.
Holland-Kaye says he is heartened by the performance over the recent Christmas holidays, the busiest period at Heathrow since departure caps were removed. "It was a really good test, in spite of snow, ice, freezing fog, we had a really good Christmas," he says.
He says companies across the airport ecosystem have recruited 20,000 staff since the lowest point of the pandemic. "We are now up to 70,000, we had 75,000 pre-pandemic, so we are in a good place," he says.
"There are some things we are working on but we have a good plan in place. I want everyone to be confident that if you are flying over the summer, you are going to have a good journey."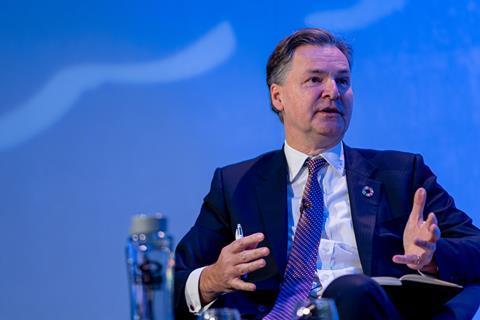 While he reports progress in staff recruitment, Holland-Kaye notes the airport – and the wider sector – has lost a lot of experience as a result of people who have left the industry and cannot immediately be replaced.
"Finding people in our community is not the challenge," he says. "The challenge is how do we train people back up quickly to perform their roles well. You cannot replace 30 years of experience quickly.
"One of the lessons I have taken out of it, even though you have to conserve cash, I wouldn't cut back as deeply as we did last time. It is a very difficult judgement to make, when you are very close to breaching your financial covenants, [but I] would try to keep a higher base level," he says.
WHO PAYS FOR HEATHROW INVESTMENT?
After operating in survival mode, the airport is turning its attentions back to investment. "We've got a big investment plan ahead of us," says Holland-Kaye, noting some of it is catching up on investment from past couple of years. "I think this is an issue around the world, there has not been enough investment in infrastructure and services [during the pandemic].
"We've talked about new security systems, At Heathrow we need to replace our Terminal 2 baggage system. Terminal 2 is a nine-year-old terminal, but it has a baggage system that is 40-50 years old. And that's one of the big things we are going to change. So those are some pretty big [investments]."
However, funding investment in infrastructure at a regulated airport like Heathrow is inextricably linked to the issue of airline charges, a topic on which the two sides have been at loggerheads during the current drawn-out regulatory process covering the period through to 2026.
The inherent strain between airlines and airport over the issue was underlined by Virgin Atlantic chief executive Shai Weiss during the Airlines 2022 event in London last November.
"We have multiple touchpoints with Heathrow. Every time I meet John I tell him there are five or six things we work with seamlessly really well, best in class, best in partnering. But there is one big issue we are not going to reach agreement on, which is the fact that they wanted to hike prices 120%… and the fact that we are operating in Terminal 3 that is 60 years old and requires a refurbishment.
"We are going to fight tooth and nail on behalf of our customers and airlines and the wider community in the UK to ensure we get best service out of the most expensive airport in the world."
The UK CAA is in March set to finalise a five-year price-control settlement for the period ending December 2026. Last summer it proposed a sliding scale of charges for airlines at Heathrow under which the price cap will fall on average 6% annually in line with increased traffic. Holland-Kaye argued the CAA "continues to underestimate" what it takes to deliver a good passenger service, in terms the level of investment and operating costs required and the "fair incentive needed" for private investors to finance it.
WHAT ABOUT A THIRD RUNWAY?
Plans for a third runway at Heathrow pre-date Holland-Kaye's tenure – the UK government first approved the move in 2009 before it was later shelved – and secured government support in 2018.
While a successful appeal by environmental campaigners was overturned at the end of December 2020, it served as a reminder of the increased challenges of securing airport expansion in a country where sustainability is high on the agenda. By then, even before the impact of the pandemic, Heathrow had already pushed back to late 2028-29 the timing of the planned runway.
Though Heathrow has said little about the plans since the pandemic, Holland-Kaye confirmed expansion remains on the table.
"Longer-term, we'll be looking at how do we expand again and provide more capacity," he said at the AOA conference. "That is something we will be making more public comment on over the next few months.
"The reason why that is so critical for the UK has really come to light over the pandemic," he says, pointing to the cargo role it played helping to support the supply of PPE during the pandemic.
But he adds: "We really rely on more passenger planes to be able to do that [connectivity]. We saw just how much opportunity there was, not just for connecting to new markets like India, where we have a lot of Indian carriers coming in, but also UK regionals which haven't been able to get into Heathrow because there isn't the capacity around the airport. That shows the opportunity."