If South African Airways fails to find a way through its current funding crisis, it could leave a big hole in its home country's connectivity, depending on which routes are considered viable as coronavirus restrictions are lifted.
But much would also depend on whether the separate airlines that were operating a significant number of regional and domestic services on SAA's behalf were able to continue flying.
Cirium schedules data for January 2020 shows that Johannesburg OR Tambo International airport-based SAA accounted for 40% of marketed domestic flights in South Africa. When the figures are split by operator, however, only 9% of domestic flights were undertaken by SAA aircraft.
On international services, SAA accounted for 44% of marketed flights touching South Africa in January, but when the data is split by operator, only 19% were undertaken by SAA metal.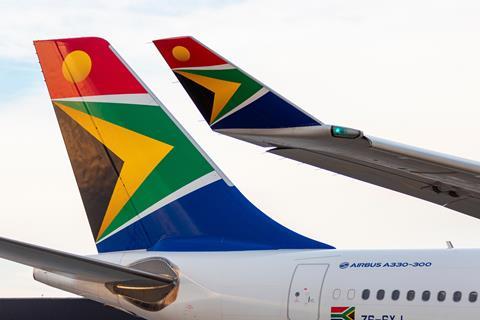 Indeed, of all flights marketed under the SAA name in January, Cirium schedules data shows more than half were operated by other airlines.
Those operators were state-owned regional airline SA Express – itself facing a dire financial situation – and privately owned regional carrier Airlink, which is bringing forward plans to put its own code on services amid doubts about SAA's future.
International operations
In terms of marketed international flights, the pre-coronavirus SAA undertook 44%, or around 4,000, of services touching South Africa in January. The same data shows it marketed 26% of seats and 16% of ASKs.
SAA's intercontinental services – which were all flown using its own metal – took a relatively small proportion of such flights touching South Africa in January, amid a long list of well-established overseas operators serving the country.
Demonstrating SAA's tough competitive environment in its home market, sub-Saharan Africa peer Ethiopian Airlines, for example, was responsible for 93% of intercontinental flights touching its home country in January, and 95% of all international flights, according to Cirium data.
SAA's biggest international destinations measured by marketed seat capacity during January were all in Africa: Gaborone, Harare, Lusaka, Windhoek, Maputo and Accra.
And in terms of the number of flights, the first 19 of SAA's 39 international destinations were on its home continent, Cirium data shows.
When SAA's international flights are split by operator – rather than marketing airline – a different picture emerges, at least in terms of the number of flights operated by SAA itself.
In January, some 43% of international flights marketed by SAA were operated by Airlink. Those flights represented 20% of SAA's international seats and 6% of its ASKs, reflecting the fact that they were operated by regional aircraft on short international sectors.
SA Express, meanwhile, operated 12% of SAA's international flights, 7% of its seats and 2% of its ASKs.
Intercontinental proportions
Of SAA's marketed international flights in January, 5% – or around 420 – were intercontinental, translating to 13% in terms of seats and 33% in terms of ASKs.
But when only considering international flights operated using SAA's own metal, some 24% were intercontinental, which translates to 35% of seats (around 110,000) and 71% of ASKs.
So while the majority of SAA's international focus has been on intra-Africa services in terms of marketed flights, Cirium data shows its seven non-African destinations in January – New York, London, Perth, Frankfurt, Munich, Sao Paulo and Washington DC – accounted for nearly three-quarters of the crucial international ASK measure when only its own metal is considered.
That means a significant proportion of SAA's revenue has been tied up in the fiercely competitive landscape of intercontinental services, despite the number of such flights operated by the carrier having edged downwards in recent years amid restructuring efforts.
Indeed, on intercontinental services to South Africa in January, SAA accounted for 14% of flights, 10% of seats and 12% of ASKs, meaning it trailed Emirates and British Airways by most measures, according to Cirium data.
In the same month, Emirates was responsible for 17% of intercontinental flights, 22% of seats and 18% of ASKs, while BA was responsible for 11%, 13% and 14% respectively.
That SAA has struggled to get a foothold on intercontinental flights reflects a market opportunity that has concurrently proven to be a big challenge for the carrier: South Africa's attractiveness as a destination. Therefore, while the country's relatively advanced domestic economy and mobile population is a boon to air travel demand, many international carriers have long coveted – and taken – a piece of the long-haul market.
This is shown in the fact that United Airlines' only flight to Africa in January was a Cape Town service, while Johannesburg was among just four African destinations served by Delta Air Lines during the same month.
Other international carriers serving South Africa with multiple daily frequencies in January included Qatar Airways, KLM, Lufthansa, Air France, Cathay Pacific, Turkish Airlines, Virgin Atlantic, Ethiopian, Qantas, Singapore Airlines, Swiss, LATAM Airlines and Etihad.
Domestic split
On domestic routes, SAA plays a significant role in a sector where few players were escaping financial woes even before the current crisis.
SAA accounted for 40% of domestic flights in January, or around 5,400, in terms of services marketed under its name, Cirium data shows.
Fewer than 1,300 of those flights were operated by SAA itself, however, with Airlink flying more than 3,000 and struggling SA Express operating more than 850. Indeed, under network cuts proposed by the carrier's administrators in February, SAA would cut all domestic flights but its Johannesburg-Cape Town route.
Comair was the biggest South African domestic carrier in January in terms of flights operated, at around 3,800, according to Cirium data. Nearly 2,000 of those were operated for British Airways under a franchise agreement (which also includes a few regional services) and the rest under Comair's Kulula low-cost carrier brand.
SAA subsidiary Mango – whose fortunes are likely to be closely tied to those of its parent – and FlySafair are also significant players in the domestic market, each accounting for more than 2,000 flights in January.
Cirium fleets data for mid-January this year shows that SAA had 41 passenger aircraft in service: seven Airbus A319s, 10 A320s, 10 A330s, 10 A340s and four A350s.