The narrative seems relatively straightforward: airlines will be on a clear recovery path once Covid-19 is brought under control and international travel markets reopen.
But in a twist that seems unfair given the dreadful time the industry has had over the past 16 months or so, there exists a genuine risk that even a minor uptick in traffic in some markets might threaten to overwhelm the passenger-processing capacity at airports.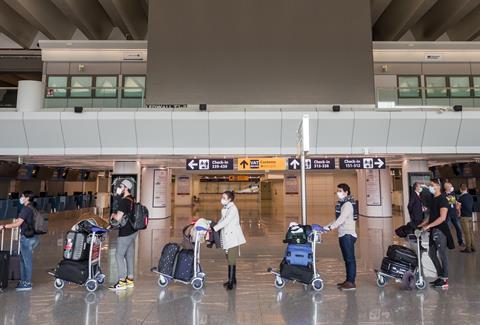 This would be a consequence of the myriad ways governments are asking travellers to prove their Covid-19 testing and vaccination statuses, forcing them to spend hours waiting to enter and leave countries as their credentials are checked.
For airlines and airports, this is a problem shared, even though neither can do a great deal about implementing solutions. And the consequences could be serious.
First, the concern is that absent any genuine steps towards making processes better, recovering markets are going to have a traffic ceiling based on much-reduced airport capacity.
Second, long queues will create operational issues for airlines and airports, as passengers do not move through the facility speedily enough to make their flights or other onward modes of transport.
Third, there is the reputational damage that might follow scenes of frustrated travellers crammed into airports during a pandemic.
Worryingly, an early testbed for the return of international travel – the European Union – is way ahead of most international markets with its Digital Covid Certificate (DCC), but is still seeing individual countries introducing their own take on how the DCC is implemented.
IATA says that among the EU's 27 member states, it could count at least 10 different approaches to implementing the scheme.
"We need member states to urgently implement these tools in a harmonised and effective manner," said a group of aviation industry associations in a recent joint letter to EU heads of state, in reference to the DCC. "We view these as essential prerequisites to travel, to avoid long passenger queues and waiting times which would create new health hazards and inevitably result in operational issues for airports and airlines."
The obvious concern is that if intra-EU air travel – which is an international market in theory but arguably has traits that make it more like a hybrid domestic one – cannot be organised, how on earth are other markets going to operate?
Signs elsewhere are not great. In Asia, the move by Thailand to allow non-essential travel into Phuket is welcome in a region where international travel is all-but grounded. But just a cursory glance at the draconian arrivals process might be enough to dissuade a fair chunk of travellers from bothering. As a result, it is hardly a blueprint for how the rest of the region might viably open borders to mass travel.
More broadly, IATA has pointed out that across the Asia-Pacific region, passenger processing times have doubled despite the rock-bottom traffic levels.
And as anyone that has travelled into the USA from Europe can probably testify, pre-Covid immigration and customs queues were sometimes measured in hours, without the time needed for Covid-related checks.
Airlines are doing their best to pre-empt this problem by trialling apps including IATA's Travel Pass. But unless governments begin to officially accept that technology for passenger-processing purposes – and put in the legwork to ensure the data infrastructure and systems are in place to deliver relevant data to the app – they are largely obsolete.
The ultimate answer, as EasyJet chief executive Johan Lundgren argued at the Airlines for Europe (A4E) Aviation Summit in early June, is for all restrictions on travel to be dropped once countries are deemed to have the pandemic under control and enough people are double-vaccinated.
But given the rhetoric around the world on border reopenings, where every positive comment from a country's leader is offset by a prime minister or president reticent to take risks on international visitors, that nirvana may be some way off.
It is certainly not going to come to the rescue of the industry this year, at least.
Frustratingly for airlines and the wider travel industry, the warnings they are putting out might not be enough. For governments to act, it might take a period of chaos at borders.