As the coronavirus continues to affect airlines' networks and demand for passenger travel and freight services, the spotlight is falling on Asia-Pacific's airlines and their ability to weather the storm.
The region's airline industry is impressive in size but not in terms of its maturity relative to North America's consolidated sector and a European market progressing along similar lines.
In Asia-Pacific, a fragmented picture still exists featuring legacy network carriers – usually state-owned and often in dire need of modernisation – fighting to retain market share against a raft of upstart low-cost carriers.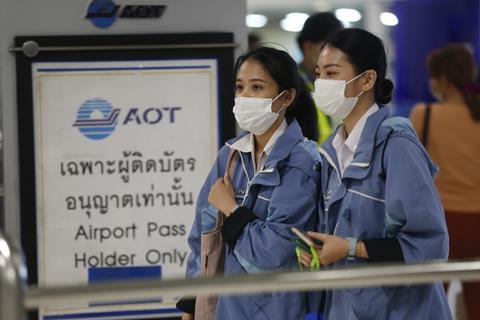 With budget operators accounting for a bigger slice of the capacity pie than in other regions, their aggressive growth has created an environment where yields have suffered as fares are kept low by intense competition.
All the while, Asia-Pacific is largely a country-focused market, where ownership rules and a complex regulatory environment tend to stymie efforts to build international operators or groups.
The question is whether the coronavirus, with its epicentre in the region, might expose those weaknesses, or maybe even serve as a painful prompt to do something about them.
There is a lot to lose.
Asia-Pacific is the world's largest airline market in terms of passenger numbers and air cargo demand – IATA's figures putting the region's 2019 share of the global market at 35% for both.
But in financial terms, the region contributed $4.9 billion to global airline industry profits in 2019, according to IATA estimates, versus $6.2 billion from European operators and $16.9 billion from North American carriers.
It will take some time for the full impact of the coronavirus to become clear, but it is already apparent that a number of carriers will feel a strong impact from what is hardly a position of great strength.
Non-mainland China carriers are a case in point: Cathay Pacific Group was already reeling from the impact of pro-democracy protests before the virus hit, while Taiwanese carriers and Air Macau are similarly exposed to the mainland market.
Elsewhere in the region, operators in Japan, Malaysia, the Philippines, Singapore, South Korea and Thailand will be concerned about their relatively high exposure to the mainland.
Chinese carriers themselves are strongly on track to be hardest hit.
Cash-flow worries
Speaking to FlightGlobal at February's Singapore air show, Andrew Herdman, the outgoing director general of the Association of Asia Pacific Airlines, explained the concerns such operators have been experiencing: "You worry about cash-flow and you worry about survival, you don't worry about your P&L, but your balance sheet, because you're going to have negative cash-flow. You have got to focus on that."
He points out that the region's airline industry is far bigger than it was when SARS hit in 2003, making the financial effect proportionally greater. Some carriers, particularly those from China, will see a "massive" impact, he notes.
That impact also extends to freight operations. The region's carriers were expecting some relief in the air cargo markets in 2020 – important because Asia is a powerhouse of manufacturing that drives demand for such services.
The narrative at the end of 2019 had been a positive one, as China and the USA took steps towards resolving their trade spat, but projections for the rest of 2020 are surely being redrawn.
Amid these negative pressures, there are some pockets of strength that hint at an appetite for a more mature market in the region, most recently shown with the announcement of an ANA-Singapore Airlines joint venture.
Low fuel prices – partly driven by a drop in demand – are also helpful for carriers grappling with lost demand and an inability to serve key markets.
And should the coronavirus peak relatively quickly, there will be pent-up demand for travel that could provide some relief to bruised operators.
But any prolonged outbreak is likely to test the maxim: "The bigger they are, the harder they fall."