The past 12 months have been marked by carriers facing sudden pressure to show they are working to mitigate their impact on the environment, prompting a range of responses
The airline industry's impact on the environment has risen up the agenda at an impressive pace during 2019.
That has happened against a backdrop of stronger momentum behind environmental causes and groups, including high-profile examples such as the "flight shame" and Extinction Rebellion movements, and individuals such as Greta Thunberg.
Many airlines – particularly in Europe, where the environmental discussion has been most intense – have become acutely aware that the next generation of passengers and rule-makers are likely to have very different expectations of their businesses.
But has the industry responded well to this arguably existential challenge?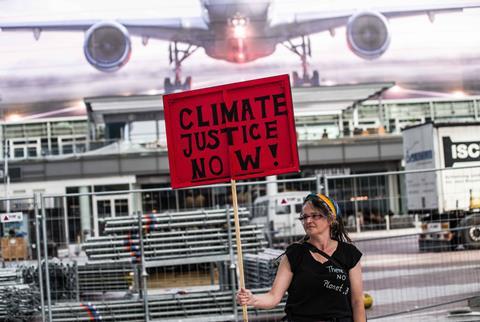 Among the most notable tactics employed has been an effort to explain and publicise actions already taken by the sector to mitigate its impact on the environment.
"Carbon emissions per passenger have declined by more than 50% since 1990," IATA said on 12 December with those aims in mind. "Much of the improvement has occurred because the industry has achieved an annual fuel efficiency improvement of 2.3% over the period since 2009, some 0.8 percentage points ahead of target."
That "carbon emissions per passenger" measure has become the go-to metric inside the industry, and undeniably presents a good-news story. Stakeholders cannot ignore the fact, however, that rising traffic means overall CO2 emissions from commercial air transport are projected to continue on an upward trend. The latter point is likely to be where outsiders focus much of their scrutiny of the sector in coming years.
IATA also cites the positive impact of investment in new aircraft, sustainable aviation fuel, ICAO's global offsetting scheme CORSIA, and operational improvements.
The industry association is right to highlight these points, but such developments have limitations in terms of selling a better story on aviation's environmental strategy.
Operating aircraft with improved fuel efficiency is clearly a positive thing, but most "new generation" types have been flying for some time. Those efficiency improvements are likely to have been accounted for already in the minds of people who think the industry should be doing more.
Sustainable fuels are another area where the merits of the story are not straightforward, with uncertainty existing around the impact of crop production, for example, and doubts about scalability.
The CORSIA scheme, meanwhile, is an impressive achievement, but only seeks to offset growth in emissions, not reduce them outright. With that in mind, many stakeholders are right to categorise CORSIA as part of a package of wider measures.
UNFAIR BURDEN?
IATA, regional associations and airlines have also been grappling with the conundrum of wanting to be seen to do the right thing on the environment, while also resisting measures they believe could impose an unfair burden.
"Global goodwill towards implementing CORSIA is being compromised by governments introducing a patchwork of carbon taxes," IATA states. "A series of decisions or proposals have been made in recent months to levy air passenger taxes, including in France, Germany, the Netherlands and Switzerland."
A delicate lobbying effort will be needed in the coming years to ensure that efforts to resist the imposition of such taxes – for solid reasons, such as the danger that flying could become the preserve of the rich again – do not get interpreted as a denial of the air transport industry's responsibility for its environmental impact.
Elsewhere, some stakeholders have been arguing that the airline industry accounts for "only" 2-3% of global CO2 emissions – and is good value for that environmental footprint.
Those making such arguments are right to highlight the social and economic good that commercial air transport brings to the world. But the danger with relying too heavily on this narrative is that it could inadvertently give the impression that the industry thinks it is already doing enough to mitigate its impact.
Some stakeholders have also bemoaned the fact that the maritime industry, for example, is responsible for a higher level of CO2 emissions than airlines, but appears to receive much less scrutiny.
Such arguments are little more than "whataboutery" – responding to criticism by accusing something else of similar or worse faults.
The temptation in other cases has been for individual airlines to go on the defensive, highlighting the "green" credentials of their businesses – more often than not based on self-selected criteria.
This approach can be flawed in an industry that tends to be seen as a single entity when it comes to its environmental impact. And even casual observers are likely to notice how often an airline's supposed "better" approach to the environment conveniently creates a narrative that makes key competitors look like the bad guys.
RECOGNISING SHORTCOMINGS
Carriers that have arguably shown the most effective response to environmental pressures in 2019 are those, unsurprisingly, that have recognised the industry's current shortcomings while mapping out a realistic, and positive, path to addressing them.
Dutch carrier KLM and its "Fly Responsibly" campaign was a breakthrough moment this year – one that saw an airline acknowledge customers might want to think twice before flying, while also celebrating the benefits of air travel and presenting an optimistic view of where the industry is heading in respect of mitigating its environmental impact.
Carriers such as Qantas have also publicised well-rounded environmental policies.
Ultimately, there is no easy answer to the intense pressure airlines are feeling on sustainability, particularly amid strong traffic growth and with fundamental breakthroughs in areas such as electric propulsion likely decades away.
Carriers and industry groups must therefore learn quickly from the approaches that work and those that do not, while presenting a positive view on the future and resisting the temptation to go on the defensive.