Ascend by Cirium senior consultant Richard Evans looks at how the aviation industry is faring amid the pandemic
When we covered the impact of Covid-19 on demand and capacity back in April, we said it was almost impossible to comprehend the magnitude of its impact on the global airline and aerospace industries. International passenger travel had almost ceased, and domestic demand was almost as badly affected, with most nations under lockdowns. Where flights occurred, load factors of 5-15% were typical.
Ascend by Cirium outlined three potential recovery scenarios at the time, and contextualised the phases of recovery as being:
Contraction/shutdown
Hibernation/stabilisation
Recovery/rebuild
Normalisation/return to growth
Now, in Q4 2020, we can see that different regions and countries are at different points in their recovery, but we can also see that a second wave of Covid-19 cases will cause renewed impact on air travel demand. It would be simple to say that there is a clear correlation between the success of a country in containing the spread of Covid-19, and the recovery of air travel, but it does not appear as simple as this.
Australia has succeeded in lowering the number of new Covid-19 cases to almost zero, but domestic traffic remains down 89% in September. In contrast, Brazil has been one of the worst affected countries, but has seen a steady recovery in domestic flights and traffic since July. In reality, it is the application of government travel restrictions, or the absence of them, that has the most direct correlation.
It is particularly noticeable that in northeast Asia, there is still almost no international traffic, even though the new case rates in each country are a fraction of those in Europe or the Americas.
The chart below shows the evolution of global, Chinese, and Asian International traffic (measured by RPKs) in 2020. It also shows the month-on-month assumptions for two of the three Ascend by Cirium scenarios constructed in late March 2020.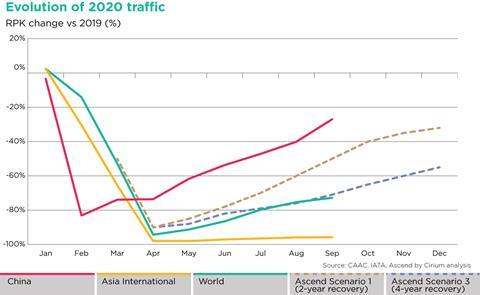 The sharp contrast between Chinese traffic and Asian international traffic is apparent. The data for China contains a huge differential between the domestic market, where IATA reported September RPKs were only down 3% year-on-year, and international markets, where the Civil Aviation Administration of China (CAAC) reported August RPKs down 96%.
These initial scenarios were constructed simply at the global level, with monthly assumptions from 2020 to 2023 for: traffic (RPKs), load factors (and hence capacity in ASKs), the split of capacity between single-aisle and twin-aisle aircraft, and productivity per aircraft.
Scenario 1 envisaged a return to 2019 traffic levels (on a global basis) in mid-2021, whereas Scenario 3 had a slower recovery profile, with traffic recovering in 2023.
Monthly traffic-to-date has evolved very closely to the profile included in Scenario 3. However, this assumed the recovery would continue each month through the winter of 2020-21. In reality, it became clear in September that demand was not likely to continue to improve. In particular, European airlines revised their forward schedules downwards, as did many airlines in North America. Asian airlines remain constrained by very strict international travel restrictions. Recent lockdowns in Europe will simply reinforce this trend.
Ascend by Cirium thus constructed two new scenarios in September. These both assume that traffic will level off at 60-70% down on 2019 during the winter, with little meaningful increase in capacity until the northern summer season commences in April 2021. Thereafter they diverge. Scenario 4, which forms the baseline for our new long-term Cirium Fleet Forecast, assumes a slow recovery, with 2019 traffic levels not being reached until 2024.
Scenario 5 assumes that once effective vaccines are widely available, perhaps in mid-2021, there is a rapid recovery in international demand, led by leisure travellers. In this case, 2019 traffic levels are exceeded in 2023, at a global level.
In contrast to our April scenarios, the latest two include specific month-by-month assumptions for each of the eight domicile regions that make up our forecast. Thus the global picture is the result of summing each recovery profile, capacity level, and resultant fleet requirement together. The month at which each region matches 2019 RPK levels is summarised below.
Projected recovery by region
Region
Scenario 4
Scenario 5
Asia-Pacific
May-24
Mar-23
Europe
Mar-25
May-23
North America
Dec-24
Sep-23
China
Apr-23
Sep-22
Latin America
Oct-24
Jul-23
Middle East
Jan-25
Apr-24
Africa
Jun-25
Mar-24
Russia/CIS
Jul-24
Jun-23
World Total
Aug-24
May-23
Source: Ascend by Cirium analysis
The implications of the new scenarios are that 2021 traffic will only see a modest year-on-year growth against 2020. However, this masks the fact that Q1 2021 will continue to show 60-70% declines versus Q1 2020, but by December 2021, traffic will be 65% higher than 2020, even in the slower recovery case.
The annual traffic is summarised in the second chart, highlighting the much reduced traffic levels now assumed in 2021 compared with the most pessimistic of our three earlier cases. The "rebound" year is now pushed back to 2022, with Scenario 5 having an almost 80% year-on-year increase.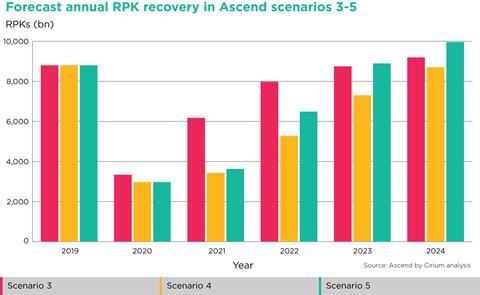 The consequent impact of lower demand on the in-service commercial passenger-jet fleet has also been dramatic. However, we have actually seen a higher number of aircraft in use than was anticipated back in April. This has been for two main reasons.
Firstly, average aircraft utilisations have been much less than expected, with single-aisles currently flying just 6-7h a day, compared with 9-10h a day in Q3 2019.
Secondly, many passenger twin-aisles are being used on all-cargo flights due to the shortage of bellyhold cargo capacity caused by the cessation of most regular long-haul passenger services. It is difficult to assess exactly how many aircraft this applies to, but Ascend by Cirium estimates that at least half of the 2,000 twin-aisles flying each day are deployed on cargo-only flights.
Since April, many airlines have announced plans to permanently remove aircraft from their fleets. Over 400 aircraft have also been returned to lessors, of which over 300 remain in storage without an airline operator identified.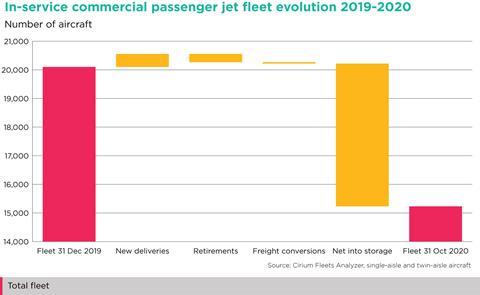 It is challenging to evaluate exactly how many aircraft are surplus to requirements. At present (early November), there are over 6,500 stored single-aisle and twin-aisle passenger jets, up from 1,900 at the end of 2019. However, this figure would be several thousand higher if utilisation rates were at optimal levels.
Our Scenario 4 case has the in-service fleet increasing from roughly 15,000 single-aisle/twin-aisle passenger aircraft today to 16,500 by the end of 2021, and around 18,000 at the end of 2022. Not surprisingly, the fleet doesn't return to 2019 levels until around the same time as does traffic and capacity, in 2024. Thus, crudely, there will be as many permanent retirements in the next four years as there are deliveries.
Older, less fuel-efficient, aircraft that are parked today, or are earmarked to be permanently removed from airlines' fleets shortly, are perhaps unlikely to return to service when demand grows. Airlines are more likely to reactivate the most modern types from the parked fleet, plus prioritise new deliveries, assuming they can be financed.
The implications of the strong traffic recovery – whenever it exactly occurs – are that many aircraft that are currently parked will return to service in two to four years' time. Whether this is actually practicable is another question. However, it is equally open to question whether airlines will seek to place new aircraft orders, or pull forward delivery slots deferred in the interim period, to allow Airbus and Boeing to ramp-up production much before 2025.
Airbus and Boeing deliveries in 2020 look set to total around 650 aircraft. This seems certain to increase substantially in 2021, to over 1,000 aircraft, driven largely by the Boeing 737 Max returning to service, and the two leading OEMs will do everything they can to maintain production and delivery rates at these levels or above into 2022-24.
What does seem clear is that, for the foreseeable future, there will remain substantially more supply of aircraft than there is demand. This includes supply of new-build aircraft, mid-life assets returned to lessors, or aircraft simply parked by their airline owners. It also seems clear that, eventually, there will be many airline failures, especially among smaller, non-government-backed carriers.
Over the last six to seven months, we have learned a lot about how governments are reacting to the crisis. Hopes for a recovery in travel are now pinned to the release of effective vaccines, but there is no guarantee when this will happen. There has been very little international co-ordination of responses to the crisis, or of how to facilitate the restart of travel. It will be challenging to plot a path as to how nations will recognise that inbound passengers have received an accredited vaccine and/or have tested negative for Covid-19. Hence, we assume a relatively slow recovery in demand from H2 2021 in Scenario 4.