Ryanair's move to hold a press conference in Milan today sparked some press speculation that the low-cost carrier was about to make a bid for the assets of collapsed operator Air Italy.
There is little doubt that the chance to snap up some more slots at Milan Malpensa and other Italian airports may be of interest to the Irish carrier, which has an operation of a similar size to Air Italy's at the northern Italian airport.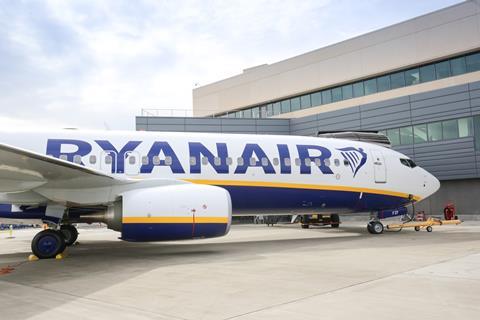 It is also true that Ryanair broke its usual pattern of steering clear of airline acquisitions when it moved to buy – initially a portion and ultimately full control – of the Laudamotion unit that Niki Lauda had himself acquired from the assets of collapsed AIr Berlin unit Niki.
And under its new group structure, Ryanair now appears far better suited to adding carriers into a set-up where it already has multiple brands in the shape of Ryanair, Lauda, Polish leisure unit Buzz and its Maltese operation.
Yet does this recent history really suggest Ryanair will eschew its more typical strategy of moving into spaces vacated by failing carriers in favour of an acquisiton strategy?
As it turned out, Ryanair chief commercial officer David O'Brien took the opportunity to end the speculation. "We have no interest whatsoever in buying Air Italy. It would be pointless," Reuters reports O'Brien told journalists at the press conference.
Instead it appears the Milan-based press conference was aimed at flagging Ryanair's Italian operations and readyness to fill the Air Italy void with its low fares service.
In an analyst's report published today, ahead of Ryanair's press conference, Neil Glynn – head of European Transport equity research at Credit Suisse – argued that while the prospect of the Irish carrier bidding for Air Italy could not be ruled out, it should be balanced with the "preferable organic opportunity".
While Glynn notes Ryanair's new structural strategy whereby the holding company manages different units – and that it has made acquisitions to facilitate this – he says "it is also plausible that Ryanair is set to expand organically in Italy, as it tends to do following bankruptcies, and we think this route would be preferable".
He continues: "To take on Air Italy, we think Air Italy's cost base will also need to approximate that of Ryanair (or Malta Air, which has taken over Ryanair bases in Italy, France, Germany and Malta) to allow it to implement its strategy of stimulating demand via attractive fares."
Glynn argues Lauda's challenges "should influence any approach" by Ryanair to an Air Italy acqisition.
The paradox of Ryanair's move for Lauda is it makes further acquisitions more and less likely at the same time.
Acquiring Lauda has rapidly given Ryanair scale in a key market at a crucial time. Lauda contributed around 6 million passengers in the 2019 calendar year. That has, and will continue to, offset some of the capacity lost by the delayed entry into service at Ryanair of its Boeing 737 Max – now not expected before September.
But it has also given Ryanair a financial pain. In a January trading update, the carrier said it expects Lauda to incur a net loss of around €90 million for the year ending March 2020.
"Lauda continues to underperform with fares much lower than expected, despite strong traffic growth and high load factors," Ryanair said earlier this month in releasing its results for three months ending December 2019.
"This is a direct result of intense price competition with Lufthansa subsidiaries in both Germany and Austria. While Lauda will now carry 6.5m guests in the full-year 2019/20, average fares are well below those of other Group airlines."
Ryanair is not alone in feeling the pain in this market. EasyJet and Eurowings have also found expansion into former Air Berlin markets challenging.
Ultimately Lauda presented an opportunity for Ryanair to make a strategic step-change in attractive short-haul leisure markets from Germany. Air Italy does not offer the same step change, especially for a carrier that is already the biggest by seat capacity on Italian routes and already accounts for around a third of Italian domestic capacity.
Ryanair has surprised before, and will doubtless do so again. But despite its new group structure, there seems little reason to expect to make a move for Air Italy assets – especially while the future of Italian national carrier Alitalia is still to play out.