Hopeful talk of "travel bubbles" in the Asia-Pacific has turned to disappointment as the coronavirus demonstrates a profound ability to keep heaping disruption on the travel industry.
In early May, hope was in the air in Auckland. New Zealand, one of rare success stories in dealing with the pandemic, mooted the idea of a "travel bubble" with Australia, which seemed to be well on the way to stamping out its own local outbreak.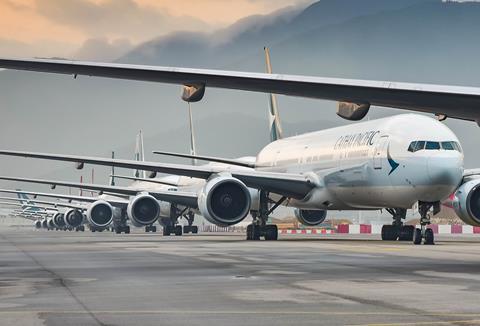 "There are a lot of similarities in the way we have each tried to manage [Covid-19] and get on top of it," said New Zealand prime minister Jacinda Ardern. "Therefore, the same goals for both us. Neither of us want cases coming between our countries. Regardless of our future path, we'll be looking for ways to do it safely."
Could it be that things were finally returning to normal? Airlines stood ready to add trans-Tasman capacity.
Unfortunately, Ardern's "future path" was not so smooth. Though New Zealand stayed Covid-19 free – despite a well-publicised quarantine hiccup in June – the coronavirus returned to Australia with a vengeance, putting the key state of Victoria in a lockdown. Cases are also ticking up in New South Wales.
So much for the hoped-for travel bubble. Instead of Australia, New Zealand is now apparently considering tiny Cook Island for its bubble.
Meanwhile, Southeast Asia's leading aviation hub Singapore has formed a "fast lane" for "essential travel" with six provinces and cities in China. Travellers could be forgiven for not thinking of the arrangement as something accurately described as "fast."
For Singaporean residents, instructions on how the fast lane works run to just over 2,000 words. In addition to testing, Singaporean travellers will be subject to a few days of quarantine in China, and then must stick to a strict, pre-approved itinerary. The use of public transport in China is disallowed. Upon returning to Singapore they will undergo a two week "Stay Home Notice", for all practical purposes a quarantine.
While such "fast lanes" serve an important function, they are no foundation for an airline sector recovery.
Given Singapore's lack of a domestic travel market, coronavirus has pummelled Singapore Airlines' profitablity. In its first quarter, it recorded a massive operating loss of S$1 billion ($756 million), with revenue collapsing 80% to S$851 million.
Point 14 for Singaporean travellers to China under fast lane arrangements - Ministry of Foreign Affairs
"After undergoing a PCR test and serology test upon arrival, the traveller must remain in a centralised quarantine area designated by the local provincial/municipal government for one to two days until the test results are released. The traveller has to bear the costs of the post-arrival tests and the one to two days' stay in the designated location.
If the traveller tests negative for both COVID-19 tests, the host company or government agency will transport the traveller directly from the above-mentioned location designated by the local provincial/municipal government to the workplace or residence."
Further north in Vietnam there was good news - for a while at least. Enjoying over 100 days without a known coronavirus case, the domestic travel market was doing brisk business. Vietnamese tourists rediscovered their country, flooding Instagram and Facebook with posed shots at popular tourist destinations such as Hanoi's Sword Lake, Hoi An's famous Japanese Bridge, and Da Nang's beaches.
The party came to an abrupt halt when cases emerged in Da Nang in recent days. The city and a few surrounding provinces are now in a tight lockdown. Airlines were able to mount flights to return tourists home, but are banned from flying to the country's third largest city for two weeks.
The outbreak emerged as Hanoi contemplated renewed air links with China and South Korea. Any travel agreement that emerges with these countries will, doubtless, be pushed back by events in Da Nang.
In North Asia, All Nippon Airways suffered a horrific quarter, posting an operating loss of Y159 billion ($1.5 billion) on 76% lower revenue. With confirmed Covid-19 cases jumping in Tokyo in late July, it is safe to guess that ANA's second quarter will also be dismal.
The Association of Asia-Pacific Airlines (AAPA) and IATA have both stressed that any quarantines are a de facto travel ban.
In its assessment of June 2020 traffic results, AAPA said that Asian airlines carried just 724,000 international passengers in June, 98% below June 2019.
AAPA director general Subhas Menon paints a bleak view of the future.
"The prospect of a recovery in travel markets during the second half of the year is increasingly uncertain, as governments grapple with a resurgence of local infections, with the re-imposition of community lockdowns and further tightening of travel restrictions," he says.
"Uncoordinated measures between states, including blanket quarantines by some, are making international air travel extremely difficult even for those wishing to travel."
Airlines have been doing their best. Cathay Pacific, which recently predicted a HK$1.3 billion ($168 million) net loss for the first half of 2020, posted a video where employees discussed contactless check-in procedures, new lounge policies, and aircraft hygiene. Underlining the industry's challenging position, the employees spoke in a Hong Kong International Airport utterly devoid of passengers.
Other airlines have also made efforts to discuss what they will do to keep customers safe. Korean Air even released images of chairman and chief executive Walter Cho cleaning an aircraft cabin after a flight.
The problem, of course, is not so much with the region's airlines, but with governments. A certain acceptance of the coronavirus status quo appears to have set in, with no apparent urgency to get the airline industry – not to mention the multiple industries that depend on airlines – back on its feet.
While public safety should be paramount for any government, a new standard approach is needed to get the travel industry going again. A vaccine is expected at some point, perhaps in 2021, but if coronavirus has proved anything it is that there are no guarantees. Waiting for a vaccine and the allure of 100% safety is an option, but a dire one for airlines and the many businesses that rely on them.

Greg Waldron is the Asia Managing Editor of FlightGlobal, responsible for the team's airline, aerospace, and defence coverage across the region. He has worked at the company since 2009. In the airline space, Waldron has conducted dozens of interviews with airline leaders in the Asia-Pacific. He also covers areas such as MRO and safety. On the defence beat, Waldron has written extensively about the rise of Chinese airpower, as well as broader airpower developments around the region, such as indigenous fighter programmes, and regional acquisitions of foreign equipment. In addition, Waldron writes about commercial helicopters in the region and business aviation. Waldron worked has a freelance journalist with his work appearing in several business publications.
View full Profile